Time provides order and organization in life—ledgers, accounting entries and payments, or other data allow us to keep track of and organize entries. A greater incentive to be honest and responsible comes with the blockchain, and because it is transparent it is easy to prove.
At the SiGMA Event – AIBC Summit in Dubai, the BSV Blockchain Association had a booth in the packed InterContinental Festival Arena as well as a whole hour on the main stage. Jimmy Nguyen, founding president of the BSV Blockchain Association, introduced the BSV panel with a keynote speech focusing on the time factor and its relevance in blockchain technology. For the panel that followed, several entrepreneurs were invited to talk about how they use the BSV blockchain, the unlimited scalability of the BSV enterprise blockchain for global applications and services.
The first batch of panelists were from the FinTech space including Alex Agut, CEO and co-founder of HandCash; Daniel Lipshitz, CEO of Gap600 and Change Digital Commerce; and Muhammad Salman Anjum, Head of the BSV Hub for MENA and Founder of InvoiceMate.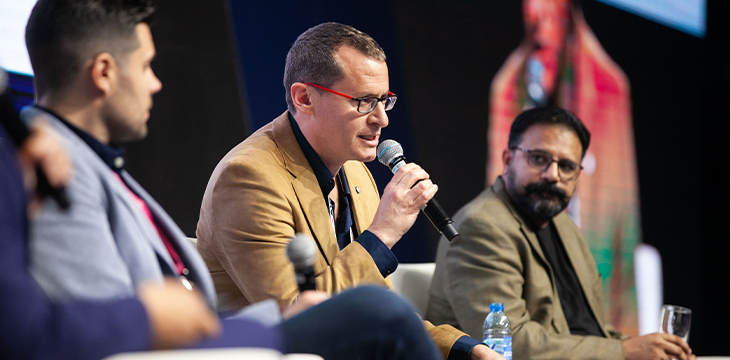 Lipshitz, who traveled from Israel, spoke about his new stablecoin issuance platform. Based in Switzerland, the company's vision is to bring transactional capabilities to commerce and finance activities through BSV. When asked why they would build exclusively on BSV blockchain, Lipshitz replied, "The first reason is that we see BSV as the original design of Bitcoin […] that has far-reaching implications, 'cause the actual infrastructural design of Bitcoin SV has by far better capability of scaling and better capability of being stable than anything else we've seen in the market." 
Scalability and stability are critical, especially when aiming for global adoption and something that will be used at scale. "And so we see an explosion of use cases in BSV and we want to support a methodology of payments in an exchange medium that everyone's comfortable with," added Lipshitz.
Another payment method that everyone can feel comfortable with and runs through BSV is "Minit Money," a money transfer product from South Africa-based company Centbee. For around $3.50, you can send any amount to 7-8 African countries instead of paying the usual 7-8% of the amount to be transferred.
HandCash is probably the most popular wallet in the BSV space. Agut shared the vision that HandCash has had from the start, which is to build a Bitcoin for everyone. Bitcoin should not only be easy for users but also for developers, because, until now, it has been challenging to integrate Bitcoin. 
"With Handcash you can integrate payments into any upper game and the coolest thing is that, because of bitcoin BSV blockchain is so cheap to run, we can offer for the first time ever micropayments to companies and it's really cool," Agut described enthusiastically.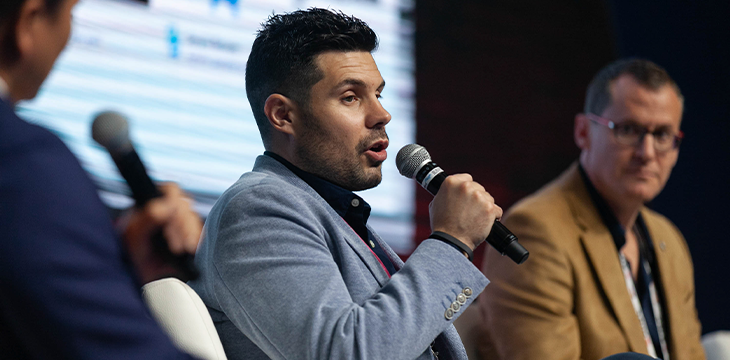 A lot of companies would miss out on making money because they don't have this tool: "You are on Twitter, you see there's a trending article on the New York Times or whatever and you enter and you realize, Oh, all of a sudden that it's a premium article and it asks you for a monthly subscription to read the article. So [companies] are leaving money on the table by not offering the chance to the user to just pay 10 Cents to read the article," Agut added.
Nguyen called HandCash the most user-friendly mindset in the Bitcoin business before moving to Muhammad Salman Anjum's InvoiceMate.
InvoiceMate is an invoicing and accounting platform connected to the BSV blockchain. Anjum said: "We are coming up with a new concept known as Know Your Invoice. So that is useful for the banks, that is useful for the financial institutions to know their invoice which they are going to fund or they are going to finance a factor." Invoices can't get lost or manipulated through the blockchain, and all parties are always up to date at the same time.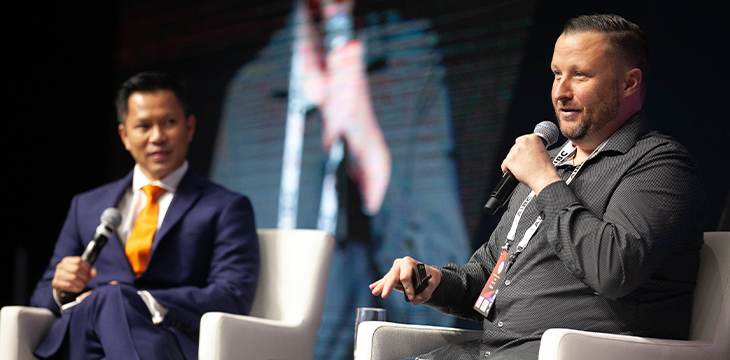 The second part of the panel focused on the world of NFTs and games and how these can be made better with BSV. Brooklyn Eric, chief marketing officer and co-founder of Rad NFTV, wants to extend his streaming platform with tools for Web3 video. Why are you using BSV for this platform? Eric said, "If you're uploading a piece of content to our platform, you can see it all just in plain numbers right there: Here's how much it is on Ethereum. Here's how much it is on Solana. Here's how much it is on BSV. BSV is not even a penny." Additionally, Eric added, "We have an NFT marketplace, so content creators can come to our platform, they can launch an NFT collection to fund their content creation and then in turn have distribution on our platform to the 500 Million devices that we're offered on." Sounds like a huge opportunity for all content creators!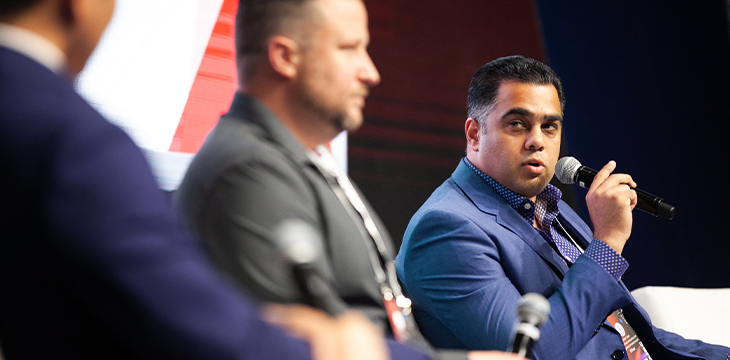 Raheel Iqbal, CEO of Game Storm Studios and OZ Technology, has an equally great sounding plan. He and his team have been developing games for more than 12 years. There are already more than 1000 games that can be downloaded, especially globally, via the Google Play Store, and these games have been downloaded more than 1 billion times! Iqbal spoke about his plan to put some of his games on the BSV blockchain. Especially those that he considers will be great as a play-to-earn game, like a farming game. The BSV blockchain is used because it is fast and cheap in price. "Minting costs are almost free on BSV. Had the experiences on other chains and couldn't mint as the costs were too high," Iqbal said.
They are also planning a "A Winner Takes it All" game, and they will create their own token on BSV. He also sees fan art as very successful. In the end, he announced that Meta Street Apes will be released soon.
Fans of the worldwide star among the on-chain games "Crypto Fights" and Haste Arcade will be able to look forward to more Play-to-earn games in the BSV space.
Watch: AIBC Dubai 2022 highlights: Akon, play to earn games & using blockchain tech to do good
New to Bitcoin? Check out CoinGeek's Bitcoin for Beginners section, the ultimate resource guide to learn more about Bitcoin—as originally envisioned by Satoshi Nakamoto—and blockchain.