Can you have a Bitcoin-powered crypto hedge fund? Yes, according to Roy Bernhard who announced exactly that on Day 2 of the CoinGeek London conference. Bayesian Fund SPC already has investment commitments exceeding US$20 million, and will use BSV as a base currency.
Bernhard is Executive Director and co-founder of Hummingbird Lawyers LLP, and also has a background in financial technology that involved him and his friends working on "the world's first internet bank."
His newer role is Chief Visionary at the Bayesian Group, an international group that has assembled the Bayesian Fund SPC. He described speaking at CoinGeek London as "a privilege to share some pretty awesome hedge fund tech"; describing "a hedge fund that trades with the precision of some of the finest crypto minds."
Human and machine minds strategizing
The cryptocurrency and blockchain industry had suffered from greed and naivety as people jumped in and expected to make fast gains—but that many bad actors had been "thankfully snuffed out."
He said the world of hedge funds and high frequency trading (HFT) was itself undergoing a period of disruption, with or without cryptocurrencies. Big data, machine learning, AI and advanced algorithms were all pushing the industry forward at a powerful pace, and "it's coming faster than you can imagine."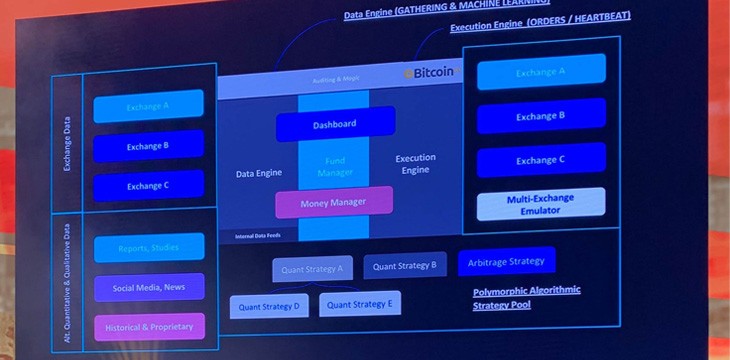 Hedge fund management involves data processing, strategy development, brains and execution, and "BSV shares the space with other inferior technologies," Bernhard said. He described a system that gathers data from all available sources and "feeds it into a pool of polymorphic trading strategies on a globally distributed execution engine."
Bayesian Group had assembled the right team of engineers and quants, he added. Hedge fund managers operate in a similar way to weather forecasters (who despite their reputation for unreliability, actually predict the weather with greater than 80% accuracy). The test involves examining "seasonality"—a form of identifiable and repetitive behaviors. Crypto markets, he said, are "overwhelmingly incentive-driven" with traders each deploying their own strategies that could be analyzed and acted upon.
A BSV-powered hedge fund, though, would need to be different. It would have to be transparent and integrated into existing systems. Bayesian Fund SPC will regularly hash its audit logs and publish them top the blockchain. "There will be no black box," Bernhard added.
His team looked at existing AI technologies, but said "that holy grail was nowhere close to reality." Where should they fit AI into their model? They then developed what he called a highly-targeted probability engine using the technology available.
Communication with regulators is vital
Speaking as part of a panel with other fund managers following his presentation, Bernhard said communicating with regulators would be vital to his industry, but said it could be of mutual benefit.
The main challenge, he said was "noise versus communication." In order to break through to the mainstream, the cryptocurrency industry would need to ensure regulators received the correct information. It was difficult to get regulators to engage on the topic, thanks to mishaps and scams that have plagued the industry in the past. He and his fellow participants agreed regulatory participation was necessary to ensure stability, by defining clear parameters within which they could develop systems.
BSV's regulator-friendly approach offers a huge advantage in this area. Its clear mission, stable protocol and willingness to support only compliant projects is a big step towards keeping those communication channels clear.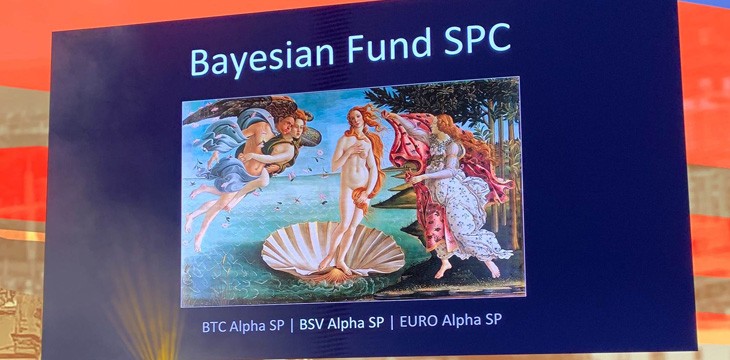 New to Bitcoin? Check out CoinGeek's Bitcoin for Beginners section, the ultimate resource guide to learn more about Bitcoin—as originally envisioned by Satoshi Nakamoto—and blockchain.