BSV App Testers has been more public lately on Twitter, putting out surveys on Baemail, Bit.sv, Twetch, CoinGeek, Bitcoin wallets, and more. I conducted a written interview with their team to discuss their motivation, business model and the future of the platform.
You guys seem to be ramping up in the past week with tests, why now?
We have only been trading for 5 minutes! I have been wanting to conduct research for many months. I'm interested in Bitcoin information for personal reasons and understand what we can provide is of high importance to serious Bitcoin related project and the society in general.
You all seem quite passionate about testing Bitcoin applications. Where does that energy come from?
The energy for testing applications has always been there and it won't relent. My Streamanity show (BSV Business Show) features hours of Bitcoin business research so, the signs were there. The developers bring a lot of energy by producing and maintaining quality platforms like this. We have great momentum, long may it continue.
How are the tests for different applications funded?
We encourage anybody to do research on our platform bsvapptesters.com. Simply fund a new job. This is the freedom Bitcoin can offer. We have funded tests to bring users in. The information we are collecting could be useful for many Bitcoin businesses, as well those considering Bitcoin infrastructure.
Bitcoin businesses will use our platform once they experience the simplicity. In minutes, they can test for general feedback, UI experience, new features, bug reports, penetration tests, market research and more. Businesses can enter the amount paid per accepted answer as well as the amount of people required for the test. The sum of these becomes the test fund, payable in Bitcoin. Earnings are paid out in Bitcoin.
What BSV App Testers' business model? How are you making money?
At the moment, we are barely at a breakeven point. To make money, we earn a percentage of test funds. In addition to this, we create reports. Our most recent report is the August 2020 Bitcoin Wallets Survey. The results are fascinating. The survey consisted of 50 bitcoin users & 33 questions about Centbee, Dot, Electrum SV, Handcash, MoneyButton, Pixel Wallet, Relay X, Simply Cash & Volt.
When the platform first launched, you mentioned that you 'believe in proof of work'. How has that mentality evolved since then?
Our mentality is constantly evolving, just like Bitcoin. The proof of work comment relates to the fact that only useful answers are accepted and paid. Additionally, well thought through tests extract the best information.
The creator of TrueDex gave you a great review. Please talk through your experience testing that service.
Testing TrueDEX now rebranded as tdxp.app was a pleasure. We conducted a bespoke comprehensive testing which our business offers from $249.99. Over a 4-day period, we tested every nook and cranny of tdxp.app. Some of our in-house testers are non-technical end users, which was ideal. We continue to test this platform, having established a good business relationship.
Recently one of our more technical testers reported an elusive bug within the maths, which was well received. We can test on many levels and many depths. We are able to offer bespoke testing for your Bitcoin business. Send us an email [email protected].
How does the service earn for jobs submitted via 'Post a job'?
Our service earns a percentage of posted jobs as well as producing valuable data.
How does this service compare to obsurv? For example, Deggen conducted a survey with them as well to collect feedback: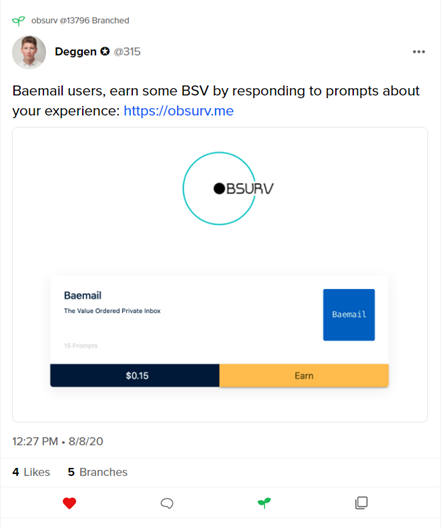 Unfortunately, I haven't had much time to look at them as you can imagine, two weeks into a new business, but huge credit and good luck. Perhaps you can fund market research on them via bsvapptesters.com to find out how we compare and how they can improve. Would you like to fund it Josh?! I'll buy one!
This service looks remarkably similar to Gemscape launched separately a few months ago by Andrew Kondelin—did you guys merge together? Please expand on how that went down.
When using Gemscape, I could see our app testing and market research concept was a possibility, albeit remarkably similar as you put it. Its early days. Like any new project we have experienced 'bugs', Gemscape has had database challenges, which we have been able to overcome.
Working together can be tricky when you have three people in three different time zones. Despite this, we have a nice combination of unique skills which compliment this business very well. We take responsibility for our areas. Most changes put forward to Gemscape have been delivered efficiently, which transpires into confidence in sharing bsvapptesters.com.
I think all BSV apps should be using this service to incentivize feedback from their users. How do you get more services involved?
Thank you, Josh, we concur. We are keen to help many Bitcoin businesses of all sizes so please approach us. Regardless of collaborations, we will continue to research Bitcoin businesses and this sector with a view to providing important information. The number of testers is growing quickly.
This number extrapolates quality, accuracy, and value of potential information. We will continue to approach Bitcoin businesses to express our keenness to support and to communicate how easy and cost effective it is to use bsvapptesters.com.
How do you enforce standards and quality of testing? How do you prevent a user from submitting poor feedback just to get paid?
This comes back to proof of work. If businesses and/or potential market researchers apply proof of work into jobs, they can extract better information. Same applies with testers. If a tester provides a good answer, the job poster can approve.
As the poster selects 'approve', (done from 'my activity') Bitcoin is released. If the poster selects 'reject' the feedback is rejected and no payment is released.
What features are planned moving forward?
I could make your eyes water, make your jaw drop and make you go ALL IN on Bitcoin (BSV) if I were to share our future plans! I can say for sure; testers will be delighted with future payments received from our service so get signed up immediately. For businesses and Bitcoin, we are here to help you become more successful quickly. We will find the information which helps you the most. Our testers are Bitcoin unique and unbiased which is absolutely critical.
What's the point in asking 15 biased friends, who tell you what you want to hear? With feedback from our Bitcoin testers, we believe we are the team and platform to provide the most important and useful information. We have exciting new features which we are keen to execute so keep an eye on us.
On behalf of our team, thank you for your support.
I would like to thank the guys at BSV App Testers for taking the time to answer my questions. I see great potential in this service, especially in how the platform takes advantage of Bitcoin's micropayment capability. Yet another service has emerged where users can earn Bitcoin without needing to have it first—continuing the trend of solving to the onboarding problem.
The responses were lightly edited for clarity.
New to Bitcoin? Check out CoinGeek's Bitcoin for Beginners section, the ultimate resource guide to learn more about Bitcoin—as originally envisioned by Satoshi Nakamoto—and blockchain.