1/ Introducing Boardz: A global forum platform powered with Bitcoin SV

It's a social platform where people can discuss things under different topics and monetize their content.

Read the full announcement. We want to see all BSV users on Boardz! https://t.co/YUsX79tsBz

— Boardz (@BoardzApp) December 5, 2022
Boardz is a global forum where users can discuss various topics and earn Bitcoin SV. In order to incentivize early participation, the Rewardz program launches with over 80 BSV, ready to tip users' good content.
2/ For getting you involved quickly, we will reward early contributions to the platform.

We just topped-up our BSV wallet to tip you. All you need is to connect your @handcashapp and post some cool stuff on Boardz! pic.twitter.com/8lpnwIHKbp

— Boardz (@BoardzApp) December 5, 2022
Boardz is akin to old-school-style forums such as Reddit or GameFaqs. A Boardz user has already compared it to Reddit: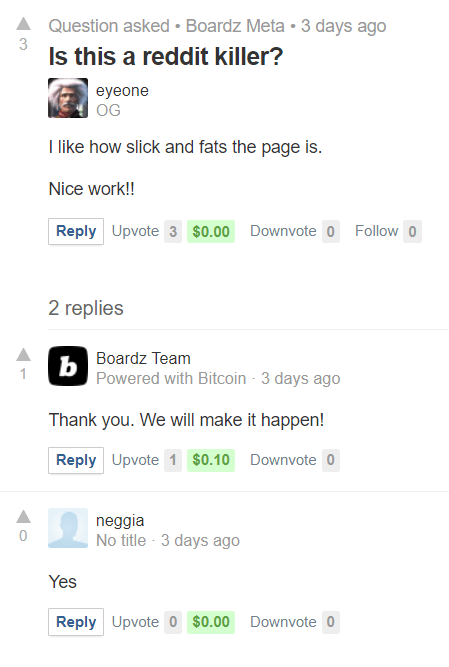 Source: Boardz
Topical boards already have pre-curated topics such as sports and technology with some Bitcoin-specific categories like Bitcoin SV, Bitcoin Script, and NFTs. Boardz asserts to be for every type of user, not just Bitcoin users, which is sorely needed in this space. Tipping and linking a HandCash wallet is optional during sign-up, but this will incentivize users to eventually get a HandCash wallet if they see that they can earn by doing so.
This model implies that the application must add true value without necessarily an earning factor which, in theory, attracts a truly interested user. Many digital currency applications that give away money, in the beginning, see usage drop off significantly once the "free tendies" are gone.
The real question is how can Boardz attract and retain users in 2022 when many social platforms are rising? Penetrating network effects and increasing your own is very difficult. Still, the natural answer is to offer a unique value proposition, and this is where NFTs may play a key role.
Boardz is gathering feedback from their early adopters on which NFT/token protocol they should integrate. One of the first features they seek to implement is PFPs (NFT profile pictures). Boardz may be looking to copy Reddit, as they successfully launched a similar concept. Reddit's CryptoSnoos are available on OpenSea and Ethereum, which means high gas fees.
— Duro Dogs (@DuroDogs) December 8, 2022
If a platform is to scale, having transfer fees that exceed the value of the trade is a non-starter. This puts a high floor price on digital assets, which is great for limited usage, but not for mass adoption—especially if we are considering high volume usage, such as being able to set and own multiple PFP NFTs for each user or ownership of sub-boards. Reddit allegedly has over 50 million daily active users in 2022, and over 3.5 million subreddits exist.
According to this article, around 3 million CryptoSnoos exist. This is likely capped by the high floor prices and gas fees (minting and trading). While I agree with the above video, I disagree with the prices stated. NFTs need to be available for as low as the market will set them, which could be as low as a 1/10 of a penny. Many will scoff at those low prices, but this conceptually needs to be viewed from an abundance perspective instead of a hierarchal one.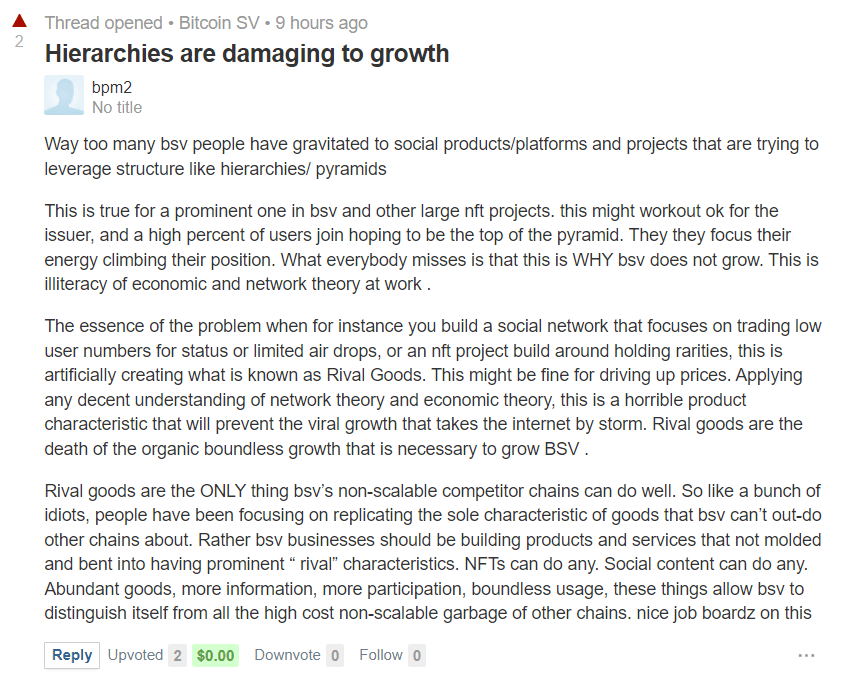 Source: Boardz
Instead of wanting to take a 10% cut from a few $1 million NFT trades, take a 0.1% cut of 1 billion different trades. Which approach earns more money and adds more value? The simple fact is other blockchains cannot compete with this model. Hopefully, Boardz can take advantage of Bitcoin SV's micropayment capability to grow its network effect compared to other similar platforms.
Watch: The BSV Global Blockchain Convention panel, Metaverse, NFTs & Blockchain
New to Bitcoin? Check out CoinGeek's Bitcoin for Beginners section, the ultimate resource guide to learn more about Bitcoin—as originally envisioned by Satoshi Nakamoto—and blockchain.