Decentralization isn't new to India—the idea, after all, has already been conceptualized in the country's pre-independence era. At the time, decentralization is used in governance, where power is taken from central and state governments to the local bodies. But in this new world of data, how can decentralization be achieved?
In Bengaluru, the first-of-its-kind Enterprise Utility Blockchain Summit organized by TimeChain Labs and Nu10 Technologies, with support from BSV Blockchain Association, Gate2Chain, Sunicon and Minta, opened the discussion on how blockchain technology enables peer-to-peer connectivity. The event's organizers have one goal: to disrupt the current narrative surrounding blockchain technology and demonstrate its utility by providing real solutions to businesses and enterprises.
Blockchain utility in the new world of data
The two-day summit was attended by a mix of policymakers and startup companies in the country, as well as operators and developers from the BSV blockchain ecosystem, all discussing how a scalable, secure, and low transaction fee blockchain revolutionizes peer-to-peer connectivity.
"We have a great turnout with attendees and speakers who are very high-profile people in the fintech space and blockchain space in India. Right now, still in India even, people are still thinking that blockchain technology does not scale because they haven't come across a scaling blockchain solution—that's what enterprises are looking for, even governments are looking for. And BSV blockchain does all that with low transaction fee," said Rohan Sharan, founder of Timechain Labs.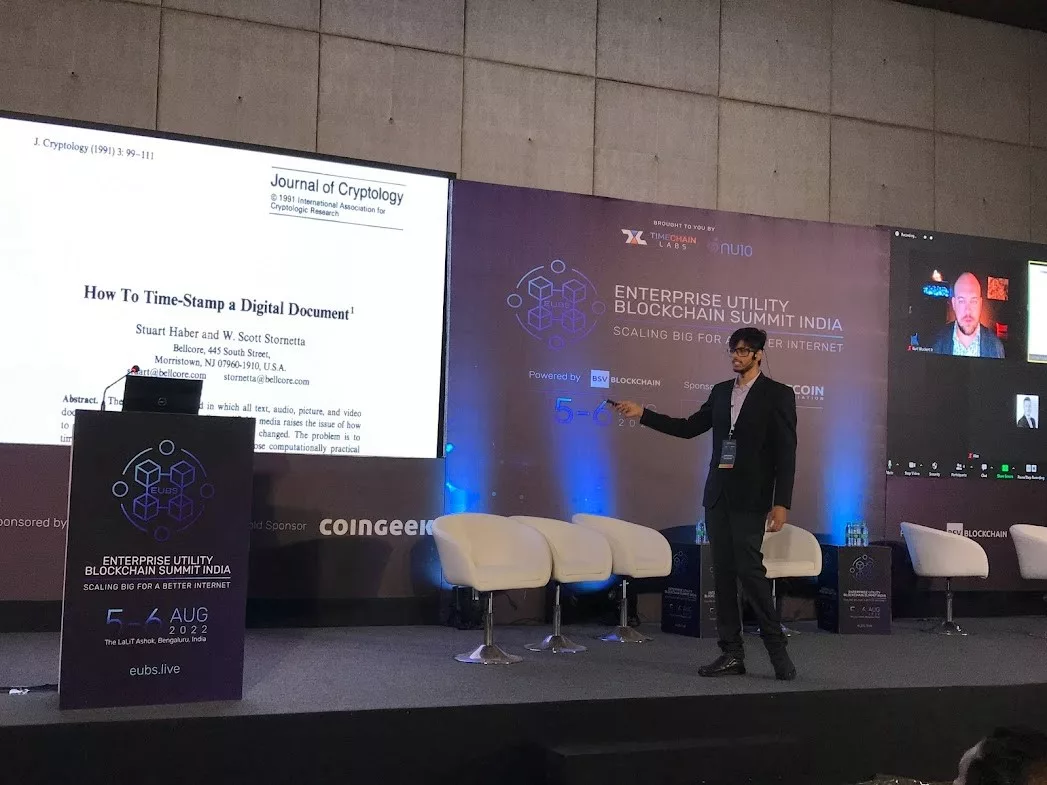 Panelist Dr. Sandeep Shukla, computer science and engineering professor at the Indian Institute of Technology – Kanpur (IIT-Kanpur), describes the vibe as "very positive and energetic." For Dr. Satya Gupta, chairman of the Bharat IPv6 Forum and Blockchain for Productivity Forum, there are "lots of learning" for everyone at the summit.
"On the panel, we discussed how the IPv6 growth happened in India and how India had become the world leader on adaptation of IPv6 technology," Dr. Gupta said.
Blockchain for peer-to-peer communication
One of the major discussion points in the conference is decentralization—more specifically, the role of blockchain in enabling peer-to-peer communication in India, which has a population of 1.4 billion people. There are speeches, various panels, and even side discussions on the future of digital commerce in the country, but what many of the attendees want to know—how can they utilize these technologies to improve their lives?
One of the initiatives looking to make a use case out of decentralization is Ceedi, a decentralized asset exchange for the last-mile delivery workers. Founder James Chako says the concept of Ceedi is to uplift and upskill people by creating an ecosystem where they can find work.
"The objective of Ceedi is to find jobs for these last-mile delivery workers who mostly come from rural backgrounds to urban areas to search for jobs and aggregators and platforms are the first ones they get stuck on… we need to create an ecosystem which will help these people not just find work but helping them get loans probably, or insurance," Chako tells CoinGeek on the sidelines of the conference.
And Ceedi's objective is in line with what Dr. Craig Wright is pointing out in his keynote speech: "The word decentralized isn't about everyone running their own node. It's very simple—it's everyone being able to communicate directly and do things together."
How IPv6 makes peer-to-peer communications possible
So how does IPv6 play into this? Dr. Gupta said the purpose of peer-to-peer is that it is one to one directly, nothing should come in between—and that's where IPv6 comes in.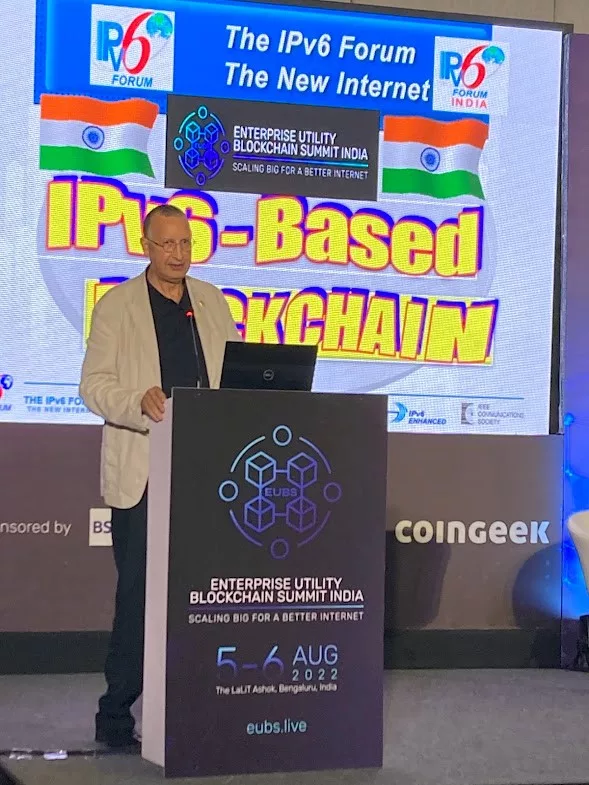 "How is decentralization achieved and what is it? It should direct communication, and the control has to be sent to the edge or to the end, basically. For that purpose, IPv6 helps because you are removing NAT, you are removing any central authority here," Dr. Gupta tells CoinGeek.
"IPv6 brings two things to the table. One is the unlimited address space so you can have as many addresses as you want, each connection, each individual, each device connected to the internet can have a dedicated address. So once you have a dedicated address, that supports peer to peer because every connection has a dedicated address, so you can connect from one to other without need for intermediate router or a switch," he explains. "What happens if you don't use IPv6, if you use v4? IPv4 does not have enough addresses, what they do is they do address translation through NAT [Network Address Translation] and by using NAT one address is used dynamically to hundreds of users—the same address by using NAT—that can never enable the peer to peer."
Breaking the glass ceiling
At CoinGeek, we've been explaining why IPv6 has the perfect synergy with a public utility blockchain like BSV blockchain. The EUBS event set out with the same goal: to demonstrate the power of BSV blockchain and how it will enable the vision of a peer-to-peer internet using IPv6 with BSV blockchain.
"EUBS is all about first and showcasing the power of Bitcoin—BSV blockchain—in India because people simply didn't know, they still don't," Mallikarjun Karra, Zorilla CTO and BSV Blockchain Ambassador to India, tells CoinGeek.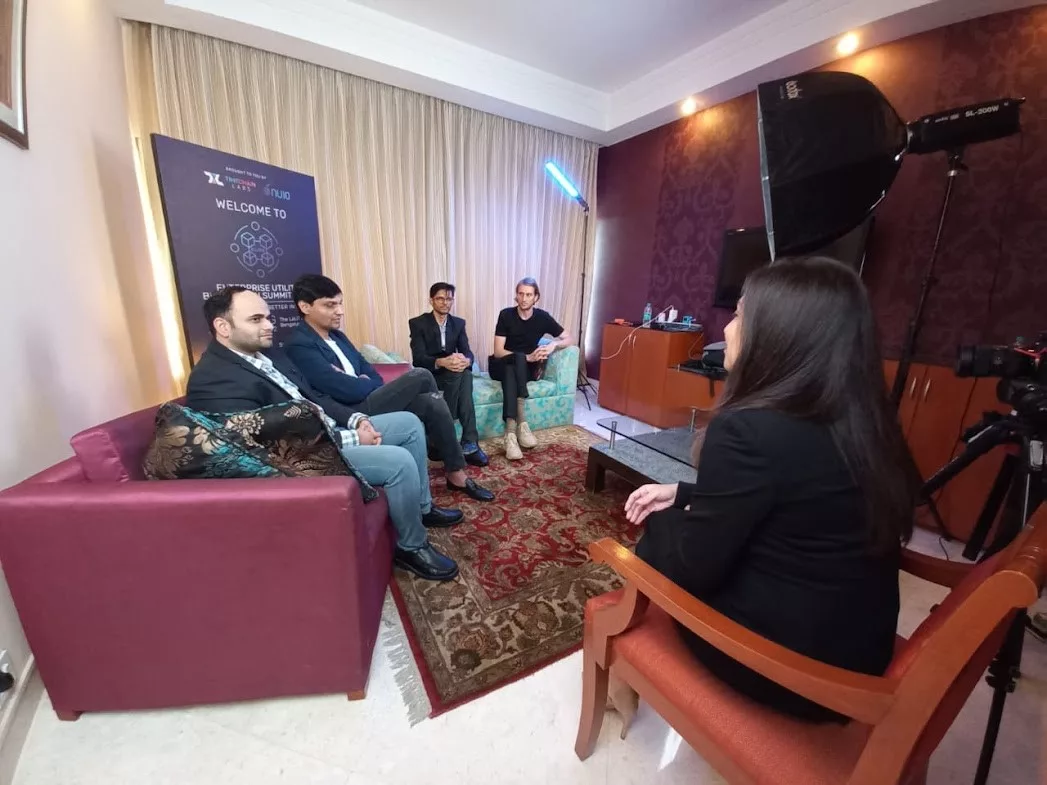 More than having a good turnout, Karra says it's equally important to see that the summit is attended by a good mix of curious people from the government—the people who matter, who can make key decisions—and people from various industries who want to learn about the technology and its use cases.
"The goal of EUBS was simply to disrupt the current narrative, and I think we've been fairly successful. It's like a glass ceiling, it won't get shattered in one blow. You need blow, after blow, after blow, and that's what we want to achieve… once blockchain becomes more adopted, people will realize that there are problems in blockchains other than BSV. Until then, we have to keep hammering the glass ceiling," Karra said.
Watch: Enterprise Utility Blockchain Summit – India Live Coverage Day 1
New to blockchain? Check out CoinGeek's Blockchain for Beginners section, the ultimate resource guide to learn more about blockchain technology.