The London Blockchain Conference 2023 brought together founders who've successfully navigated the Block Dojo—the intense 12-week incubator course for companies building on the BSV blockchain—to get their perspectives on the program's value for startups looking to take the next step up the ladder.
Dojo Co-Founder and Programme Director Alex Ball kicked off the proceedings by asking the audience why most startups fail. The responses ranged from giving up, a lack of resources, bad marketing, the inability to scale, and the inability to find a product-market fit.
According to a CB Insights report that looked at 4,000 startups, the top-three reasons for failure are running out of cash, not having the right team, and building something people didn't want or didn't need.
Ball said the report demonstrated the difficulties in getting a startup off the ground and vividly illustrated why the Block Dojo was created: to work with awesome founders to help them build successful businesses and turn a small company into the next big thing.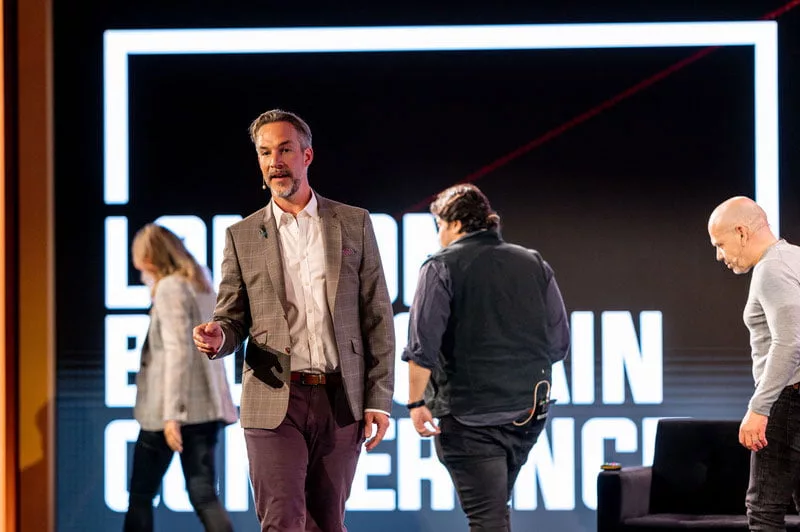 Ball played a brief video detailing what the Dojo has provided to the previous members of its individual cohorts, including access to tech development, help with commercial strategy, marketing strategy, design, clients, and office space—a smorgasbord of services the Dojo estimates is worth £175,000 ($219,693) to each startup.
There's also been a total of 533 mentors offering guidance to founders, while over 1,500 investors have attended Dojo showcases. Dojo participants raised over £5.9 million ($7.4 million) in the past year alone. The Dojo accounted for 24% of all U.K. blockchain fundraising in 2022 while ranking fourth on U.K. seed funding charts.
Dojo investors also enjoy a variety of perks, including tools that allow them to track investments made in Dojo startups, view company updates, and access a variety of proprietary information.
Buzzmint
Ball then invited onstage four founders that have undergone the Dojo experience. The first of this quartet was Charles Symons, co-founder of Buzzmint, a graduate of the very first Dojo cohort. Buzzmint is a Software as a Service (SaaS) platform that allows the simple and quick ideation, creation, and deployment of utility-led token projects.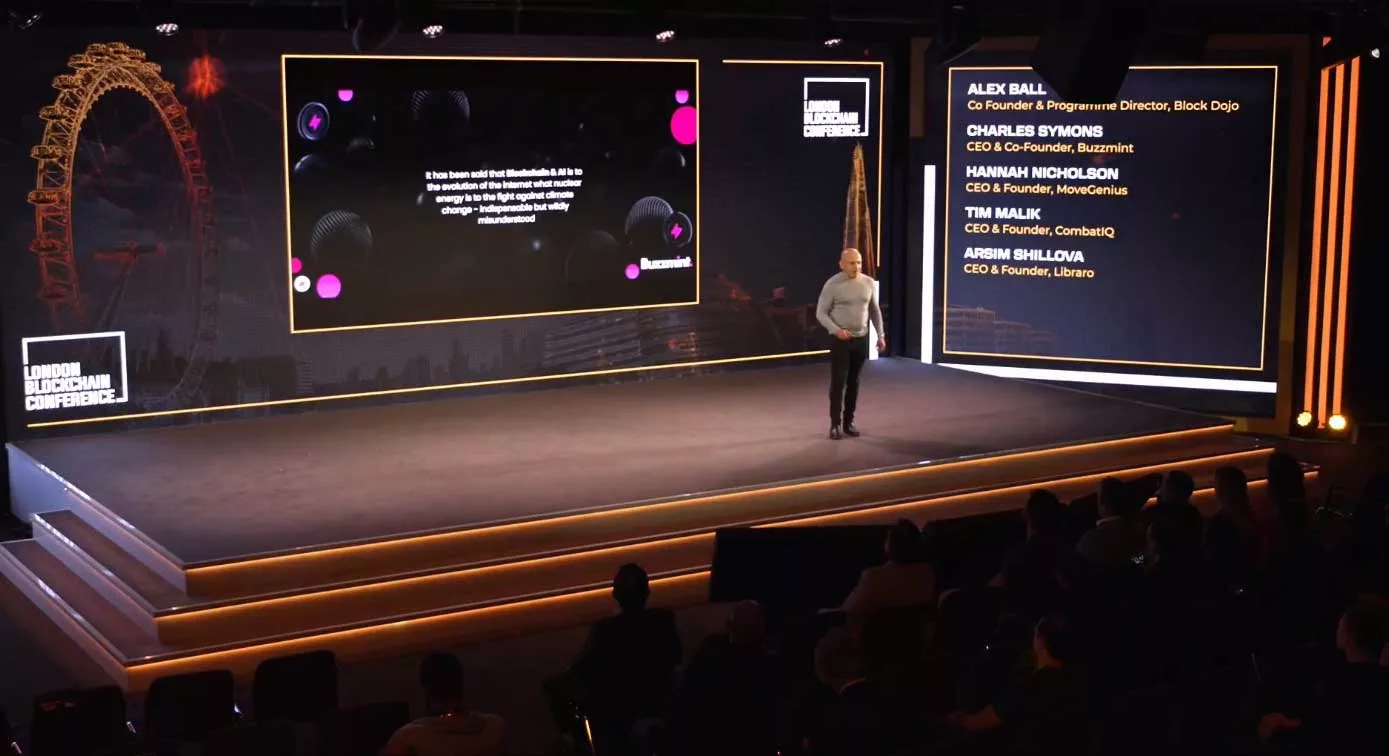 Buzzmint is also minting certificates to help "institutions, manufacturers, and one overseas government to enable people/products/things to prove who/what they are without the need for intermediaries." Buzzmint is looking at ticketing, carbon credits, ESG actions, IP protection… "basically anything that tokenization can be applied to," including the U.K.'s first tourism token. Not for nothing does Symons call Buzzmint "the Swiss army knife of tokenization."
Symons noted a common sentiment that "blockchain and artificial intelligence (AI) is to the evolution of the internet what nuclear energy is to the fight against climate change: indispensable but wildly misunderstood." Symons said his view—and likely the view of everyone attending the LBC—was that "blockchain and Web3 are not wildly misunderstood, they're just simply indispensable. That's what we bring to the party. Buzzmint: indispensably Web3."
MoveGenius
Next up was Hannah Nicholson, founder/CEO of MoveGenius, a blockchain-based onboarding tool that aims to simplify the onerous process of buying or selling a house in the U.K. Nicholson noted that it currently takes six months and costs up to £4,000 ($5,021) to complete a property transaction end-to-end, with one of three transactions ultimately failing to close. All parties involved in this—buyer, seller, real estate agent, conveyancer—can lose out.
MoveGenius aims to speed up this process by six weeks, cut failed transactions in half, and cut costs by £1,000 ($1,255) per transaction. Nicholson believes the key is providing property data upfront so buyers understand what they're buying.
MoveGenius attaches property data to the property asset, rather than to the buyer or seller, eliminating the need to manually collect this information anew every time a property changes hands. The data is stored on the immutable BSV blockchain ledger, and while it can be updated over time, most property data is static, which is why Nicholson believes blockchain "really suits our business model."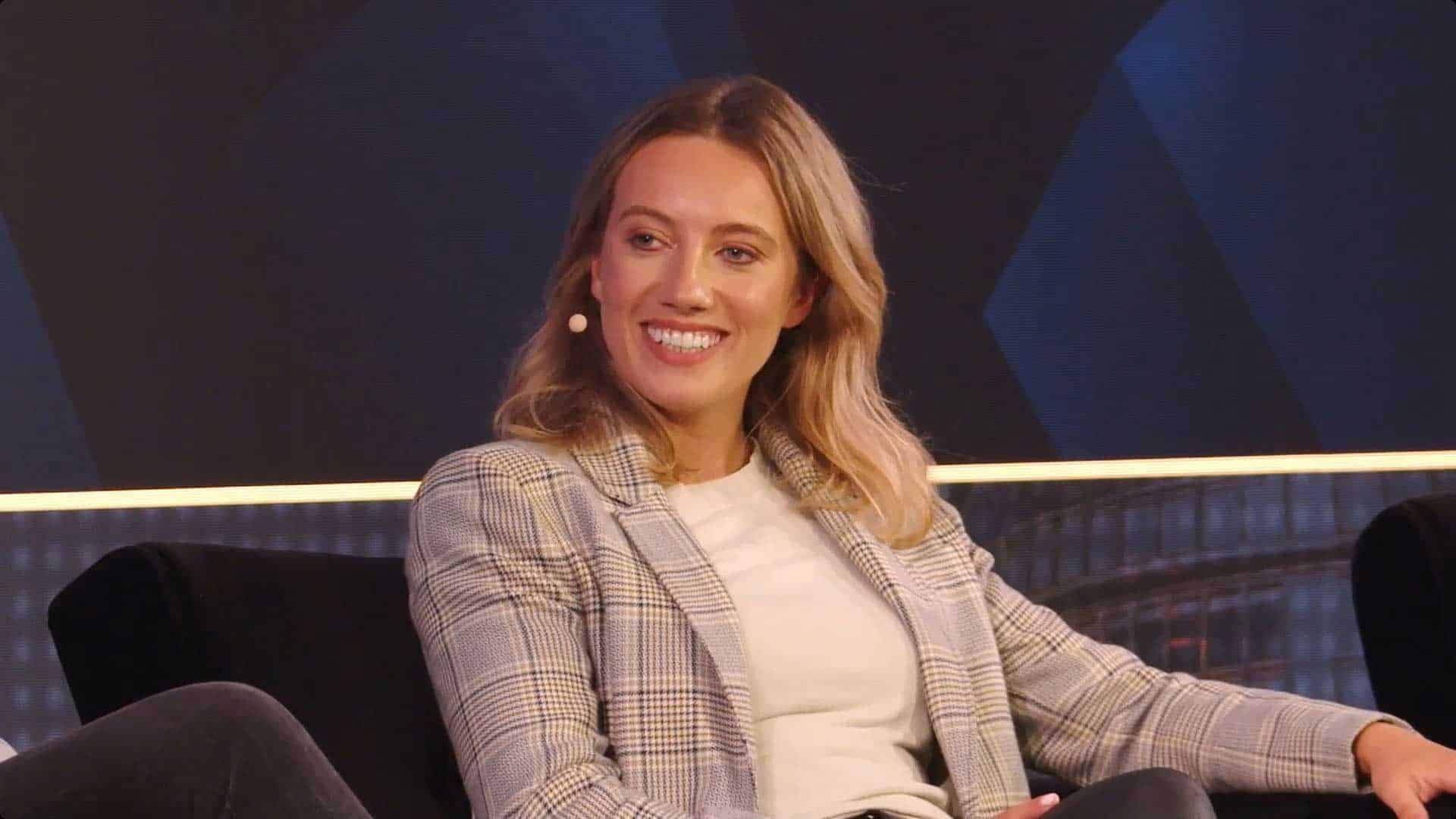 Nicholson believes MoveGenius is perfectly positioned to capitalize on changes in U.K. regulations that will require greater transparency from the property sector. Nicholson also believes there's "great industry appetite" from estate agents who can't keep up with the regulatory changes and are thus "seeking prop-tech solutions like ours."
With over 20k estate agents in the U.K. alone conducting a million property transactions per year, there's a huge addressable market for the MoveGenius B2B revenue model. Nicholson wants to make MoveGenius "the Monzo of the U.K. property industry and the leading disruptor to provide consumers and businesses with better service."
MoveGenius participated in the Dojo's second cohort and has since made significant progress, with Nicholson saying seed round raising was currently underway, aiming to raise £2.5 million ($3.1 million) at a £7 million ($8.7 million) valuation.
Combat IQ
Next up was Tim Malik, whose Combat IQ uses 3D computer models to generate real-time data for enhancing sports broadcasts, increasing fan engagement with sports promoters, and expanding sports betting operators' ability to offer in-play/micro-betting markets. Malik said Combat IQ's product was "commercially ready, preparing to go live."
Befitting its name, Combat IQ cut its teeth on combat sports but is rapidly expanding into other sports, from golf to pickleball. Malik says the company aims to "enable independent sports to go toe-to-toe with major leagues like the NFL and the EPL."
Malik has a five-season history as a scout and front office exec in 'gridiron football' (the kind with helmets), while co-founder Dr. Christian Giang holds degrees from two of Switzerland's top engineering schools (EPFL and ETH Zurich) while also being a mixed martial arts practitioner.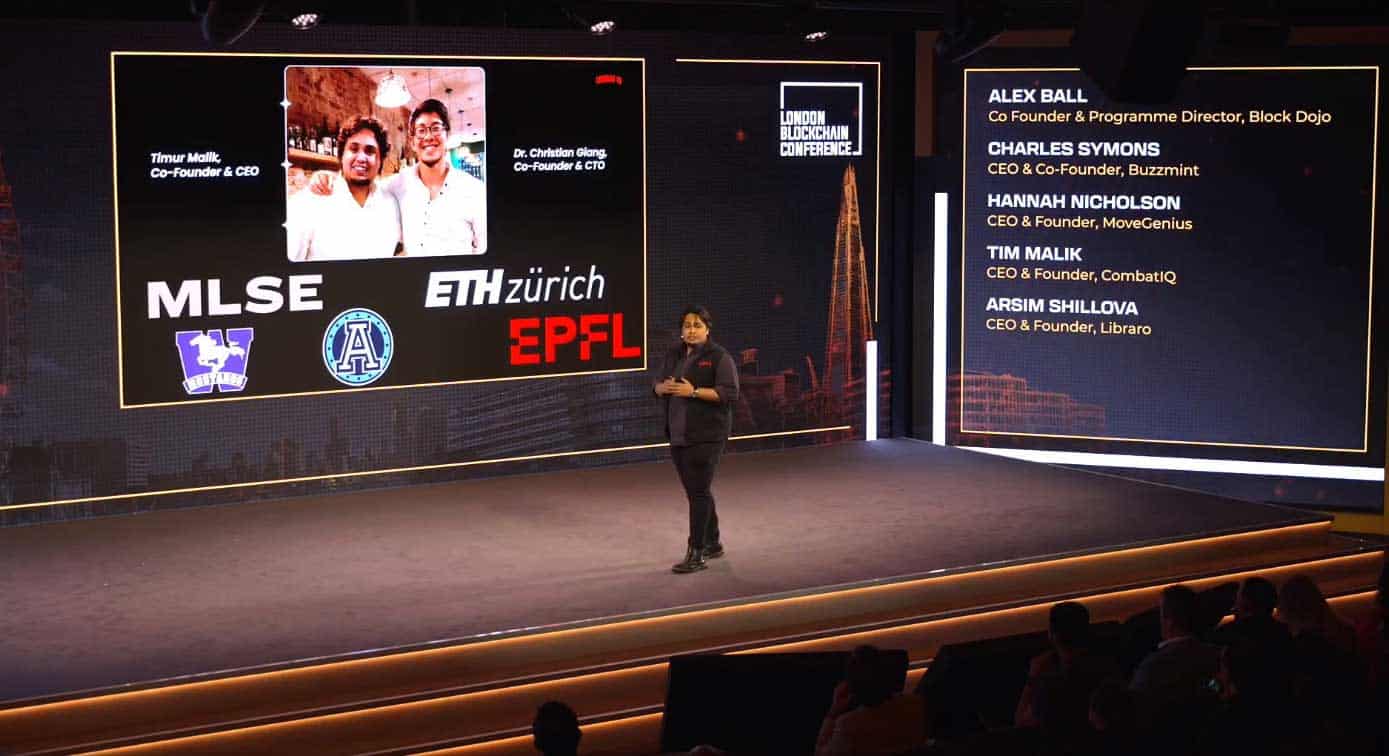 Malik said Combat IQ, which emerged from a 2022 Block Dojo cohort, aims to fill the nearly 40% of the $700 billion pro sports sector that "lacks the critical data infrastructure that major leagues employ to captivate the modern fan. These are fans hungry for interaction, eager to bet and craving the immersive experience provided only by real-time data."
An enhanced video of a portion of an MMA fight showing real-time win probabilities correlating to betting odds demonstrated what Malik called Combat IQ's ability to "reconstruct complex movements from a single lens, typically, a broadcast stream. We extract data with sub-second latency, analyze it and visualize it, effectively creating in-play markets, micro-betting markets, as well as broadcast visualizations to improve the fan experience."
Libraro
The final presentation came from Arsim Shillova, co-founder/CEO of Libraro, a Web3 platform using blockchain and reader-based decentralized autonomous organizations (DAOs) to transform how books are discovered. Shillova called Libraro "a data platform on a mission to uncover the next J.K. Rowling or Stephen King."
Libraro addresses what Shillova calls "a massive issue that's been going on for such a long time." Specifically, getting a book published is not unlike scaling Everest, with the odds firmly stacked against you completing your goal.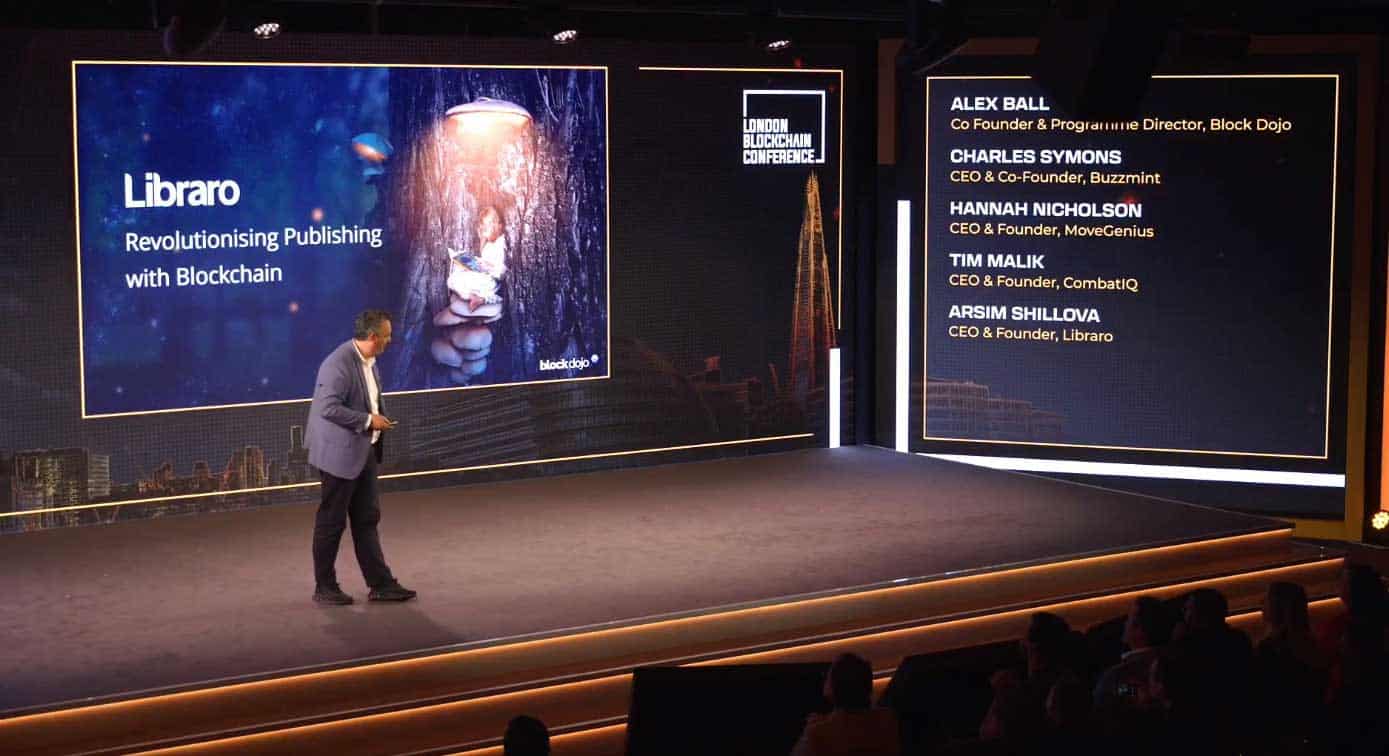 Libraro aims to simplify this process via a three-step approach: create a space where unpublished writers can bring their stories, readers can recommend stories they read on the platform, and publishers can invest in proven winners, aka books with a ready-to-buy market.
Shillova says using blockchain in content distribution allows authors the ability to protect their intellectual property. Libraro will use gamification to encourage reader participation, offering tokens to reward readers for their time and contribution. Libraro will also offer NFT collectibles, with Shillova reminding the audience of the exorbitant auction price realized by anyone lucky enough to have a first copy of the first Harry Potter book.
The platform plans to officially launch this October, despite Shillova detailing how it was only last year that Libraro was "just a dream." But then came the Block Dojo, from which Libraro emerged with a minimum viable product (MVP), a business plan, and "a really cool financial model." Libraro soon secured £2 million ($2.5 million) in funding from nChain, something Shillova is "super proud of."
Q&A
Ball gathered all four founders onstage for a joint discussion of their Dojo experience, starting with why they joined. Buzzmint's Symons related his anecdote about a chance meeting with "a crazy Australian" that opened his mind about the infinitely scalable BSV blockchain's capabilities.
MoveGenius's Nicholson said she was still writing her business plan when someone in the prop-tech sector recommended the Dojo. At the time, "blockchain was almost a vision because it has very good applicability to the property sector," so she applied straight away.
Combat IQ's Malik said he was initially focused on getting into Y Combinator or Techstars but changed his mind after talking to some of the Cohort One founders. As a first-time founder, Malik appreciated how the Dojo focused on "building you into an executive ready to scale the company" and applying 'turned out to be a fantastic decision."
Libraro's Shillova said his group was "looking for technologies that could support our dream," and by chance, he'd worked with Dojo managing director Jay Gujral at McKinsey in 2017.
Are you experienced?
Ball then queried the panel on what they got from their Dojo experience.
Symons replied, "everything," before clarifying that "we got what we didn't expect." While Buzzmint's founders weren't business neophytes, the Dojo offered direction on areas like building your MVP and connecting with mentors who can help you deliver on your vision. Symons joked that "all of that was done with the help of a rather aggressive daily program manager," with a knowing nod in Ball's direction.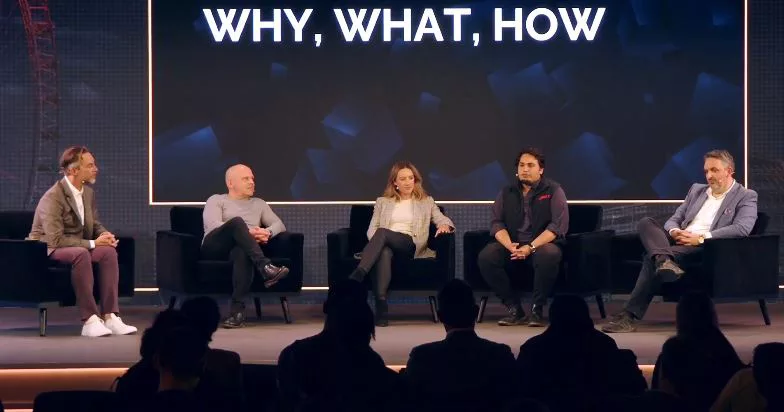 Nicholson added, "one of the main benefits was that the Dojo has actual tech people/developers/designers on hand. We could really bring our ideas to life, create wire frames and then you actually have a product to show investors. That's really impactful."
Joking that "engineers are aliens to me," Malik praised the Dojo for "helping me acclimate myself to the tech world." His previous occupation offered him experience in building a team, but the Dojo helped him "transfer that skill to the tech world."
Shillova compared his "intense" 12-week Dojo experience to getting his MBA in 2006. "I thought that was really tough. The Dojo was 10x."
Where are they now?
Ball then asked each panelist to offer an update on where their respective projects are today. Symons credited the Dojo with helping Buzzmint secure a £500,000 ($627,702) pre-seed round, which has led to the company onboarding its first clients, generating regular monthly revenue, and "building out some really cool tokenized products."
As a sole founder, Nicholson said making big decisions could be "pretty daunting," so she was happy to begin assembling a team after MoveGenius raised its pre-seed last August. On March 1, MoveGenius integrated with Zoopla, the largest tech supplier to the U.K. property sector, and "as of recently we're revenue-generating, we've got real clients, we found product market fit within six months."
Nicholson said it was exciting to be supplying a solution "that people actually want. Estate agents are desperate for something given all the compliance and legal changes that are happening. So we're at an exciting phase, beginning to raise our seed round, given that we want to accelerate development and crack this in the next year."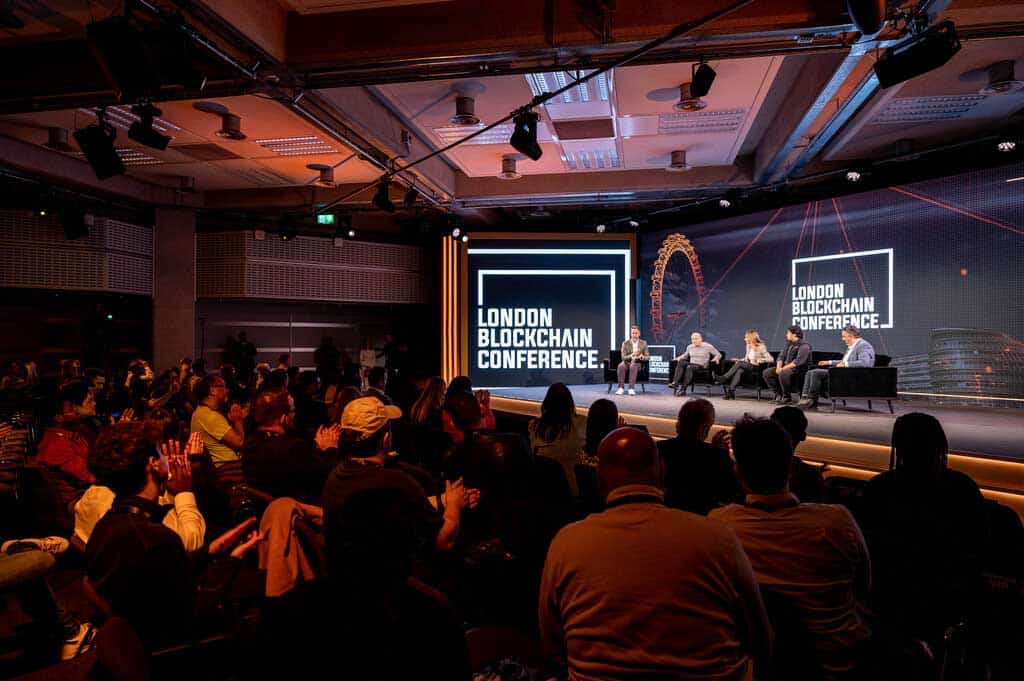 Ball asked Nicholson how onboarding customers had changed the dynamic for MoveGenius. Nicholson replied "massively," noting that, without a customer service team, she's personally sending emails and answering phones to guide sellers through the process. But a head of sales was hired six weeks ago, allowing her to "push some of the grunt work to someone else" so she can focus on product roadmap and development.
Post-Dojo, Combat IQ raised £300,000 ($376,621) in a pre-seed round, which has enabled the firm to acquire its first set of rights and its first customer. Malik says the seed round is coming in about a month and is "already half-full before we opened it." Combat IQ recently added a chief operating officer from another Dojo start-up, "strengthening us where I lack" and allowing Malik to focus on expanding the number of sports on offer.
Shillova said the past few weeks "have been 'life in the fast lane' for us," with an October target for the Libraro platform launch and a £2 million ($2.5 million) raise set for September. They've already enlisted "thousands" of authors and Shillova's had a "phenomenal" response from publishers, including five of the top-eight firms. Shillova said publishers are finding Libraro's concept "incredibly interesting" because the type of data it's able to provide is something "they don't have access to today."
Week by week
When Ball turned the interrogator's role over to the audience, one would-be founder asked for a week-by-week breakdown of the Dojo program. Shillova said he found the first four weeks "super important because it's all about validating your concept" and "it's a confidence builder to find out there's actually a demand for your solution."
Tongue planted firmly in cheek, Symons warned the audience member, "you'll love financial modeling week, which is about as painful as you can imagine." Symons likened 'mentor week' to "back-to-back Dragons' Dens where your idea just gets ripped to pieces … but they're quite gentle in building you back up again."
Shillova's mentor week experience included meeting a banker who loved Libraro's concept. She said she "couldn't invest in early-stage companies" but nonetheless wanted to continue mentoring Shillova. After Libraro scored its first investment, Shillova warned this banker that "the process was accelerating quite fast," and she's agreed to meet him regarding Libraro's September raise.
Nicholson said founders "might go in with one idea but articulating it to other people makes you think about 'what is the problem, what are the operational barriers.'" After the first four weeks, people iterate their idea and change because "the environment forces you to, which is a great thing."
For Nicholson, the final week was "four days of investor pitches," followed by "a big investor showcase pitch at the Dojo for about 200 people. By that time, you've done your pitch five times so you feel pretty confident."
Malik stressed the value of "being in a room with nine to 11 other hungry founders. It gets you into a mindset to attack these challenges every day with a hustle that I wouldn't have working by myself." And, just to prove that the Dojo isn't all work and no play, Malik also enjoyed "building bonds" during the Thursday night drinking sessions.
Symons added some perspective on the Dojo experience by saying all the founders that participate "stand on the shoulders of giants. There's lots of companies here that, over the years, have created the tech that enables Dojo companies to use and develop and build niche products. All that will enable the more ubiquitous uptake of Web3, blockchain, integrating AI… really, it's companies such as the Dojo that enable that to happen because it's the niche products that are actually going to expand this industry exponentially."
The deadline to apply for the Dojo's next London cohort is July 14, while Philippines-based founders have until December 15 to submit their applications. (Learn more here.) On July 20, the Dojo's fifth cohort will participate in a showcase evening event at The Press Centre in London. (More info here.)
Watch: Block Dojo goes beyond handing cheques to blockchain startups
New to blockchain? Check out CoinGeek's Blockchain for Beginners section, the ultimate resource guide to learn more about blockchain technology.