U.K. iGaming giant Entain (LSE:ENT), the owner of prominent betting brands like Ladbrokes, has acquired esports betting firm Unikrn for an undisclosed sum.
In 2020, Unikrn teamed up with FYX Gaming, the developers of CryptoFights, to launch new and innovative iGaming products. This includes offering CryptoFights itself in the Unikrn virtual market.
The acquisition of Unikrn by Entain gives FYX, one of the most successful operators in the BSV ecosystem, direct links to one of the biggest iGaming companies in the world.
The links go all the way to the top of iGaming
To see how big this acquisition could be for BSV enterprise blockchain and its ambition to become the blockchain of choice for the iGaming industry, let's take a closer outlook at the Entain-Unikrn deal and some interesting links. It's worth noting that BSV is already the world's largest public blockchain by all major utility metrics—including data storage and daily transaction volume, scaling ability and average block size.
First, we reported back in March 2021 that Unikrn had entered a strategic partnership with FYX Gaming. This is the firm behind BSV's most successful app to date which is currently driving millions of daily transactions on Bitcoin enterprise blockchain.
This month, British betting behemoth Entain announced that it has purchased Unikrn. So, there's now a direct link between FYX Gaming and one of the world's biggest iGaming firms.
Yet, it gets more interesting still. Entain itself recently fended off an acquisition attempt by BetMGM. While Entain claimed the $11 billion offer wasn't high enough, industry analysts predict that another offer will come soon.
Being linked to Entain is exciting enough for FYX Gaming, potentially giving CryptoFights and any future games they develop massive exposure to gamers across the world. Being linked to BetMGM would be a whole different level of exposure.
BSV enterprise blockchain is finding its feet in iGaming
While there are essentially endless use cases for the BSV enterprise blockchain, it is finding its feet in the iGaming industry. That's not surprising given that both Calvin Ayre, founder of CoinGeek, and Dr. Craig Wright have links to the industry.
Calvin Ayre recently urged the iGaming industry to go all-in on BSV. The call came on the heels of the massive success of CryptoFights and its demonstration of Bitcoin enterprise blockchains' scaling abilities. Recently, CryptoFights alone generated more than 2 million daily transactions on BSV, leaving entire ecosystems like Ethereum in the dust. Yet, despite the huge wave of demand for transactions, fees remained at just $0.0014.

When we analyze the percentage of transactions on BSV recently, we find that the majority of them are related to iGaming. As CryptoFights takes off and draws in players from all across the globe, BSV's technical chops are on full display as miner revenue from transaction fees climbs, and forward-thinking miners begin switching some of their hash power to take advantage of the increased rewards.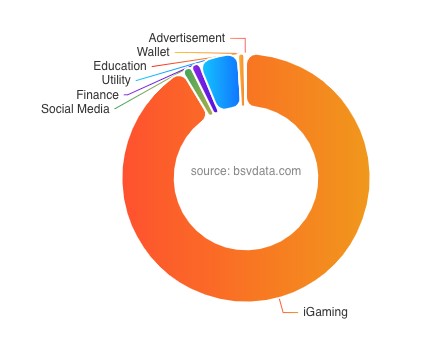 iGaming is likely to be the thing that takes BSV to the point of no return. Despite short-sighted attempts to illegally attack the network, which were easily fended off by honest nodes, the BSV enterprise blockchain continues to scale without any ceiling, just as Satoshi Nakamoto said it could.
With direct links to Entain and likely future links to BetMGM, CryptoFights is just getting started, and so is BSV enterprise blockchain. The future of iGaming is here.
Watch: CoinGeek Zurich panel, Casual Games & eSports on Blockchain
New to blockchain? Check out CoinGeek's Blockchain for Beginners section, the ultimate resource guide to learn more about blockchain technology.