Bitcaw Trading Company, also known as BTC Global, has reportedly amassed funds from 28,000 people before investor payments stopped.
An investigation has been launched by South Africa's Serious Economic Offenses Unit against a company named Bitcaw Trading after it had allegedly victimized 28,000 investors, with losses amounting to 1 billion rand ($8 million), and counting.
BTC Global has been marked as a scam in several reviews, ticking the boxes for several violations—it operates a Ponzi scheme and guarantees high profits (HYIP), and runs a pyramid scam through its referral system. Its creator goes by the name Steven Twain, who is supposedly a binary options trading expert, but there's no substantial evidence to back this credibility up. In fact, like many scams, this may not even be a real identity. And apart from Twain, no other team members were listed.
In its website, Bitcaw claims to help people earn money through Bitcoin, primarily encouraging HODLing.
"If you've heard of Bitcoin but don't know how to get started you've come to the right place. If you've started but not sure you're doing things securely & correctly you're in the right place. My goal is to help people make money with Bitcoin," wrote the website's supposed poster guy named Andrew Caw.
"I promote Holding – Simply buying Bitcoin & keeping it in a safe wallet has outperformed Mining or any other traditional investment I've ever seen. In fact over the last 3 years holding Bitcoin would have given you a 6000%+ growth on your initial capital."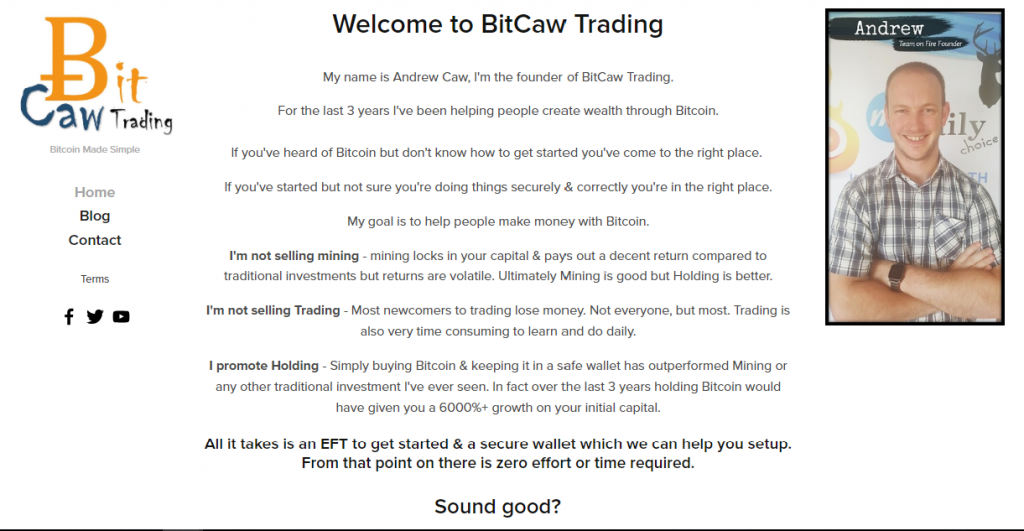 In a statement, the South African Police Service (SAPS), also known as Hawks, says the company is now being investigated for investment fraud, with BTC Global agents promising 2% interest per day, 14% per week and ultimately 50% per month. And while some investors were paid as agreed, the payments suddenly stopped at some point.
"This may prove to be the tip of the iceberg with potentially thousands more yet to discover they've lost money.  These is a timely reminder that unregulated, unusual investments at home or abroad come with a high risk that people could lose all their hard-earned pension and other saving. Despite the setback we want to assure the affected individuals that we are investigating the matter but due to the large volumes, it will take time to conclude," Acting National Head of the DPCI Lieutenant General Yolisa Matakata said.
The office is also calling on other victims to come forward, and assures the public that reports will be kept confidential.
New to blockchain? Check out CoinGeek's Blockchain for Beginners section, the ultimate resource guide to learn more about blockchain technology.