Events
Stephanie Tower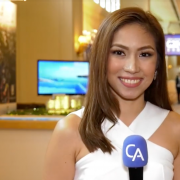 2nd Token2049 Day 1 highlights
CoinGeek.com flew to Hong Kong, one of the world's leading financial epicenters, for the second edition of Token2049—the flagship event of the inaugural Asia Crypto Week.
The two-day conference brought together the world's leading blockchain developers, investors, and entrepreneurs at the Kerry Hotel in Kowloon City for a series of tracks centering on the emerging crypto market and its ever growing ecosystem in the region.
Aimed at nurturing crypto mass adoption through shared information and insights from the players moving and shaking Asia and the world, the premier crypto and digital assets event welcomed over a thousand attendees on its first day.
Dave Chapman, ANXONE CEO, opened the event by giving an overview of the current landscape of crypto market in the region. One of the key takeaways from his speech is that despite the massive failure of most of the ICOs in the recent years, the industry has learned that there is a hyperbolic means to raise capital. Secondly, the technology, which prompted the creation of ICOs, actually works, and the same technology can be used to creating the next potential boom—security tokens.
Regulation, of course, plays a pivotal role in its future. Chapman pointed out that Asia—at least Japan, Hong Kong and Singapore—has taken a vocal and open stance on where the crypto market is going. For Chapman, however, security tokens remain to be a chicken-and-egg case, "We (industry) all want security tokens. We all want security tokens secondary markets but we still don't know how it is going to work."
Digital Asset Broker OSL CEO Wayne Trench expressed his thoughts on security tokens being the next trend in crypto trading and its regulation. He shared, "For me, the most exciting part is it's no longer a question as to whether this (security tokens) is or isn't going to be regulated or whether it is or isn't go to be part of the financial system." For Trench, regulation is a certainty. "When regulators are regulating, tax authorities are able to generate tax revenues and has a clear commercial advantage, for me it's a foregone conclusion," he noted.
Watch the video to learn more about Token2049 first day with more insights from Coinmarketcap and Hedera Hashgraph. The event continues today at the Kerry Hotel in Hong Kong.
Note: Tokens on the Bitcoin Core (SegWit) chain are referenced as SegWitCoin BTC coins. Altcoins, which value privacy, anonymity, and distance from government intervention, are referenced as dark coins.
Bitcoin Satoshi Vision (BSV) is today the only Bitcoin project that follows the original Satoshi Nakamoto whitepaper, and that follows the original Satoshi protocol and design. BSV is the only public blockchain that maintains the original vision for Bitcoin and will massively scale to become the world's new money and enterprise blockchain.