With the massive growth of OpenAI's ChatGPT, many industries, particularly the government, have started noticing artificial intelligence or AI. In the Philippines, many talks about the technology have been harnessing attention lately, with the 2023 National Analytics and AI Summit by nonprofit organization Analytics and Artificial Intelligence Association of the Philippines (AAP) being the most recent private organization hosting an event for the tech.
Day 1 of the event was held in person on June 21 at Novotel Hotel in Araneta City Cubao, in the Philippines; Day 2 was livestreamed, led by Analytics and AI Leader Michelle Alarcon.
Alarcon kickstarted Day 2 by recapping the events on the first day, followed by a keynote speech on driving innovation and informing regulations from the Private Sector Advisory Council (PSAC) Head of Digital Infrastructure, Henry Aguda.
Panel discussion on ethical reputation of AI
The first panel, titled "Ethical Considerations in Analytics & AI for Nation-Building," was moderated by Dominic Ligot, the co-founder and trustee at AAP and founder of Data Ethics PH. Ligot shared a message with the panelists on transforming the technology and managing innovation while keeping it safe.
Before the panel discussion started, Ligot let the panelists introduce their take on AI. Lyantoniette Chua, a Teaching Fellow at the Center of AI and Digital Policy, discussed the sub-cultures happening in AI, particularly in Silicon Valley.
Chua's brief presentation was followed by a quick take on how people are becoming more AI-dependent from Dr. Benito Teehankee, Jose E. Cuisia Professor of Business Ethics at De Las Salle University; the potential backfiring of AI and its governance challenges by Dr. Peter Sy, Associate Professor of Department of Philosophy in UP Diliman; legal perspective on AI from Atty. Angelo Santiago, Law Reform Specialist at UP Law Center; and practical point of view for business Jallain Manrique, Partner and Head of Technology Consulting at KPMG Philippines.
Dr. Teehankee also reacted to the pain points of AI, where he said that the biggest concern now is on Large Language Models or LLMs.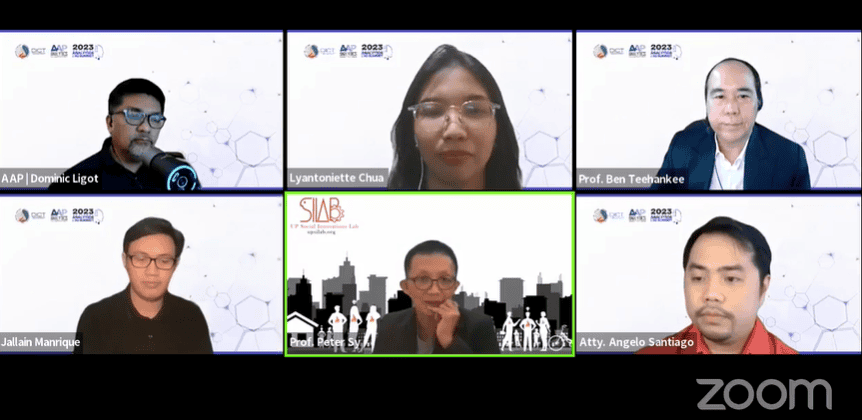 "Innovation has to be certified as aligned and safe. Aligned means they must be aligned with humans' values to improve quality of life. And they must be safe, certified as not being harmful. Those are the two things that we need to look at," Dr. Teehankee noted.
Regarding the alignment issues of AI, Dr. Sy stated that this is a recurring concern, explaining that machines cannot be guaranteed not to override the goals set by humans.
"We have to approach this more on local, even as we think of global actions…Think globally, act locally, because many of the forces are really beyond us," he noted.
Given the risks associated with the innovations in AI, is it best for the IPO to cover this risk area upon issuance of patents as long as there is no current grove supervising the space? As a former staff of the IPO, Atty. Santiago straightforwardly answered that the IPO checks first if the technology is new, inventive, and can be applied to the industry before issuing a patent.
"There's also this portion that patents which are contrary to public order and morality cannot be patented," he explained, adding "that AI is not inherently moral and contrary to public morality."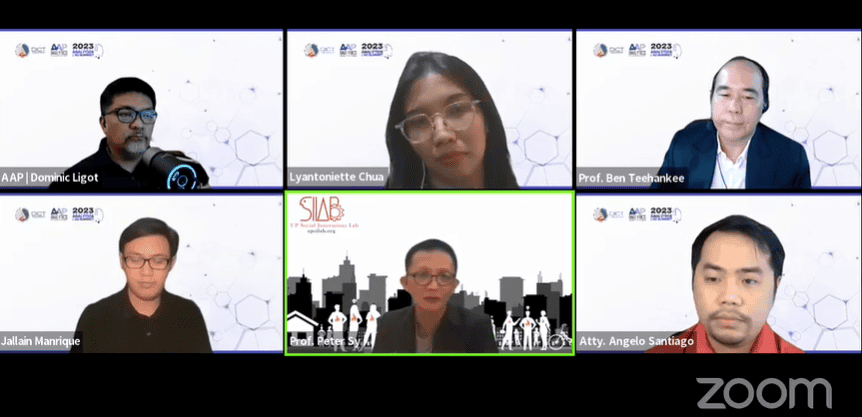 From a practical perspective, Manrique noted that everyone understands the value of AI. However, what needs to be done is to ensure the proper safeguards and measures in using AI.
"None of this new technology has undergone a perfect journey wherein standards are set before it happens. Normally, standards are built, and regulations are released as we discover new things about the technology. I feel that is what's happening in AI," he said. "I think the immediate thing that we need to work on is how to be able to release those standards."
Chua said that the events in emerging technologies like this are a great starting point. However, she reminded everyone that "what we need is action."
"We need to know what we have to do from 2023 to 2025, at the very least. [We must] come together in a direction that will both innovate and at the same time put human dignity at the forefront of AI development," she said.
Public sector's steps to adopt AI
The summit didn't stop with talks about AI regulation, but also delved into its impact in the creative and financial spaces and, most importantly, the role of the public sector in adopting the tech.
To start with the panel discussion on AI for the Public Sector, David Almirol, the undersecretary for eGovernment at the Department of Information and Communications Technology (DICT), had a brief presentation to introduce the DICT's latest project digitalizing the Philippines with their e-Gov PH super app.
As per Usec. Almirol, the DICT mandates the adoption of digital transformation systems and solutions. "Part of our initiative also is to pass the e-Governance Act, the House Bill No. 7327," he revealed.
One of the priority projects, as presented by Usec. Almirol is centered around creating citizen-centric platforms like the eLGU, eTravel, eGovPay, eGovCloud, eReport, and the eGov PH app, which he also introduced during his keynote presentation.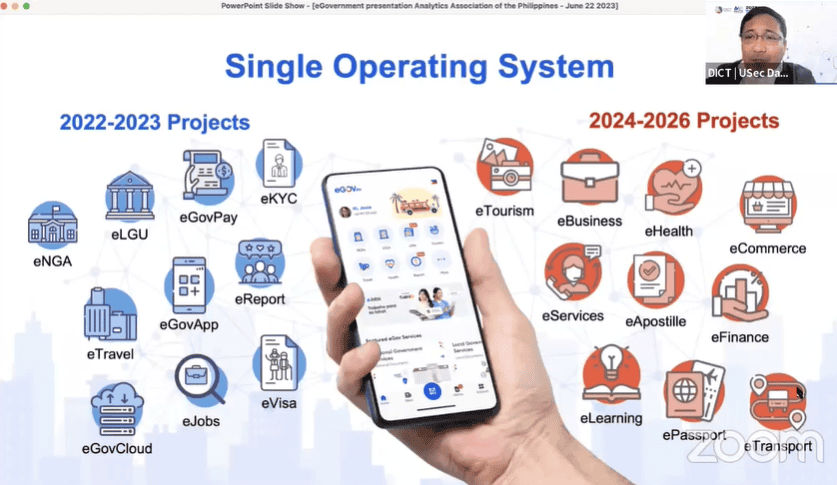 Following Usec. Almirol's presentation was another keynote speech from Usec. of the Department of Education (DepEd) Kris Ablan, who shared the DepEd's AI plans—which include using the tech as ChatBot on their site and using AI to scan the department's paperwork, specifically the form 137.
Heading with the discussion, Alarcon asked both public officers a few questions on leveraging AI in their departments. Alarcon began by asking how they determine if they are AI ready. Usec. Almirol said they are already using AI for different government tools, and he even revealed that in the eGov Super App's 1.13 version, they would be embedding more mini AIs—sharing that he is a fan of the tech.
As for the challenge of the lack of workers in AI, Usec. Almirol clarified that their issue is not with the lack of talents, but with enticing them to work and stay with the government despite the low wages. He added that government agencies should not stop using old technologies, rather Usec. Alrmirol suggested that they must learn to follow new technologies and innovation and use it to their advantage.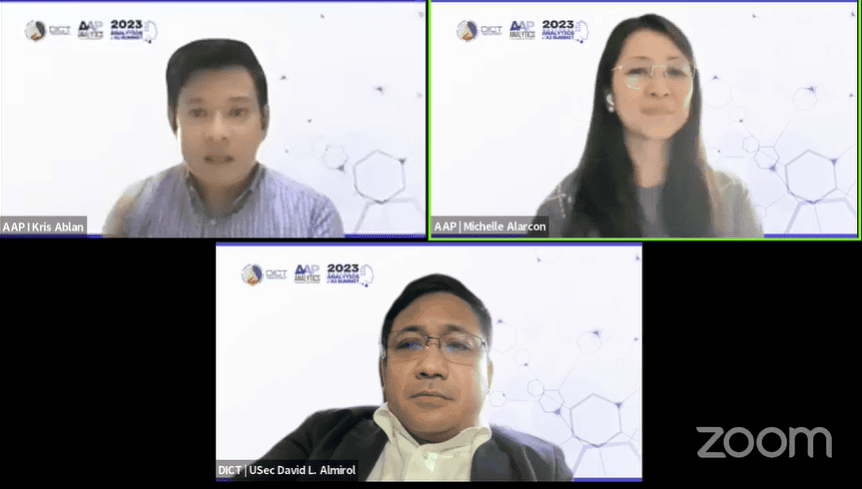 "Government is like any other business; we don't want to get left behind. In terms of planning, trying to catch up with the advances in technology in AI, we're there. We like to be like the banks, the insurance companies, like other tech firms," Usec. Alban said, wrapping up.
Closing up the Day 2 of the National Analytics & AI Summit, VP for AAP Monchito Ibrahim stated that AI is a complex field that must involve collaboration from various individuals in different industries.
"Together, we must build a future with AI working for positive gains," he noted while also encouraging viewers to attend their next summit in 2024.
Watch: Blockchain Social Manila on Digitalization through blockchain will turbocharge Philippines growth
New to blockchain? Check out CoinGeek's Blockchain for Beginners section, the ultimate resource guide to learn more about blockchain technology.