House Stark in the book series A Song of Ice and Fire (ASOIAF), more popularly known as the Game of Thrones TV series constantly warns that "winter is coming."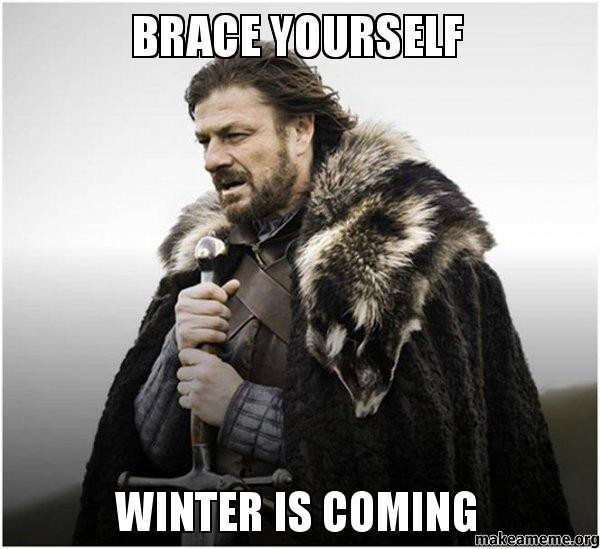 Source: makeameme.org
Throughout the books, those living outside of The North view this claim with skepticism as when the series begins, the current summer has lasted for nine years. House Stark's words are not heeded until of course after winter eventually arrives.
Compare this theme to the current situation in the digital currency markets where global interest rates have remained at or near zero for 14 years, which coincidentally is around the same age as Bitcoin's Genesis Block.
Believing that winter will not come is comparable to the mentality of perpetually HODL'ing in hopes of "Number Go Up." As literal winter does approach, Bitcoin miners are continuously being squeezed by falling coin prices, rising interest rates and tangential rising costs (energy, capital, price inflation).
In the fourth book in the ASOIAF series, A Feast for Crows, notorious anti-hero and Stark opponent Jaime Lannister finally encounters winter with despair.


Source: Tumblr
When I read this passage years ago, I thought that the characters were finally having to face the reality that Stark had warned about ad-nauseam from the beginning of the story. Similar circumstances are happening in the digital currency space. This very site had reported on Sam Bankman-Fried's potential deception earlier in 2022. FTX filed for bankruptcy nine months later in a spectacular collapse witnessed over a manner of days. Generally, those involved in the Bitcoin SV community have been warning of various crypto, Ponzi schemes collapse for years at this point, much like House Stark.
Additionally, BSVer's sympathize the House's former leader Eddard (Ned) Stark who approached conflict with honesty and honor, which tragically cost him his head. Just as we believe Bitcoin can bring true value for business globally, Ned believed in manifesting the truth in politics as well. Like Ned and his family, we in the community have been punished and maligned for such beliefs for over 4 years via social engineering, doxings and delistings.
The low price (which has been theorized to be suppressed) has been the primary driver of the low sentiment which is likely a combination of a lack of demand for the token as well as the external attacks alluded to above.
Now the companies in the space, namely exchanges, must focus solely on self-preservation just as the characters in ASOIAF had to deal with the inevitable challenges of winter. Coincidentally one such effort now abandoned appears to be a suppression of the BSV price.


Source: Bitfinex
On November 23, Bitfinex announced that margin trading of Bitcoin SV would be halted on December 12, 2022. Since then, BSV has had a few decoupled price spikes occurring only on Bitfinex as high as 25%. Curious that this announcement comes as many other digital currency exchanges are facing liquidity crises Of course, such a move could simply be a coincidence, and nothing more than a biased take based on subjectivity.
Isn't that attitude exactly what the phrase "Winter is Coming" was dismissed with?
Watch: BSV Global Blockchain Convention panel, What's next for digital asset exchanges & investment?
New to Bitcoin? Check out CoinGeek's Bitcoin for Beginners section, the ultimate resource guide to learn more about Bitcoin—as originally envisioned by Satoshi Nakamoto—and blockchain.