Raising blockchain transaction volumes is seen as the key to the success of Bitcoin SV (BSV). So what are those transactions going to be? Well, ideally they'll emerge from a thriving ecosystem of products built for the BSV blockchain, whether financial or otherwise.
And that ecosystem will only grow if developers can turn their creative ideas into useable, well-designed applications. And that will only happen if creating a BSV product doesn't require you to risk the best years of your life making something that may not succeed in the market.
We may just be reaching the tipping point where building products is easy enough for people to take a chance on it, thanks to the availability of open source tools that BSV supporters such as unwriter have been tirelessly creating.
One use of unwriter's work has been in WeatherSV, an experimental project created by Paul Chiari (above), an IT professional in Australia. Paul is interested in agritech—technology to help the farmers in his Queensland community. He sees the BSV blockchain as ideal for storing data that 'Internet of Things' devices out on farms could send back via wide, low power wireless networks. As a step towards building systems like that, he's been experimenting with data distribution and storage on the blockchain—and the result is WeatherSV, which has been taking off to a degree he never expected.
WeatherSV takes open source weather data collected from 40,000 weather stations round the world and presents that information to its users, storing it on the BSV blockchain. In addition, it asks users to pay the equivalent of AU$5 in BSV, using Moneybutton to add their nearest weather station to the app's output. Hundreds of channels have already been opened—from, recently, Conakry, in Guinea (temperature now 31°C) to Kashi, in China (22°C)—and the number is growing all the time.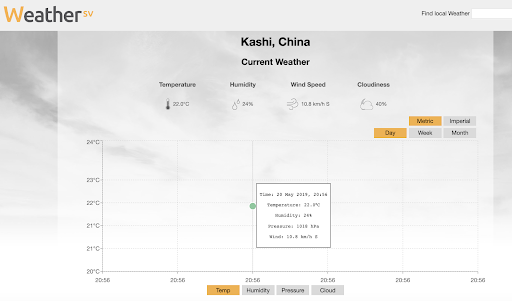 WeatherSV has already exceeded Paul's expectations: "We just did this as a hobby project …we did it for a bit of a laugh." But with its recent growth, WeatherSV is currently producing well over 12,000 transactions a day. Now Paul says he's talking to a potential investor about expanding the project and sees the possibility of 50,000 transactions a day.
His experience has led him to encourage others to roll up their sleeves and have a go at building on BSV: "Doing this stuff, and learning as you go and experimenting with it, it's fantastic," he says. With the existing software available to incorporate into projects like WeatherSV, "The heavy lifting is being done and you've just got to jump on board and have a go."
To hear more about Weather SV from Paul Chiari, and what he's learnt building it, listen to this week's CoinGeek Conversations podcast:
Please subscribe to CoinGeek Conversations – this is episode 20 of a weekly podcast series. Just search for "CoinGeek Conversations" wherever you get your podcasts, subscribe on iTunes, listen on Spotify or visit the CoinGeek Conversations website.
New to blockchain? Check out CoinGeek's Blockchain for Beginners section, the ultimate resource guide to learn more about blockchain technology.