Automated market maker (AMM) exchange TokenSwap launched their native exchange token TSC on September 14 at an initial price of 8,000 satoshis.
There will be 10 million TSC + 800 BSV pooled in genesis mining, setting TSC price @ 8000 sats/TSC, this allows as many users to buy at a relatively low price as possible.

— TokenSwap (@tswap_io) September 14, 2021
Almost instantly, the price rose by a factor of 6 and the total value locked up in the liquidity pool rose to 5,000 BSV. This activity took the space by storm as many flocked to the exchange in hopes of making money from trading, providing liquidity and yield farming (or all of the above). If one is confused about how all of this works, I recommend reading through TokenSwap's documentation and Angus Adams aka Deadloch's blog, who has written excellent posts on the subject.
One can check TokenSwap's Twitter account, as well as the Telegram group, where the atmosphere is euphoric, as the TSC price continues to rise up to nearly 460,000 satoshis as of writing this article on 9/17, netting over a 5500% return from the initial price.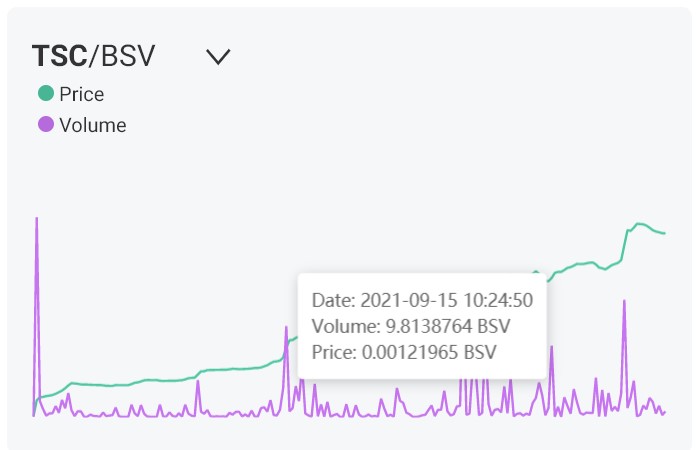 Source: TokenSwap
While this price action is great for short-term gains and generating excitement, these absurd returns are clearly unsustainable. The price continues to rise as more users' 'lock' (I use that term loosely) their BSV to earn yield. Users can farm TSC at a rate of 1400%, which pays out every BSV block mined. This means that as opposed to the legacy financial system where customers earn interest every month, six months, or year, TokenSwap customers are earning a liquid token that is appreciating in price every 10 minutes.
The reason I use 'lock' loosely is that because of the Bitcoin's instant transactions capability, users can immediately withdraw their funds, harvest the yield, and swap the token for BSV. The implications of such a platform I think are still being understood by the space, and the market. Of course, this activity has taken off on other chains, but the unpredictable fees and unstable network conditions do not manifest the true innovation of these type of systems.
For example, checking the Farm page of TokenSwap we can see two tokens available, BOEX and TSC.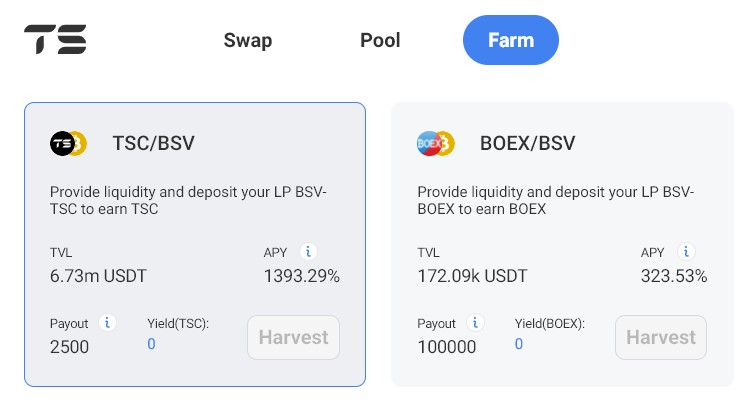 Source: TokenSwap
When a customer compares these yields the choice is a no-brainer on which token to provide liquidity to. That stated, these disproportionate numbers could change. When that change occurs, users can choose to switch instantly! The innovation of this type of exchange is not tokens rising in price just because, but the fluid, frictionless movement between liquid assets.
After seeing these developments, one must ask why and what the purpose of locking funds (especially digital currency) on an exchange for any period. For a more direct comparison, BSV-based derivatives exchange TDXP requires liquidity providers lock their coins up for a certain time, or face withdrawal penalties. Given the rapidly occurring developments in the space users ideally want to be able to move and direct their funds freely between applications without consequence.
From September 22, TokenSwap will launch farming for the USDT/BSV pair, which originally was supposed to go live on September 15 but had to be delayed due to technical issues that arose from the huge, unexpected demand. Applications atop BSV once again demonstrate the 'move fast, break things' mantra which is great to see.
Liquidity mining for BSV/USDT hasn't started yet and already with near 2K BSV locked pic.twitter.com/3JHk8hLo0n

— TokenSwap (@tswap_io) September 13, 2021
Before the TSC launch, 2,000 BSV were deposited into the exchange in preparation for farming Tron-based USDT. The well-known and tired criticisms of Tether aside, Tron Tether is supported on most digital currency exchanges.

Source: Tron
This choice has several implications:
Customers cannot just deposit Tether, they must also buy BSV to provide liquidity and farm yield
Customers can deposit their BSV instantly and yield U.S. dollars
Customers can redeem their gains directly from TokenSwap to most exchanges in U.S. dollars
Much needed liquidity has a large incentive to be directed to TokenSwap instead of traditional exchanges because of transaction speed and low fees
The combination of these implications should result in…#notfinancialadvice
Only way to get the yield is to commit TSC AND BSV to liquidity pair… Meaning you have to buy both… Then you have to lock them up… Who comes up with these crazy positive feedback loops?
Price discovery for BSV now happens ON BSV…

— Angus Adams (@Deadlochcom) September 14, 2021
New to Bitcoin? Check out CoinGeek's Bitcoin for Beginners section, the ultimate resource guide to learn more about Bitcoin—as originally envisioned by Satoshi Nakamoto—and blockchain.