Blockchain technology is moving from the periphery to the centre of the financial world. As a former Executive Director of the IMF and an Alternate Member of the Governing Board of the Swiss National Bank, Thomas Moser is somewhere near that centre. He also confessed to finding blockchain technologies "fascinating", and has done for a long time.
Back in 2013, he wanted to buy some Bitcoin, not for speculation, but "because I wanted to go buy a coffee". He checked with the compliance department in his bank but was told he could only buy Bitcoin if he held it for at least six months – to avoid falling foul of regulations that stop bankers speculating.
So Moser passed ("which was probably a mistake") but continued to follow Bitcoin and blockchain even though it seemed to have little to do with the work of central banks.
Today, the two sectors are starting to converge. Moser offers insight into a groundbreaking initiative in Switzerland. It's called SDX (Swiss Digital Exchange) and is a system which will put "the entire process from trading, processing, settlement and then also custody services, all on a blockchain." SDX is a project run by SIX, a Swiss public-private partnership which provides financial market infrastructure in the country, including to the stock exchange.
Moser is a realist about blockchain technologies and says that having looked at experiments by the Bank of Canada and the monetary authority in Singapore, he concluded that they were "really not more efficient compared with the current system". That's because "with modern infrastructure, payments between banks at least and within a single country are extremely efficient." But he has high hopes for projects like SDX, particularly if they can capitalise on blockchain's strengths, one of which, he notes, is its ability to make cross-border payments.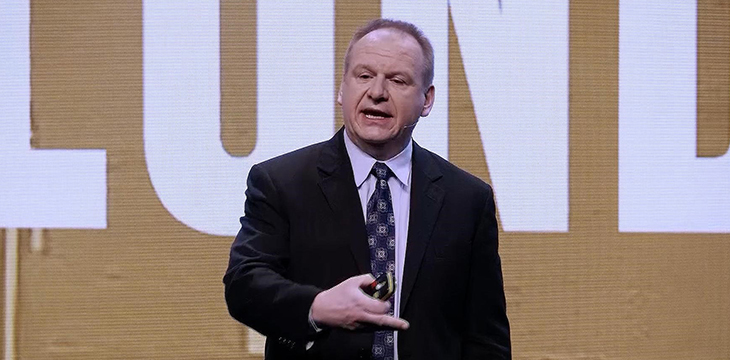 When it comes to Bitcoin SV, Moser says the Swiss National Bank is "basically blockchain agnostic". But the bank does want to work with existing 'private sector' blockchains rather than creating its own.
In the long-run, Bitcoin and central banks may find themselves in competition, rather than working together. Moser asks "what preserves the value of the money that you use better? Is it a central bank with its monetary policy or is it basically code – that you have something encoded that just provides you a very stable growth of the money supply?"
It's too early to say how that will play out, Moser says. But he doesn't believe future rivalry between central banks and blockchain technology is likely to be around the presence or absence of regulation: "sometimes I have younger people come to me and say 'the state comes now and regulates and kills everything'. And I usually say 'the funny thing is, it's the companies, it's the customers that ask for regulation they ask for protection. They want to have legal certainty.' And what's difficult is just to figure out how this new technology fits with the old regulation and how we can actually integrate two things."
Moser has been in discussion with Craig Wright: "he came to the Swiss National Bank about a year ago …and I asked him I said 'as a central bank, if I issue a digital currency, I will probably do it in a centralised way. Why would I need the blockchain?' And his answer to me was, amongst different things he said, transparency. You know, you get full transparency in the blockchain. So I think these are all questions that will clearly occupy us in the future."
Hear the whole of Thomas Moser's interview in this week's CoinGeek Conversation podcast:
You can also watch the podcast video on YouTube.
There's a transcript of the conversation here.
Please subscribe to CoinGeek Conversations – this is the 18th episode of the podcast's third season. If you're new to it, there are plenty of episodes from the first two seasons to catch up with.
Here's how to find them:
– Search for "CoinGeek Conversations" wherever you get your podcasts
– Subscribe on iTunes
– Listen on Spotify
– Visit the CoinGeek Conversations website
– Watch on the CoinGeek Conversations YouTube playlist
New to blockchain? Check out CoinGeek's Blockchain for Beginners section, the ultimate resource guide to learn more about blockchain technology.