Not that everybody didn't already know this.
In their annual report released yesterday, JPMorgan Chase listed cryptocurrency as one of the risks to their business. While this is a subtle admission, for sure the company knows crypto-enthusiasts have their eyes on JP Morgan, especially after about a year of a rocky word war between the two.
Not that the crypto community needed any confirmation from JPMorgan, but the financial giant is officially conceding: cryptocurrencies are bad for their business. But given the fact that probably everybody who has a decent level of knowledge of the cryptocurrency trade is already aware of this fact, why is JPMorgan saying this now?
It smells very much like a pump. In fact, it's been reeking of that smell for a few months now.
If you recall last year, JPMorgan CEO Jamie Dimon went on a tirade calling Bitcoin a fraud and saying he'll fire any "stupid" employee caught trading the tokens which were "worse than tulip bulbs." This drove the value of BTC down by over 100%.
But then very shortly after, users caught the company taking advantage of the price drop and buying BTC on the cheap. The order was so large—9,000 BTC—that the company made it to the top five buyers on the order book on Nasdaq. Users were furious, saying this is downright manipulation and that Dimon should be legally penalized.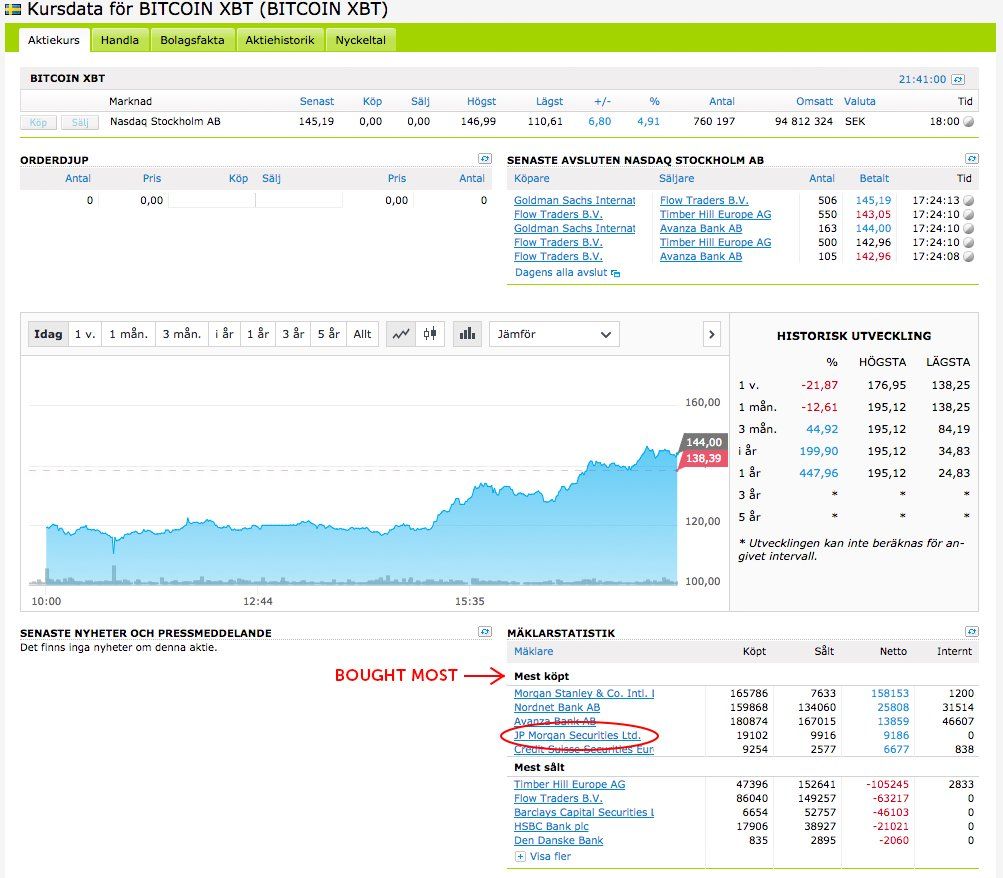 While JPMorgan denies that their employees were involved (pointing the finger on their clients whose actions are beyond them), remember that this means JPMorgan or its clients have a lot of BTC. And maybe they've decided they want to rake in their profits from last year's stash soon, hence the pump. Dimon has been "regretting" his derogatory words since late last year, praising Bitcoin and even saying it's the "new gold."
After their manipulative stunt last year, JPMorgan is probably the least credible source of information on when to buy or sell (or what to buy and sell). History shows whatever they have to say about the cryptocurrency trade is highly likely for their own benefit—don't buy it. You'll only make them richer at your own expense.
Diverting investors to their blockchain projects
According to Fortune, JPMorgan refused to say why they are only announcing this analysis now, but that the company has been working on their own blockchain projects, including an Ethereum-based blockchain. Apart from this, they have also filed a patent for a Bitcoin-like payment system.
This is possibly a prelude to positioning their new products as early as now. In fact, they have a department for "blockchain initiatives," whose head, Umar Farooq, said blockchain technology has been "more than thriving" within bank systems.
"It's more than thriving. People have been surprised how quickly it basically spread as a way to address and think about customers differently," Farooq said at the Yahoo Finance All Markets Summit earlier this month. "It's quite insane."
New to Bitcoin? Check out CoinGeek's Bitcoin for Beginners section, the ultimate resource guide to learn more about Bitcoin—as originally envisioned by Satoshi Nakamoto—and blockchain.