Yesterday, Chinese mining pool F2Pool, which mines 10% of Bitcoin blocks, stopped signalling for SegWit2x. Hard fork support is now down to 83.3%.
A month on Earth is like three years in Bitcoin. Well, maybe not exactly. But a lot can happen for a blockchain in as short a time as, say, the waiting period before the controversial hard fork for Bitcoin, SegWit2x. SegWit2x is set to activate in mid-November, under the conditions that miners support it by signalling readiness for the hard fork continuously. Although majority of mining pools have voted to support it, it's becoming more and more apparent that the success of SegWit2x is not completely secure: a lot can change any minute, and there's still a month to go.
With Bitcoin Core developers opposing the hard fork, several companies have withdrawn their support. Yesterday, BitGo software engineer Jameson Lopp pointed out through his Twitter account that Chinese mining pool F2Pool was seen no longer signalling for SegWit2x. "15% down, 85% to go," Lopp wrote.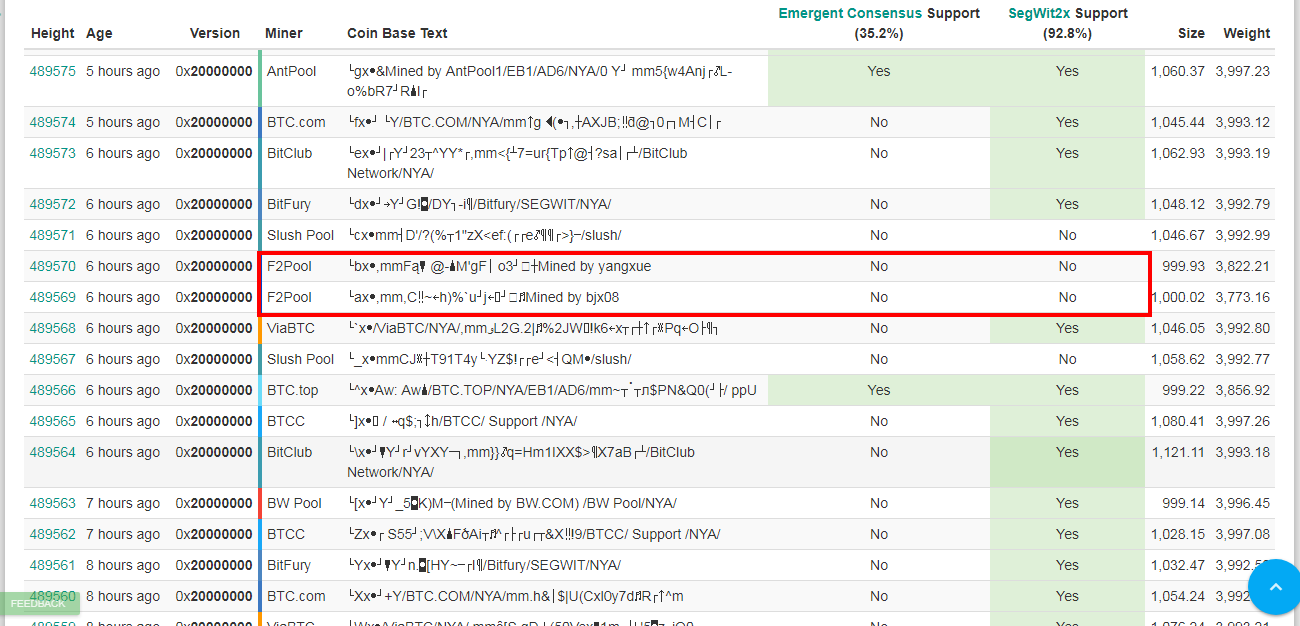 The SegWit2x support surveillance chart at CoinDance showed support for SegWit2x—which was at around 95%, drop to 85%—a loss consistent to F2Pool's withdrawal of their 10% share in mining power. Their withdrawal comes a day after Bitcoin.org released a public warning about major problems with the looming hard fork, along with a list of companies who support the "contentious hard fork," despite the risks and dangers it exposes users and their deposits to.
As of last check today, SegWit2x support has dropped further to 83.3%. Meanwhile, bitcoin soared over $5,800 today, hitting a new all-time high.

Does this confirm the $6,000 end-of-year forecast?
Earlier this month, Gatecoin marketing and APAC business development head Thomas Glucksmann remained firm on their $6,000 end-of-year projection for bitcoin, despite saying that the forthcoming hard fork, among other things, will make it severely volatile over the next couple of months. Billionaire Michael Novogratz has an even bolder speculation: $10,000 over the next six to 10 months. He does, however, warn of an imminent implosion.
New to Bitcoin? Check out CoinGeek's Bitcoin for Beginners section, the ultimate resource guide to learn more about Bitcoin—as originally envisioned by Satoshi Nakamoto—and blockchain.