Founder and CEO of sCrypt Xioahui Liu joined the CoinGeek New York conference for a presentation on "Smart Contracts & Computations on Bitcoin," in which he explored how sCrypt was helping make it easier for businesses and developers to execute smart contracts technically.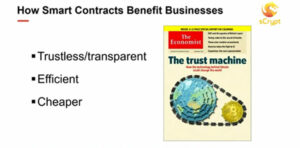 In his presentation, Liu noted that smart contracts benefit businesses in a number of ways. Defined as any kind of computer code run by other miners on the Bitcoin network, he said smart contracts have the advantage of being trustless. When conducting business online, without face-to-face transactions, there are challenges such as non-payment and non-delivery. Smart contracts enable the automatic exchange of goods and payment on chain, in a completely transparent way—something that is ideal for applications like gaming.
Smart contracts are also highly efficient, automating processes that otherwise happen manually. This reduces operating costs, as well as improving productivity across a range of key functions for the businesses that use them.
Then there's also the advantage of scalability, which makes it low cost to run smart contracts and execute these automated functions on chain. Liu summed this up by noting that it is only the BSV blockchain that is capable of handling such functions and effectively processing smart contracts at an enterprise scale.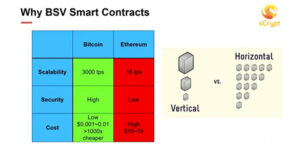 He went on to compare BSV to Ethereum, to identify exactly why this is the case. Firstly, he notes that BSV scales horizontally, with more machines allowing increased capacity. By contrast, Ethereum scales vertically—which, for all intents and purposes, means it doesn't scale at all. BSV starts with 3,000 transactions per section vs. 15 with Ethereum. It brings a high security platform vs the low security environment of Ethereum, which is something many enterprise clients in particular will look for. And on a cost basis, he notes that BSV comes in 1,000x cheaper than Ethereum.
Liu went on to outline sCrypt's products, and how they were helping developers to work with smart contracts in a more practical way. First there's the sCrypt programming language, which aims to give developers full control over what they build with smart contracts and how they build it. There's also the sCrypt SDK for Javascript and Python, with more to follow.
Arguably the main product from sCrypt comes in the form of its IDE, available on Desktop and Cloud. This has seen a 140% increase in users since its launch at CoinGeek London in 18 months, with a lot of enthusiasm already from BSV developers. He notes that this is fast becoming the go-to for BSV developers and enterprise clients building smart contracts for BSV.
A lot of projects have already adopted the technology, including Elas Digital, Tokenized, Fabriik, Satolearn, DotWallet, and TokenSwap, using sCrypt within their technology stack.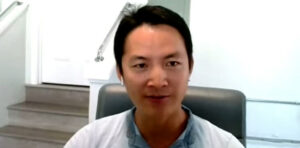 He then turned his focus to why Bitcoin SV was the perfect solution to enterprise problems, noting that Bitcoin is Turing complete. Liu branded it a 'huge misconception' that Bitcoin cannot do everything other blockchains can do—it can. A Turing machine can run on Bitcoin with smart contracts, empirical proof that BSV can do everything other blockchains can do – and more efficiently, too.
The presentation wrapped up with a look at some of the applications for sCrypt, and smart contracts that are already being explored in different sectors. He flagged the TokenSwap app, which is built entirely on sCrypto in the first instance, before turning to Kaggle, the machine learning marketplace, which has outsourced computation.
There's also financial services, for example, insurance and checking accounts, all of which can and are being powered through smart contracts. He also spoke of the impact on gaming, with smart contracts removing the trust element, so players don't need to trust the house or their opponent, but can instead be certain of a fair game, thanks to smart contracts.
Watch CoinGeek New York 2021 Day 1 here:
New to blockchain? Check out CoinGeek's Blockchain for Beginners section, the ultimate resource guide to learn more about blockchain technology.