This is both funny and sad at the same time.
With ICO scams being rampant, checking a project's white paper is an important part of doing your due diligence before throwing money at some strangers online. But it's not fool-proof: it's easy for scammers to copy and paste a legitimate project's documentation and post it as their own, adding a false sense of credibility to their scam. Scam websites have also been becoming more sophisticated, thanks to easy DIY website design services being so accessible.
While being victimized by scams is nothing to joke about, some scammers do provide a bit of comic relief. Miroskii, an ICO claiming to build a "decentralized bank," had a pretty decent white paper. "Banking without bankers," they proclaimed. Things seemed to check out at first, that is, until you see who their graphic designer is.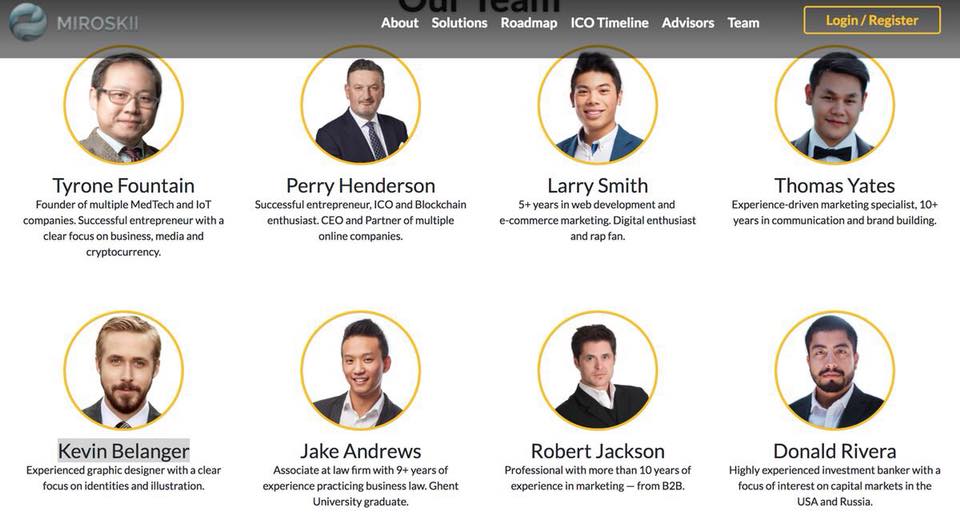 The company listed a certain "Kevin Belanger" as their graphic designer, with Ryan Gosling's photo displayed as Belanger. Even though this is probably one of the funniest gaffes in cryptocurrency scams, sadly people still fell for it. The ICO made off with $830,000 and now the website is—surprise, surprise, gone. An investigation by CNET also revealed that the rest of the team profiles were also fake.
This isn't the only team bluff that made the rounds on the internet as of late, and it probably won't be the last. Stock photos are a go-to resource for scam websites, but some pull photos of lesser known but otherwise normal and legitimate persons online. This was the case for another exposed ICO scam called Benebit, which took photos of professionals from LinkedIn and passed them off as their own team.
But some are more dangerous, as they go as far as to use real people's photos and also their real names. Luckily, some reach out to confirm the association with the actual person. Last year, a shady team that claimed to be reviving SegWit2x had to take down their CEO's profile, after the latter filed a complaint saying he has nothing to do with the project.


To be safe, do a thorough background check of every person on a blockchain project's team, no matter how convincing their white paper is. It will be a tough job these days with countless projects popping up by the day, but it's worth suffering through the research to dodge a potentially massive con.
New to Bitcoin? Check out CoinGeek's Bitcoin for Beginners section, the ultimate resource guide to learn more about Bitcoin—as originally envisioned by Satoshi Nakamoto—and blockchain.