"We're the only ecosystem that's building really functional apps right now. We're radically more healthy than most people understand." The founder of Money Button, Ryan X. Charles, is bullish about the prospects for the Bitcoin SV (BSV) ecosystem and all the apps that are being built on it:
"Look at all these little projects. They're really little, but they're little seedlings that are doing everything right. They're creating real products and real little businesses. They're going to grow up. That's the reality."
The nature of Bitcoin makes the startup business more efficient than for other tech areas, because, as Ryan sees it, much of the work has already been done.
"Why are we able to move so quickly with such a small number of people? Because we understand what Bitcoin offers us …The magic is Bitcoin: that's what's actually doing all these things. So with fewer people and less money, we can go further."
Money Button has only two other staff besides him—and both are located in Argentina, while Ryan is in the States.
Ryan wants to take as little outside investment as possible to grow the business: "We'll get there when we get there. This is about doing it for real. This is about building a real company. All we need to do is survive and grow and build on Bitcoin, and make this work, and we're going to be the largest company you can imagine some time in the future. That's the plan."
At the CoinGeek conference in Toronto, Ryan launched Money Button's first source of revenue, associated with its new Paymail product.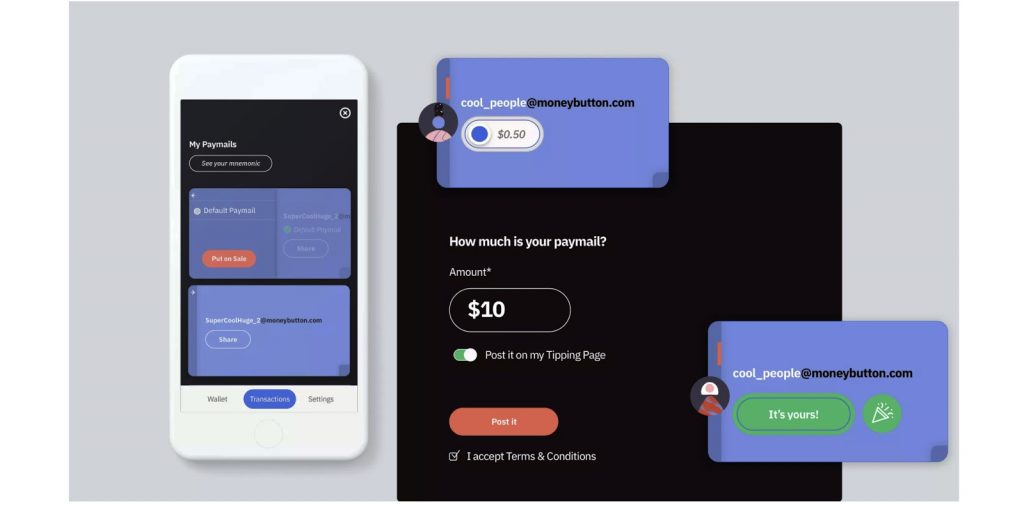 Paymail is in "a whole different league from Paypal"—but it still provides an easy way to send money online.
Money Button's revenue comes from letting people buy the names they want—or buy them and trade with other Money Button customers:
"We can't give out names for free or we're going to have the same problem that every other free naming service has, which is that bots use it and register every good name and create tons of fake accounts and do malicious things. So we prevent that from happening by charging a small fee. This is in many ways the very ethos of Bitcoin."
You can pick your Money Button name for $1 if you don't want to use the numbers that you are offered as a default address. If you register a name, you are then free to sell it, with Money Button taking 30% as a transaction fee. It's a system that means "everyone wins." If someone buys a name they want, Ryan says, "you just got the right person to have the right name. Yes, they had to pay money for it, but the reason why they had to pay money was because some random bot didn't just take it away and keep it."
Ryan says, with a laugh, that he's bought his own middle initial and is offering to sell [email protected] for a million dollars, hoping that Elon Musk, who used to own x.com, might buy it.
Ryan is confident that BSV will emerge as the single winner from the current competition between rival cryptos: "There's only one way this is going to work: there's going to be one global money—for everything. People are so vastly underestimating BSV right now it's absurd."
Hear the full interview with Ryan X. Charles on this week's CoinGeek Conversations podcast:
You can also watch the podcast video on YouTube.
Please subscribe to CoinGeek Conversations – this is episode 23 of a weekly podcast series. Just search for "CoinGeek Conversations" wherever you get your podcasts, subscribe on iTunes, listen on Spotify or visit the CoinGeek Conversations website.
New to Bitcoin? Check out CoinGeek's Bitcoin for Beginners section, the ultimate resource guide to learn more about Bitcoin—as originally envisioned by Satoshi Nakamoto—and blockchain.