A 2022 report by global consulting firm Roland Berger measured and analyzed the socioeconomic impact of IPv6, concluding that by 2025, the total industry value brought by IPv6-enhanced innovation will be $7.3 trillion.
The report referenced two papers by IPv6 Forum in its executive summary. It also categorized countries worldwide into three brackets: frontrunners, adopters, and starters, and made policy recommendations for them.
The need for an IPv6-powered world
The report paints a picture: the world is increasingly connected via a network, and as artificial intelligence (AI), 5G, cloud computing, and the Internet of Things (IoT) continue to roll out, it will be even more so.
At the heart of this network are IP addresses, but they are exhausted. IPv6 was introduced in 1998 to solve this problem—it provides the necessary number of IP addresses and offers higher-quality, smarter connections.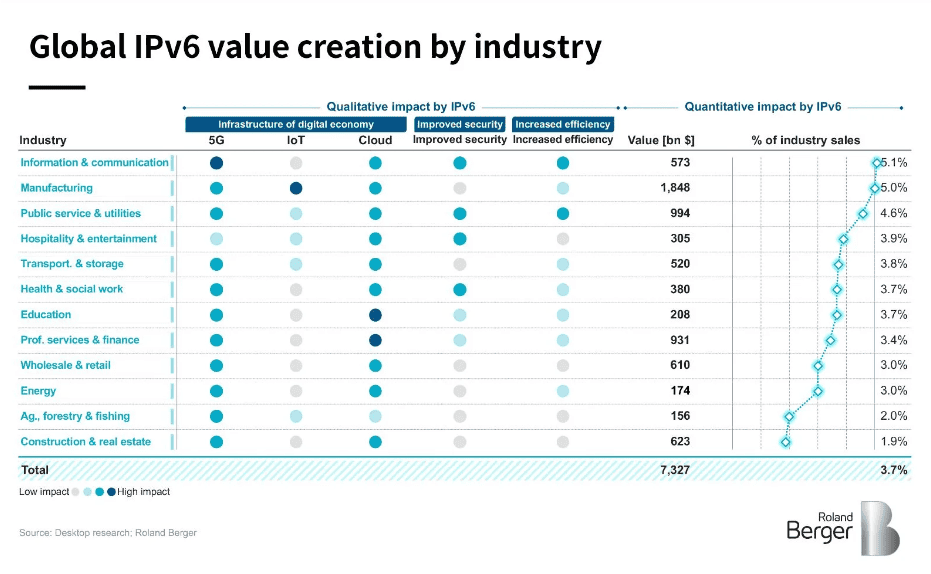 The socioeconomic value IPv6-enhanced innovation has created
The report measures the socioeconomic impact of IPv6-enhanced innovation by creating an 'IPv6 Development Index' using data from public databases and authoritative sources. It aims to measure the IPv6 development status of each and provide policy recommendations based on the findings.
The report measures IPv6 penetration, performance, and innovation for 92 countries. Data sources include the Asia Pacific Internet Network Information Center (APINIC), CISCO, and other authorities.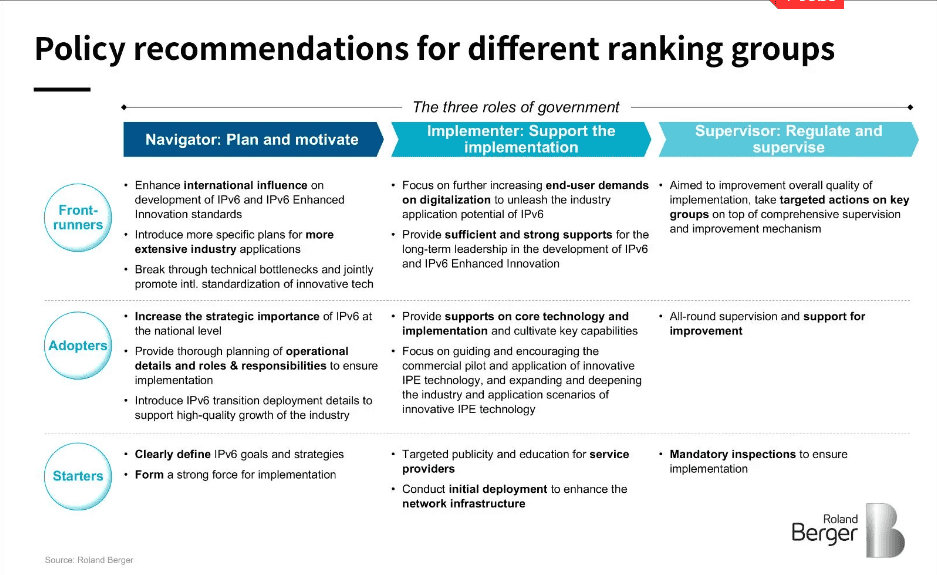 What does the full report look at?
The full IPv6 report by Roland Berger defines IPv6 and explains its value, explains the necessity of the transition, measures its social and economic benefits, describes major impacts and industry use cases, gives a full development index and country breakdown, and puts forward recommendations for countries, telecoms operators, and others.
Read the full Roland Berger report here. Where does your country rank on the IPv6 development index? The results may surprise you!
Some takeaways from the Ipv6 development report
While the full report goes into much more detail on these issues, here are some key insights from it.
Who are the frontrunners?
| | |
| --- | --- |
| Position | Country |
| 1 | India |
| 2 | Belgium |
| 3 | Finland |
| 4 | Germany |
| 5 | Greece |
| 6 | Uruguay |
| 7 | United States |
| 8 | France |
| 9 | Germany |
| 10 | Saudi Arabia |
In what industries will IPv6 drive most value?
| | |
| --- | --- |
| Industry | Value (bln) |
| Manufacturing | 1,848 |
| Public services & utilities | 994 |
| Professional services & finance | 931 |
| Construction & real estate | 623 |
| Wholesale & retail | 610 |
The full report is an interesting and insightful look into the current state of IPv6 development and adoption and a glimpse into the future of how it will power industry and help nations develop, improving the lives of people worldwide.
BSV blockchain and IPv6
With IPv6, the number of IP addresses is no longer a constraining factor, making it possible for every person and device to have one or more unique addresses.
Combined with a global distributed ledger and micropayment system like BSV blockchain, IPv6 makes a new, better internet possible, and it speeds up the rollout of the IoT (Internet of Things).
The two technologies are symbiotic, working to enhance and enable each other. IPv6 makes true peer-to-peer communication and transactions possible, whereas Bitcoin makes many use cases for IPv6 commercially viable, Dr. Craig Wright said at the IoT Conference in Dublin in 2022.
To learn more about how IPv6 and Bitcoin can work together, listen to Professor Latif Ladid here. An exciting, more connected future awaits!
Watch: IPv6 is just like the original Bitcoin—both are all about scaling
New to blockchain? Check out CoinGeek's Blockchain for Beginners section, the ultimate resource guide to learn more about blockchain technology.