The BSV Global Blockchain Convention always comes with its share of groundbreaking announcements, and one of the biggest was made on Day 1 by Charles Alexander Symons, the co-founder, and director of ideation at Buzzmint, which was in the Satoshi Block Dojo cohort of startups. He announced that a celebrated painting by world-famous French artist Pierre-Auguste Renoir was going on sale with its digital twin on the BSV blockchain—for a reserve price of US$3 million.
"The reserve price is 3 million. What we're doing is accepting expressions of interest because we appreciate it's not as easy as simply, at a conference, selling a painting," Symons told CoinGeek.
Renoir was a French painter in the early 1900s who led the development of the impressionist style of painting. 
In a video accompanying his presentation, Symons brought on Maurycy Mielniczuk, the gallery owner at Marek and Sons in Paris, who described the painting in detail. Known as 'Gabrielle with the mirror,' it depicts Gabrielle, Renoir's nurse, with a painting by his third child Coco in the background. 
"It's a painting with intensity typical of Renoir," the art expert explained.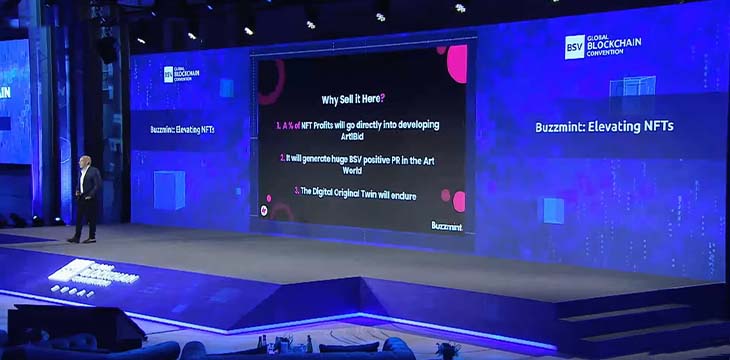 So why did the painting's owner choose to sell it and its digital twin on BSV? Michat Scistowski, a representative for ArtBid, which is an art auction platform that Symons and his team at Buzzmint have built on BSV, explained:
"There are many reasons why Andre decided to build on BSV, but the most important ones are immutable data storage that lets us connect the physical painting to a digital twin for metadata without any doubts and contractless system that makes our platform globally unhackable, which is critical because we are considering transactions in the millions of dollars," he said.
The ArtBid team has created two NFTs to accompany the physical painting, with the first being a digital ownership certificate containing all the metadata and authenticity provenance documents, while the second will be the first-ever super high quality scan of the painting.
The sale of the Renoir painting is a big milestone for the BSV ecosystem and will generate positive PR for the blockchain in the art world, Symons pointed out. 
'FOMO, INFO and OH NO! creates FOMU, the biggest friend BSV can get'
With his team at Buzzmint, Symons has been hard at work creating utility-led NFTs, he told the audience. On this journey, he has come across many who ask him, "Can Buzzmint make us an NFT?" 
"Unfortunately, we don't want to be talking to customers who ask us this question. On the face of it, they are at the peak of Mt. Stupid," he stated, referring to the Dunning-Kruger Effect graph, which illustrates how those with limited knowledge overestimate their competence.
The question that Symons prefers is 'what can NFTs really be used for and why BSV?' 
In his interaction with entities interested in NFTs, Symons has encountered three distinct characters—FOMO, INFO, and OH NO! 
There are FOMO characters in every single brand Buzzmint has worked with who just want to dive straight into NFTs and make money, not bothered about what blockchain they mint on or the effect it could have on their brand. 
On the other hand, INFO cares about the brand and is cautious about diving into NFTs.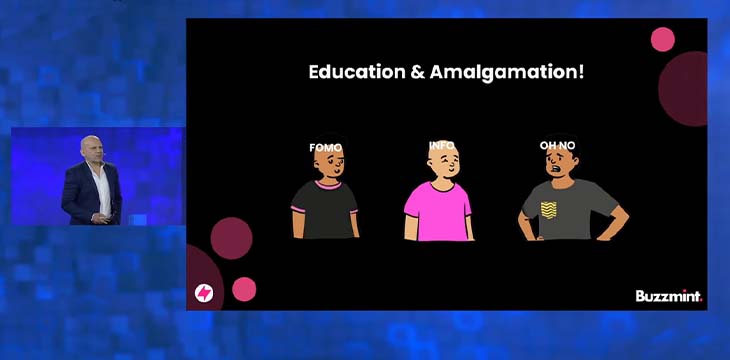 And then there is OH NO!, who Symons described as the killjoys of the entire market. They are scared about the high gas fees, NFT theft, and other common concerns with NFTs.
"These characters have come together and they have formed a super character called FOMU (Fear of Messing Up) and this is the biggest friend that BSV can get," Symons summed it up.
FOMU wants a flexible, innovative, and fast platform with the option for tailored inbuilt solutions and guidance on what this might look like. They want NFT solutions for ticketing, film financing, legal documents, professional certification, book publishing, and more. 
NFTs will transform the fine art world, Symons concluded. In this sector, the transaction process is quite laborious and quite time-consuming. 
"If you can gather all the documents of provenance, and the legal ownership and you can put them into an NFT, then that circumnavigates that process and enables a swifter transaction," he ended.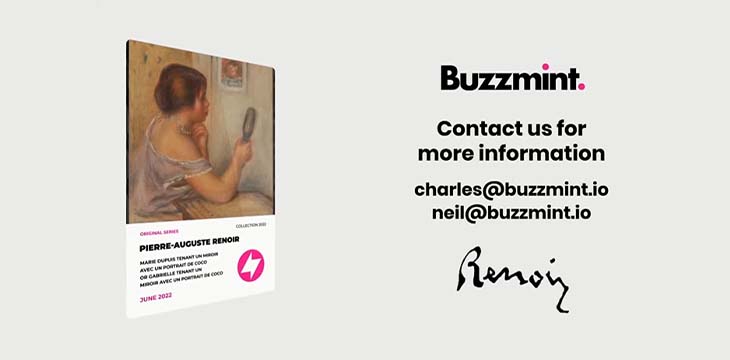 Watch the BSV Global Blockchain Convention Dubai 2022 Day 1 here:
New to blockchain? Check out CoinGeek's Blockchain for Beginners section, the ultimate resource guide to learn more about blockchain technology.