If you thought the Pumpkin Lady, Angelina Lazar, was done with Bitcoin SV (BSV), then you've got another thing coming. Since finding some measure of fame with the BSV community, Lazar has kept up her interactions with those still in the frenzy of Pumpkin mania, even so far as to trying out BSV herself.
Following our reporting on the contentious exchange between Dr. Craig Wright and Lazar, she continued to tweet about the man and pumpkins for several days, before finally volunteering to join Twetch on October 20 to put the matter to bed.
Alright, Twetch…….. Lemme' stick a pitchfork in! – I'm joining. . . . Like your concept. ¬ You get a pass on the meme, too…. C'ya, xo¬A https://t.co/NLnl1uvB5i

— Angelina Lazar (@Angelina_Lazar) October 20, 2019
After receiving some help and free BSV from the community to get started, Lazar got a rockstar welcome from Twetch users, racking up 44 likes and 44 comments on her first post, and quickly gaining 30 followers: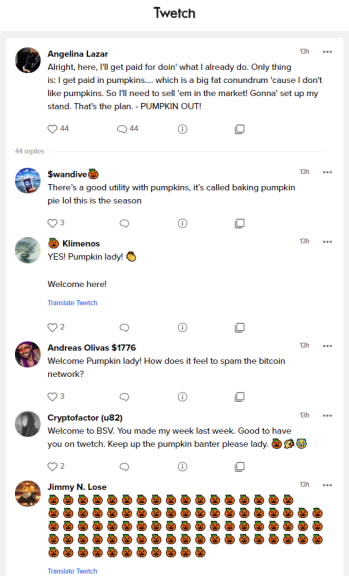 Her Twetch profile describes her entry into the world of BSV as "all about depumpkinizing the pumpkin patch n' I gotta' come to the patch to do so. ¬ BTC-mania! Let's rumble! xo¬A." Regardless of that effort, she's using Twetch to post about the latest goings-on in the Bitcoin world, noting about the recent BTC vs BSV debate hosted by Hotep Jesus, "BTC vs BSV (Debate 1), BTC lost. We need a 2nd Debate. And need to keep track of who wins each & every debate."
That doesn't mean that she's come to love BSV and Craig Wright just yet. She's challenged Wright numerous times to another duel, hoping she can best him this time.
I want a duel with PumpkinHead-Satoshi on Hallowe'en. Gimme' a super farm or pumpkin patch with 2 mics. Either will do. We will get the REAL TRUTH out on the table! I HATE LIES & LIARS! – DOESN'T PASS WITH ME! LET'S DO THIS! https://t.co/3S30wGde85

— Angelina Lazar (@Angelina_Lazar) October 20, 2019
For their part, the BSV crowd have embraced Lazar, perhaps hoping to win her over with the easy usability of BSV. One user tweeted at her, "Believe me there's no hard feelings, most of us are all in good spirits just excited about the innovation." And while others have kept up the jabs, she's taken them in stride, telling them when they "get a pass" for whatever joke they were making.
As one eagle eye user noted though, now that Lazar is on Twetch, there could be a business model for her continued opposition to Dr. Craig Wright.
https://twitter.com/Poetry4Bitcoin/status/1186000883085004800
New to blockchain? Check out CoinGeek's Blockchain for Beginners section, the ultimate resource guide to learn more about blockchain technology.