One of the many advertised usages of the Bitcoin SV (BSV) blockchain is to immutably store data. While some data may be too large to store, inventive BSV developers have found other ways for users to prove their ownership of content. We're taking a look at Easy Sign, the simple to use notary service for BSV.
EasySign.io launched in March, 2019, and offered to "Upload a timestamped hash of a document to Bitcoin to prove possession." The site helps walk you through every step of the way, and really is easy.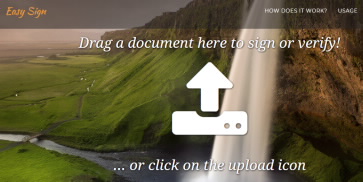 For those that don't want to be bothered with the documentation, the page immediately tells you what to do: Drag a document or click on the upload icon, choose a file, and add any notes you want to your file.
The site then generates a hash of the file which will be written to the blockchain, proving your ownership of the file and timestamping it. Swiping a Money Button then sends it to the BSV blockchain. As it's just a hash of the file, and not the full document, writing it to the blockchain is cheap: both word documents and image files only cost $0.01 to sign.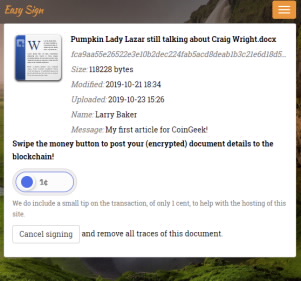 To verify ownership of the document is roughly the same process. Upload the file, and Easy Sign will immediately tell you if the content has already been claimed, directing you to the BSV transaction ID of when it was claimed.
You can also easily check past documents you've signed by clicking on your user name at the top right. Doing so takes you to a handy list of every document you've uploaded to the blockchain, with hashes and transaction IDs for each.
As Easy Sign has noted on Twitter, even very private content can be signed with peace of mind, as they never obtain your content.
Please note, the actual contents of your documents are not sent to our servers. Not even for the hashing. Your data is completely private at all times, we only calculate the hash and store that on the blockchain.

— EasySign.io (@EasySign_io) March 19, 2019
So what are the drawbacks to the site? Quite simply: better documentation. While the site's homepage lays out some great use cases for the service, and tells you exactly how to use it, we had to go to Twitter to know for sure that they weren't hoarding our content. That would be a great thing to say right on site, but we couldn't find it anywhere.
It could also use a couple of explainers for its use cases. While it's great to know that using Easy Sign allows us to "protect creative work" and get "proof possession," besides uploading the file's hash to the blockchain, it would be great to understand how to use that to protect the work going forward. That may be something a legal expert knows instinctively, but that's not us.
But other than that, the site works exactly as promised, and is as easy as the name implies it should be. If you needed a way to document forever that you created a work of art, Easy Sign is a great option.
New to Bitcoin? Check out CoinGeek's Bitcoin for Beginners section, the ultimate resource guide to learn more about Bitcoin—as originally envisioned by Satoshi Nakamoto—and blockchain.