South Korean financial firm Keypair has started offering a pocket-size cryptocurrency wallet resembling a standard credit card, the latest in a series of hardware wallets launched in recent months.
Known as the Keywallet Touch, the device is built to support a number of different cryptocurrencies, including Bitcoin Cash (BCH), ethereum (ETH), litecoin (LTC) and SegWit BTC coin. Providing FIDO Universal 2nd Factor Authentication (U2F) and benefiting from near-field communication (NFC) technology, the Keywallet Touch aims to fill a growing demand, particularly in Korea, for devices of this kind. Because the cold wallet is FIDO U2F certified, "it can keep the customers' assets securely and log in to the website using FIDO U2F," according to the company.
Providing physical storage for the cryptocurrencies supported by its chipset, the device has been designed to be as small and portable as a regular bank card, similar to the recently-launched device from Coolwallet.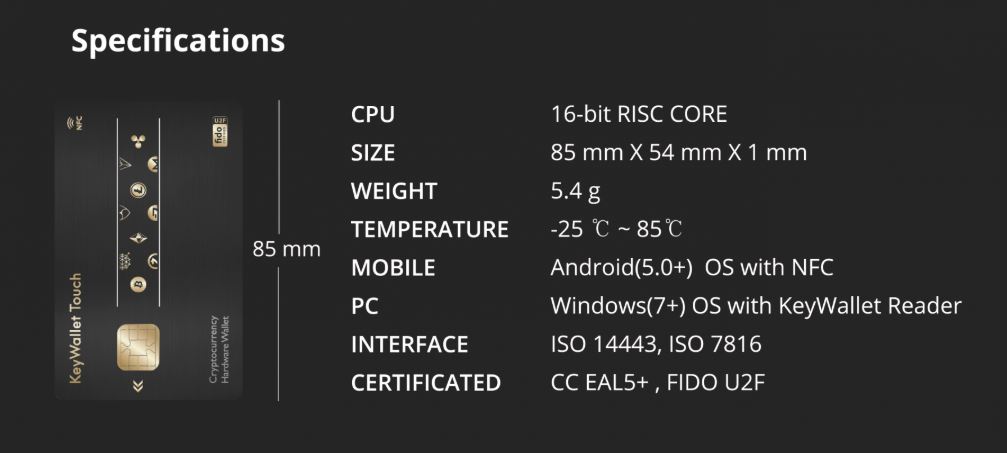 The device interacts with Android smartphones, allowing the handset to receive and send a variety of cryptocurrencies. Coming in at $69.99, the Touch is cheaper than many comparable products, but does require further adapters to connect by USB to a PC.
Describing the in-built security features on the Keywallet Touch, Keypair CEO Kevin CK Lee said the "first class" device is "built with Secure Element and its OS and Crypto libraries made by the firm. It also has CC and Eal5+ and CMVP ready product."
Users simply download the app to their Android device from the Google Play Store, to get access to the device's user interface. The company hopes the slim size and lack of batteries in the device will make it attractive to cryptocurrency users, in search of a durable, reliable hardware wallet they can use on the go.
While the device only syncs with Android devices for the time being, Keypair have pledged an imminent iOS equivalent. According to the firm, this will enable users to rely on fingerprint ID for maximum security.
The Keywallet Touch is still new, and some crypto fans have said they intend to wait until the early reviews come in before committing. But with an impressive range of features, and the extra convenience of a secure, credit card-sized wallet at a reasonable price point, it looks like this might well have widespread appeal.
New to blockchain? Check out CoinGeek's Blockchain for Beginners section, the ultimate resource guide to learn more about blockchain technology.