The Philippines is really shaping up to be a blockchain hub as several blockchain conferences take the spotlight over the last month or so. One of them is the Philippine Blockchain Week 2022, held at the Manila Marriot Hotel—probably the grandest event there is tackling the topics of blockchain, fintech, metaverse, and digital currencies.
On Day 2 of the Philippine Blockchain Week (PBW), personalities like Courtney Shrem, Charlie Shrem, and Oscar Tan-Abing Jr., as well as digital currency enthusiasts and celebrities such as KC Montero and Jared Dillinger, were on stage to discuss blockchain technology.
DAY 2 DONE ✅

We are more than grateful for everyone who attended our Blockchain and Fintech Conference!

We hope you have picked up the golden nuggets that our speakers and panelists have given to us! 😏 pic.twitter.com/BGJO8As176

— Philippine Blockchain week 🇵🇭 (@philblockchain) November 30, 2022
Proper blockchain education
Blockchain is helpful in all kinds of industries, whether in journalism or brand promotion. And as the growing popularity of digital currencies aroused in this digital world, people are getting more interested in blockchain. However, before diving into the innovations that come with the technology, educating the masses about it is still the top priority.
With that, a panel discussion with Marvin Germo, CEO of Stock Smarts; Ida Mok, founder of Fluidity Money, SEHAT Health, Spool Labs; and Belinda Lim, co-founder of Me3; set the tone of the morning talks on the disruptive potential of blockchain in the education sector.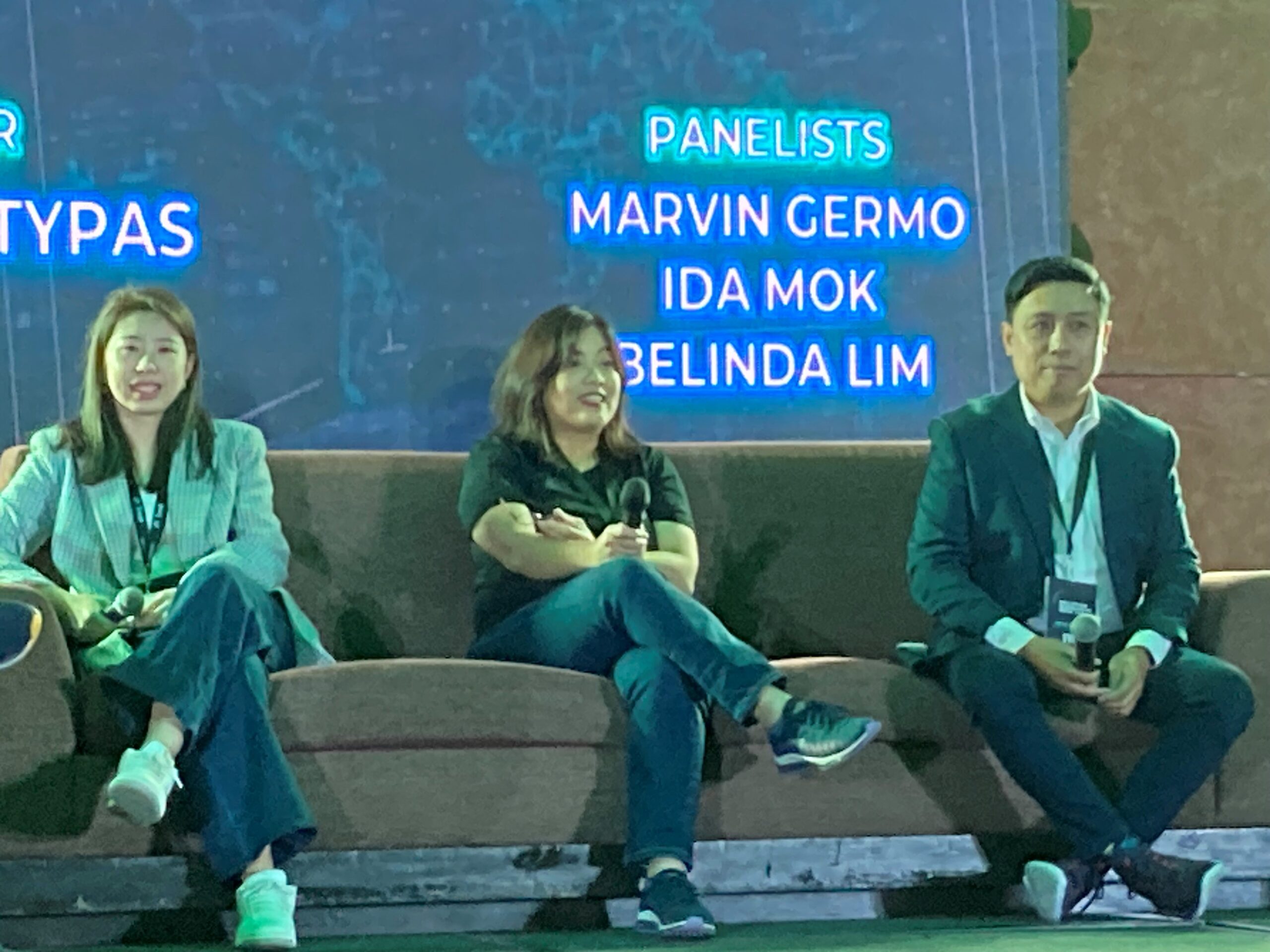 In Picture: Belinda Lim, Ida Mok, Marvin Germo
Moderator Stefanos Antypas asked the crowd and the panelists about the recent FTX implosion. Mok said that she was affected due to her DeFi projects and commitments, saying that it was an event she wanted to forget, while Germo pointed out that the collapse was predictable.
"We saw tweets leading up to that already..but to see it collapse in a very fast way affecting other projects, it's somehow sad," he said. "But in the early 2000s, collapses like this happened, and it rules out bad actors."
Antypas said the FTX collapse is one of the reasons why education should improve toward blockchain. To solve this situation, Lim said the essential thing to do is "finding the right education and the right target audience."
Germo chips in, saying that we're still too early. Taking the internet as an example regarding blockchain tech adoption.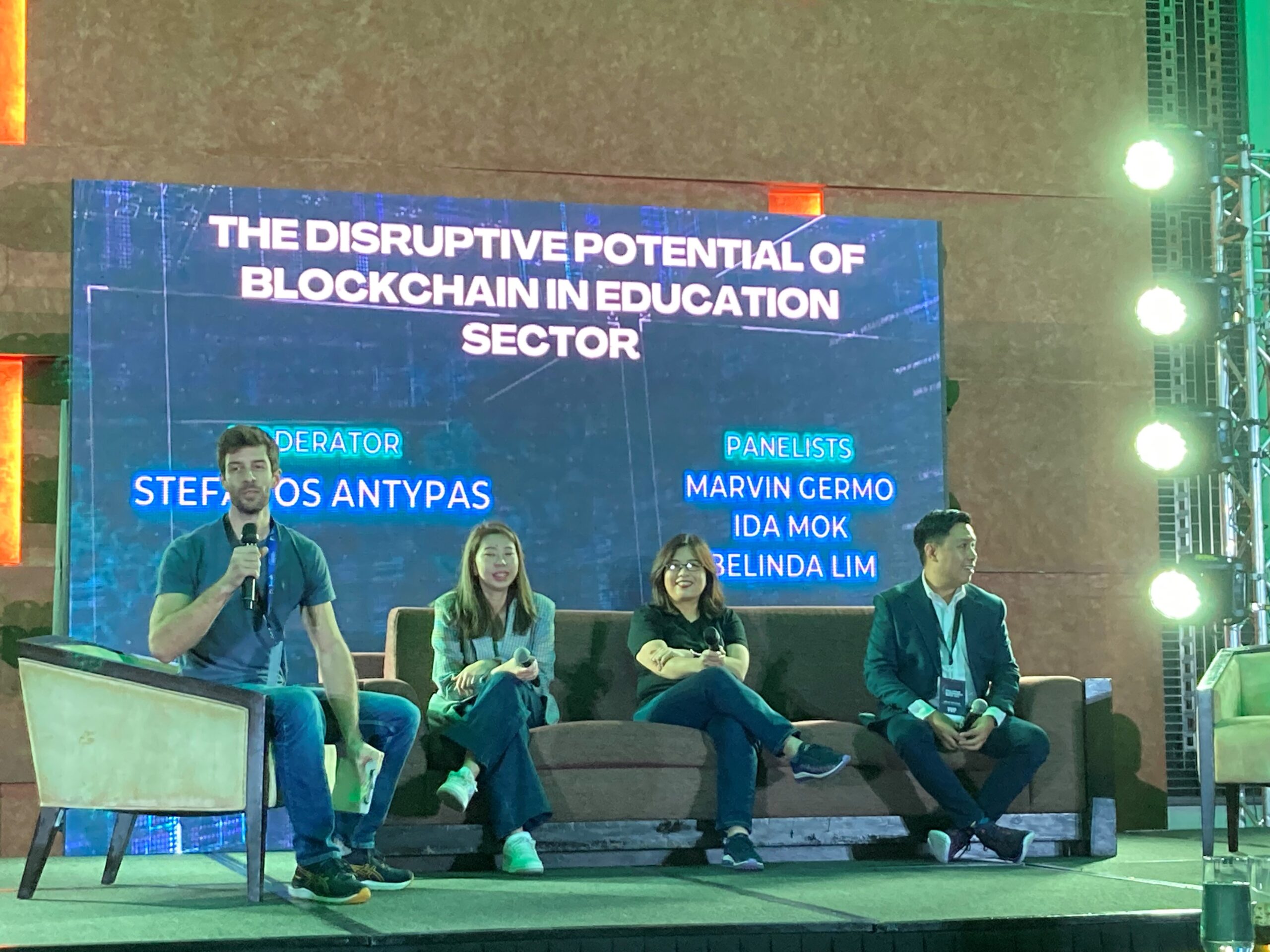 "The Disruptive Potential of Blockchain in Education Sector" with moderator Stefanos Antypas
"When the internet was invented, it was all jargon for all of us…We're not there yet. We haven't hit that curb of adoption where the masses try to [understand] it," he noted.
Agreeing with Lim and Germo's sentiments, Mok added that another reason why we haven't reached proper adoption in the Philippines is due to the noise.
"There's too much noise [and] too many bright lies that take away the essence of blockchain," Mok remarked.
Innovation with blockchain and the future of storytelling
It's incredible how blockchain can now reach different fields, such as storytelling. Mobile journalist and co-founder of Seen, Yusuf Omar, provide some fun examples of how the blockchain can empower this field and how it can help journalism adapt to these technologies by using augmented realities and the metaverse.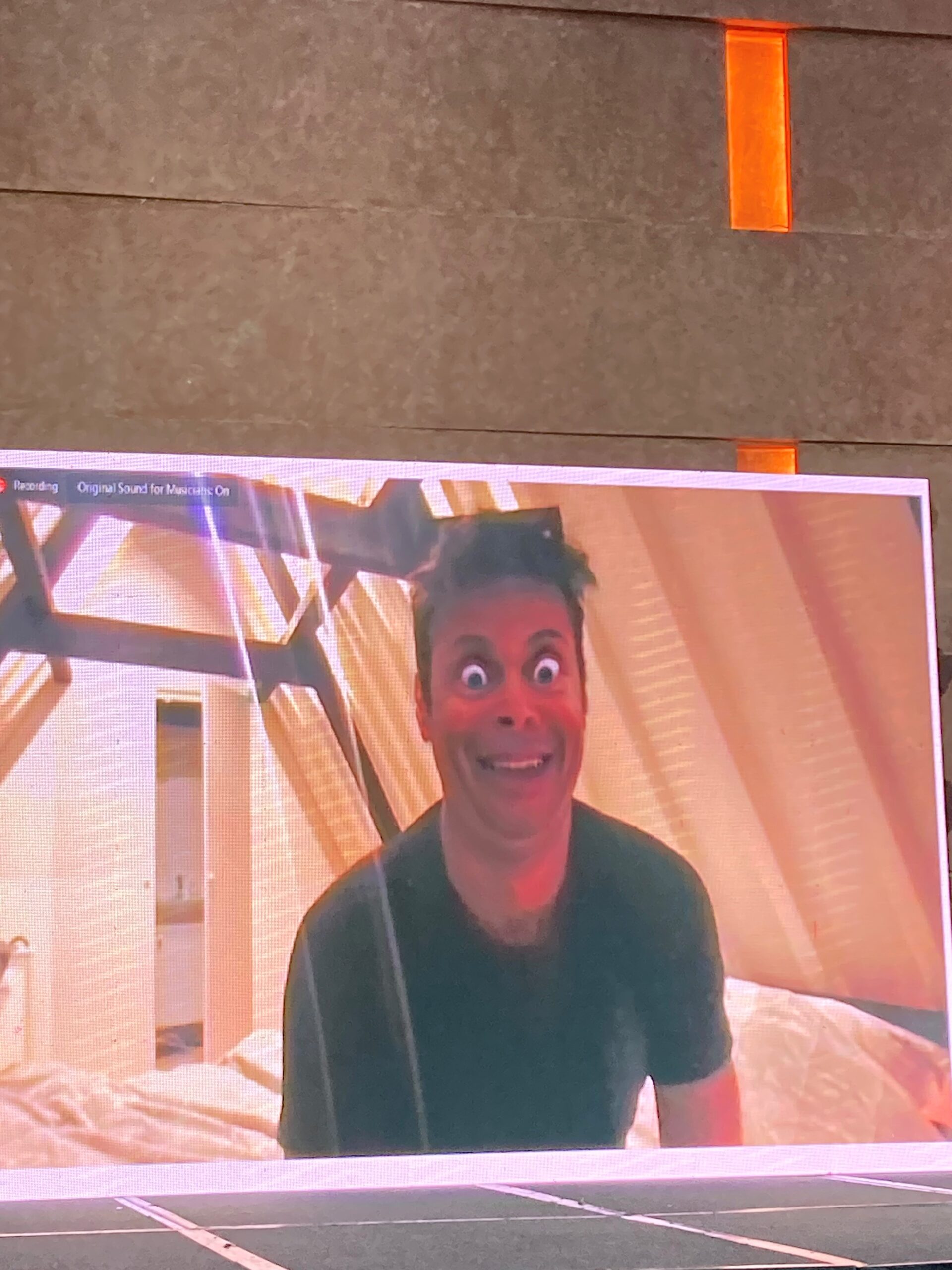 Yusuf engaging with the audience during his talk
Omar said there are two major factors in journalism, "capture and consumption," and the metaverse could help in both by using filters while interviewing anonymous personalities or sharing news stories in a more fun, interactive way.
"[In journalism] You're moving digitally. You're moving from the newspapers to the metaverse," Omar explained. "The world is your canvass, and you can tell stories all over the world."
Promotions and fandom on the blockchain and web3 space
Celebrities are often the targets of lawsuits and settlements over their promotion of certain digital currency projects. This year, popular socialite Kim Kardashian and boxer Floyd Mayweather were accused of misleading investors to buy worthless EMAX tokens. This has resulted in Kardashian settling the charges for $1.26 million.
During the afternoon sessions, American radio DJ and head of content at Kumu KC Montero and Filipino-American basketball player Jared Dillinger together with CEO of Anotoys Collectiverse Oscar Tan-Abing Jr. discussed celebrities' influence in promoting projects in the blockchain and web3 sector.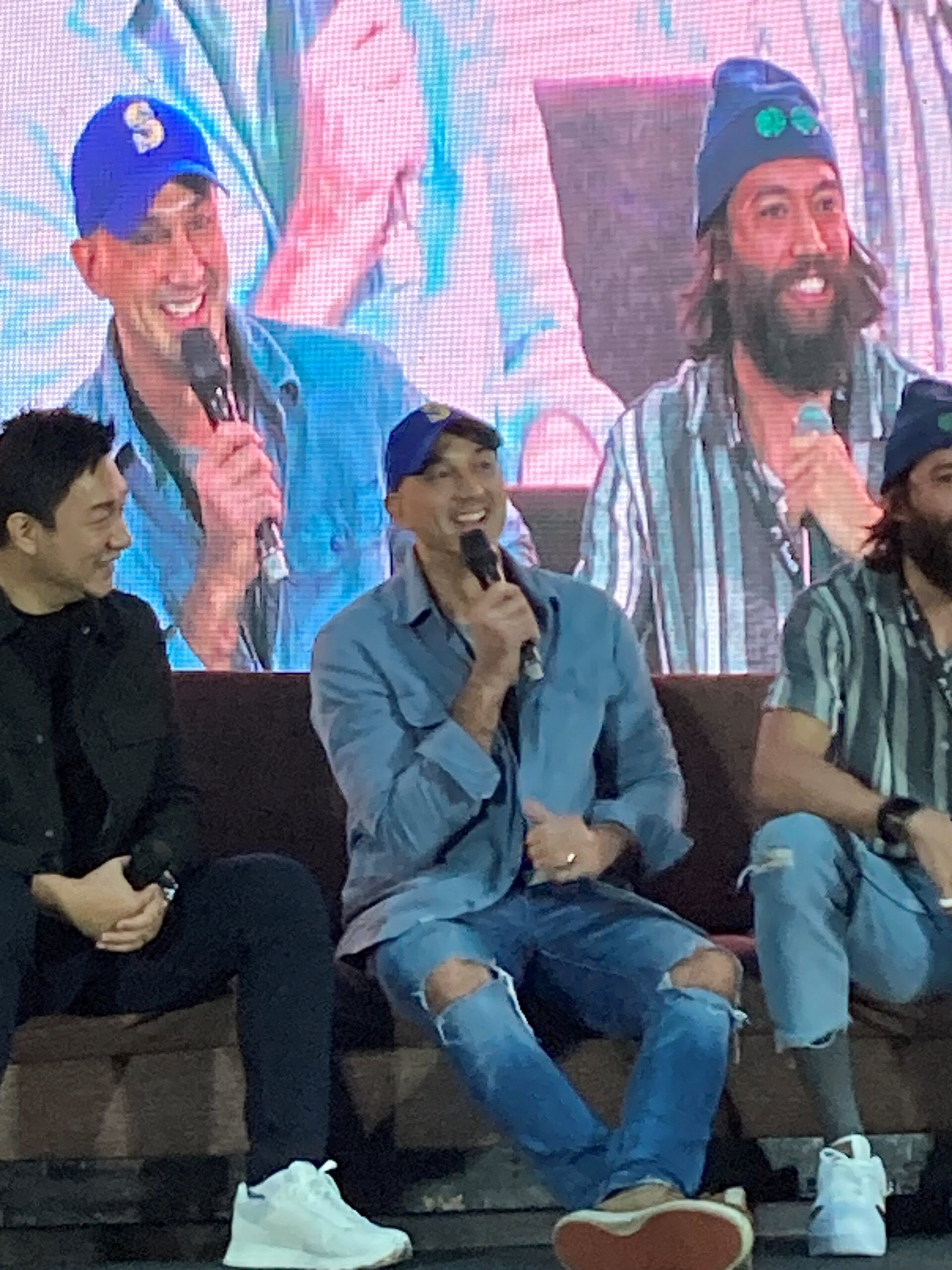 In picture: Oscar Tan-Abing Jr., KC Montero, Jared Dilinger
Filmmaker Franco Dubini, the moderator of the panel, started the talk by asking what role the panelists are playing and how they are helping the community in the space. Jared answered by saying that sports have a huge community base.
"People want to be a part of this basketball community where they can have access to their favorite idols. That's something that resonates in sports," Dillinger stated.
As for Montero, he believes that celebrities should get involved more in the Web3 sector by educating themselves about the space. "What they [celebrities] should know is that there's technology involved to bring their fans closer to them—to give access to that celebrity," he said.
Tan-Abing noted this is the beauty of the tech. "I look at the emotion of every fan acquiring a piece of their idol; that's the beauty of the technology we're into," he said. "Celebrities will play a big part in the next wave of web3 adaptation," he added. Tan-Abing also remarked that as long as there are fans, there would be demand for products.
Dillinger pointed out that despite having a big platform and being popular, the most important thing is they need to be authentic.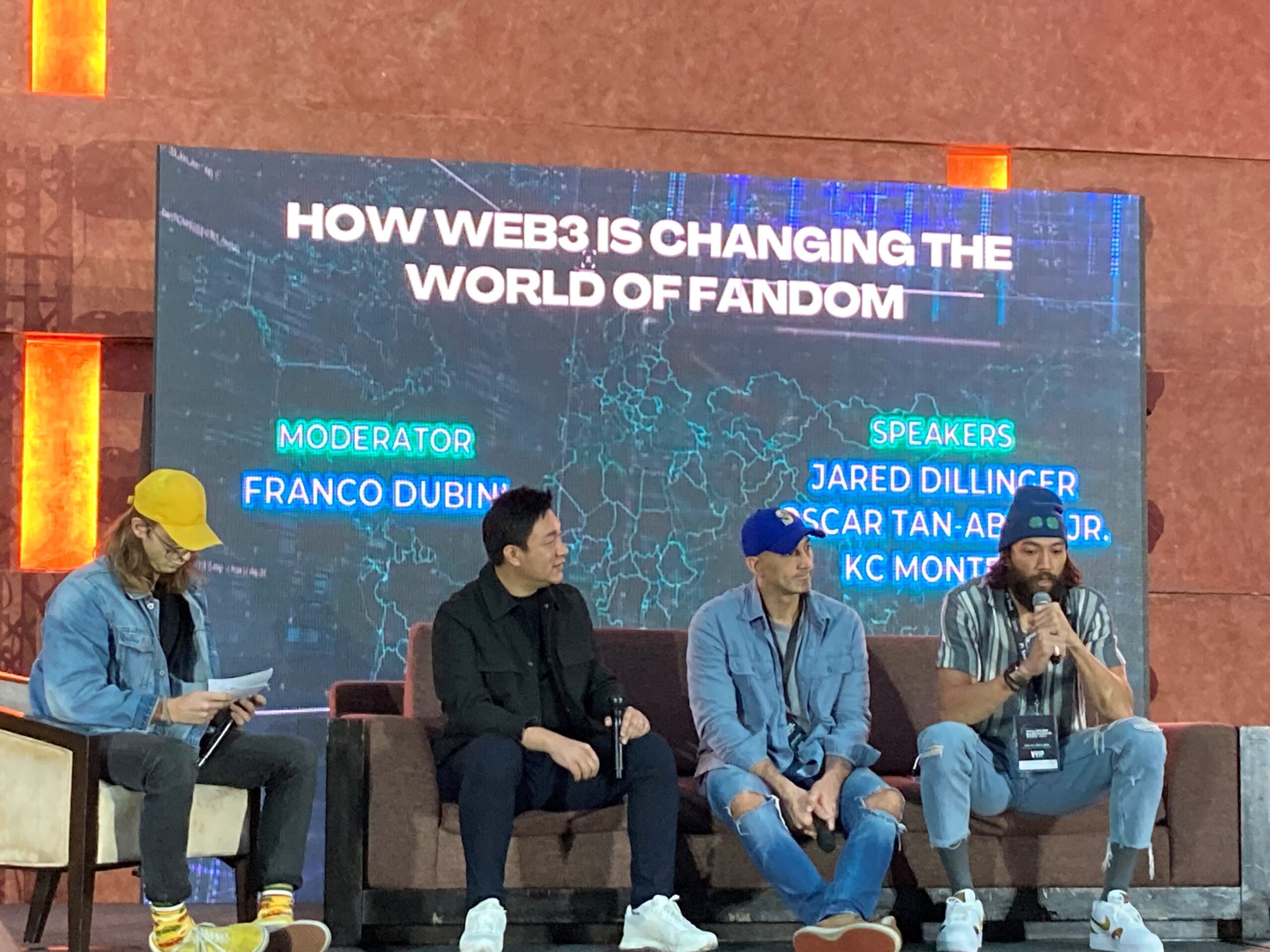 Celebrity panelists together with moderator and filmmaker Franco Dubini
Wrapping up the session, the trio gave the audience some advice: "Keep it simple. Be authentic. Be of service to others. People are gonna figure it out if you're here for the right reasons," Jared started.
"No one is an expert in this space. Everyone is still learning," Tan-Abing said.
"I think what I learned is: You have to show up. You have to be there. You have to be consistent. And you have to put your name out there," Montero said.
Watch: Blockchain Social Manila Highlights
New to Bitcoin? Check out CoinGeek's Bitcoin for Beginners section, the ultimate resource guide to learn more about Bitcoin—as originally envisioned by Satoshi Nakamoto—and blockchain.