1000 Blades #NFTGame just arrived 🥷🐉👹 on @Relayxio

👀#NFTCommunity #nftart #nftcollector #NFT

Store :https://t.co/AJH55mwwEE

Info: https://t.co/qMrW5pa6Kz

Only 30 Game Card NFTs. When your NFT wins, it will produce NFTs & possibly BSV🔥#1000blades pic.twitter.com/l4K9PpdIPF

— 1000 Blades🐉 (@1000bladesBSV) December 21, 2021
1000 Blades is an NFT card game that plays out with three different factions, Monk, Ninja and Samurai battling for the Hans of Japan. Launching at the end of 2021, participants can buy NFTs that represent a chance to win rewards in the game. More details can be found on the 1000blades website.
Every week, Nate Lindley livestreams the card game playing out, where the cards attempt to claim the Hans, receive the Dragon Blessing or the Honored Warrior. Whichever of the three factions wins entitles the NFT holders of that faction to win random NFTs as rewards. Holders are represented by the Epic Game Cards (which are eligible for all 12 events) or Event Tickets which can be purchased for each event each week.
I caught up with Nate to ask about 1000 Blades and the future of the game.
The art style is amazing! What was the inspiration for creating 1000 Blades?
Nate Lindley: Thank you, Joshua. Appreciate the compliment. Illustration is my favorite form of art because it lends itself to visual storytelling—something I really enjoy. 1000 Blades really took root when I discovered Sohei monks. History is a great launchpad for creativity. I taught history for eight years (I only teach art now), but I've pulled so many ideas from history. 
Anyhow, while researching Sohei, I learned that, like ninja, these monks were awesome warriors, and they became a major force to be reckoned with. My imagination was intertwining samurai, ninja, warrior monks, and Japanese folklore. I love games. Pretty quickly I started thinking about game design.
Right now, the game plays out with the card holders only influencing which faction or card they chose. In the future, will players be able to influence the game?
Nate Lindley: I certainly hope so! I want 1000 Blades to become an online game. If that ever becomes a possibility, I could definitely start working on real-time gaming elements. I believe this is phase 1 for 1000 Blades. I don't intend to stop after Season 1 (Events 1-12). I have a story in mind that I want to turn into a comic; I have expansion cards that I want to be present in Season 2; I am on the hunt for a way to bring 1000 Blades to online gaming where numerous events could simultaneously happen every day that could build into larger week-long campaigns. 
Really, the only thing holding me back right now is my own personal limitations. I am an artist. I like to make things. But I do not know much about programming, coding, or the mechanics involved with building video games. When I find the right people, I believe it will happen. I have high hopes for 1000 Blades.
Furthermore, how can you incentivize card holders of the same faction to work together?
Nate Lindley: This is something I am currently brainstorming. I just added an Overall Score to the 1000 Blades Stats & Records page that will determine which faction gets a Bonus Item at the end of the season. Part of that score comes from Faction Size. I give Event Tickets to Game Card NFT holders in hopes that they will share them or do promos. The more people join in on the game, the larger their faction will become. This can help their faction's overall score.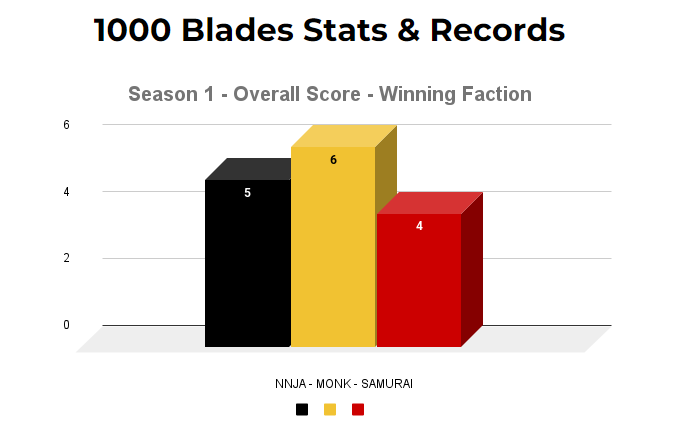 Also, to encourage people to join the 1000 Blades Discord channel, I added a Community Trophy to the 1000 Blades trophy system. The Discord channel has shown some really cool community involvement. Countergrind and Jteck in particular have contributed to their faction channels. Countergrind made a cool 3D representation of what he thought the Monk HQ would look like and he made some cool mask NFTs that he gifted to the other monks. Jteck similarly made an art gift for his fellow ninjas. Jteck's art utilized kanji, which is very cool. 
I do have some ideas of making side missions as well. But that is still a work in progress. I just haven't quite wrapped my mind around side missions just yet.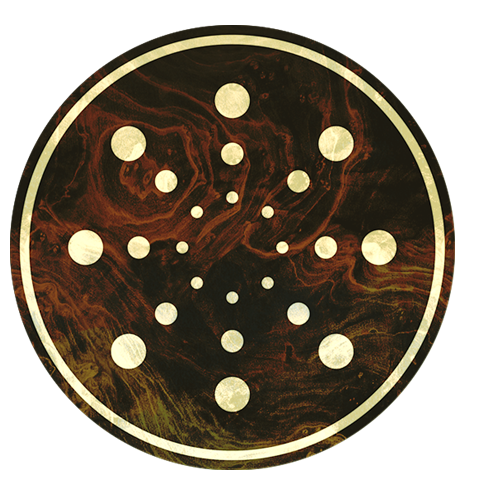 Will the fungible token Ashcan Comics Publications $ACP released be integrated in any way?
Nate Lindley: I think the more RelayX allows the community to use FTs, the more I will be able to get creative with FTs. I want to do more. I would even go as far as to say that I would accept ACP Coins or 1000 Blades Coins for NFTs and tangible goods. 
I do see a lot of potential with FTs. When using Money Button's SFP Tokens, I was able to make a slider on my website that allowed access to reading my Oath Comic. I'd love to be able to create things like that with RUN coins. I think many NFT/FT users are on the lookout for utility. The short answer: yes.
How are the BSV rewards amounts for receiving the Dragon Blessing and jackpot at the end of the 12 events determined?
Nate Lindley: The Dragon Blessing BSV reward is issued to the winner right after the event concludes. Watching the gameplay, you can see that Game Card NFT holders receive the Dragon Blessing or become the Honored Warrior by chance. Honored Warriors don't receive immediate payment like Dragon Warriors. 
Instead, Honored Warriors enter a special end-of-season raffle for a larger BSV reward and/or Legendary NFTs. By the end of the season, there will be 12 Honored Warriors. They will be entered into a raffle and each will win one of the Legendary NFTs, tangible prizes (posters and game decks), and/or a BSV jackpot. I've already allocated 5 BSV to the Honored Warrior Jackpot, but I think it will be larger when we approach the end of Season 1.
Why did you choose Odysee as the platform to stream the videos on?
Nate Lindley: I think I typed in something like livestream alternatives to YouTube into DuckDuckgo haha. I like supporting alternative platforms. I saw an interview with Tom Zarebczan and I thought I'd try to reach him and take a look at Odysee. The site looked sharp, and I received a message back from Tom about livestreaming—he is SO helpful! He took the time to personally tell me how I could make a livestream happen on Odysee. I wouldn't be livestreaming without Tom's help.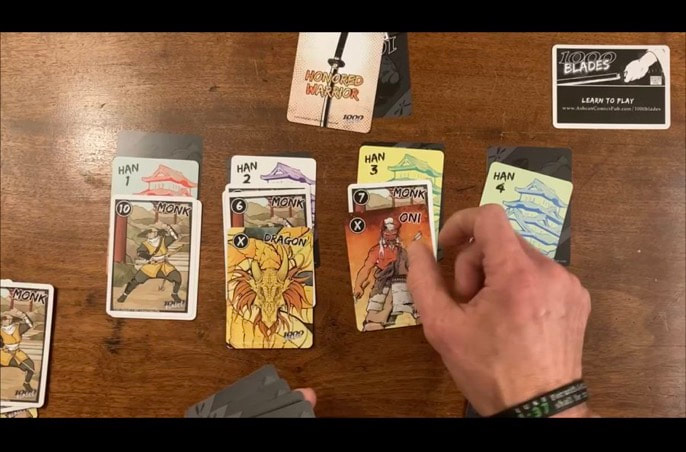 Can you talk about how an organic community is forming around this game?
Nate Lindley: I've been really fortunate to meet a lot of supportive people in the BSV community. PXL3000, Dubby, Gmadd, Xstream, Mikey, Adam Paigge, Yeti, SirQuacksAlot, AMFM, Steven5000, Diddy, Geir, GrayFoxInc, Splifftail, Exist, BSV14… the list can go on. In a way, I'd say 1000 Blades is offering a space for all these folks to interact. As everyone interacts, I do my best to listen to feedback and build 1000 Blades in a way that is attentive to that feedback.
In-Game Trophies were introduced after the 1st Event— what influenced this decision?
Nate Lindley: The Trophy System is a perfect example of taking note of the community's feedback. I saw a community member post something about winning nothing. They were saying it half-jokingly, but it hit my heart. Then I saw another community member mention how it'd be great to have some sort of reward that didn't require winning the Event… It sounded interesting; it got my wheels turning. 
The Overall Score data and the Trophy System stemmed from taking note from that feedback. Every little victory may not win the Event, but those mini-victories could benefit a team score (Overall Score) or earn the NFT holder a trophy (such as Successful Ambush).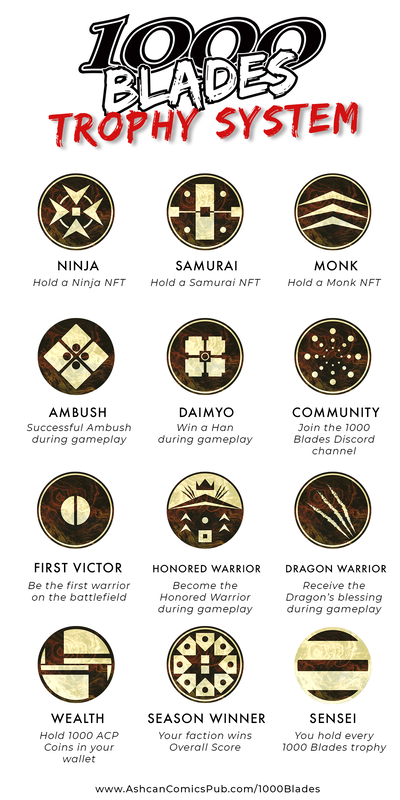 Will there be a reward for ones who collect all the trophies?
Nate Lindley: Currently, the trophy-of-all-trophies is the Sensei trophy. Obtaining the Sensei trophy won't be easy, but that is why it is at the top! Some of the trophies can be quickly obtained or purchased. 
But Sensei…That one is going to take some dedication and most likely more than one season. Beyond the prestige, I haven't attached a reward to Sensei yet. But I do think that is a great idea—I'm gonna add that to my to-do list!
Why did you choose to launch the NFTs on Bitcoin SV instead of other blockchains?
Nate Lindley: I've actually only recently found out about BSV and blockchains—I'm new to it all. A friend invited me to Twetch and from there, BSV was my first introduction to anything blockchain and BSV. I did try RVN and SOL briefly, but I never found the support on those chains like I've found on BSV. After that brief exploration, I decided to focus my energy on working within the BSV community. No regrets:)
How can community members obtain the physical items, such as the game cards or the upcoming comic book?
Nate Lindley: In my opinion, the best way to get the physical items would be to play the game. I'd love to connect with you—I want you in this community. 
Be on the lookout for the Game Card NFTs on www.relayx.com/1acp. Currently, Ninja 5 and Monk 1 are available. I'd grab those! But I do have a few card decks available on BitcoinToken.Exchange..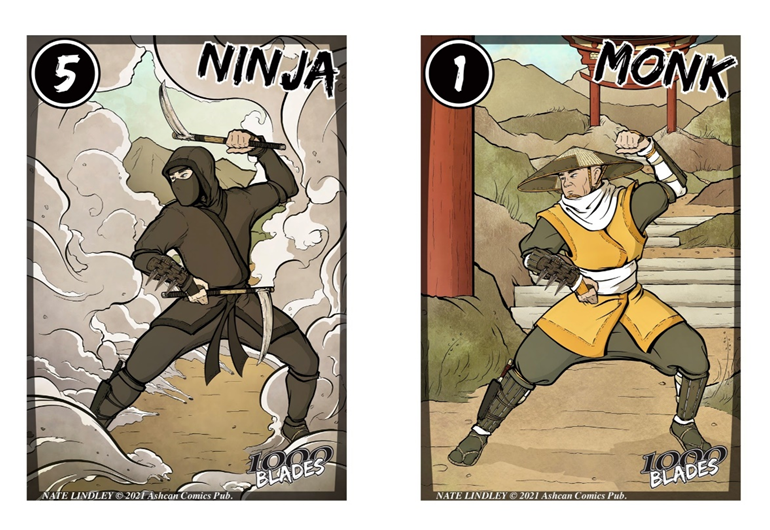 Despite Bitcoin SV's low adoption, price, and reputation relative to other cryptocurrencies or even the traditional card game markets, do you think 1000 Blades could have gained similar or greater support in terms of community and/or sales in those other communities and markets?
Nate Lindley: I've been making indie comics and games for several years now. Indie is never an easy sale. And the market is generally saturated. I am saying all this, because BSV has been the most successful and supportive place for Ashcan Comics Pub. (ACP). 
I don't know a lot about tech or BSV's history, but I will say that I gave a shout out to so many people in this interview, because I greatly appreciate them and the BSV community. I love making stuff and all I wanna do is share it with people. I appreciate this interview, Joshua. Let me know if you wanna make 1000 Blades Online with me… had to sneak that in:)
Thank you, Nate, for taking the time to answer my questions. I hope the readers learned more about 1000 Blades and choose to participate in future events.
This article was lightly edited for grammatical purposes.
New to Bitcoin? Check out CoinGeek's Bitcoin for Beginners section, the ultimate resource guide to learn more about Bitcoin—as originally envisioned by Satoshi Nakamoto—and blockchain.