The Blockchain Developer Conference is coming to Istanbul in November, and Satoshi will be in town.
The event will be held at the TIM Show Center in Maslak on November 15-16 and hosted by my2cents, the Web3 social media platform built on Bitcoin SV (BSV). It will bring together blockchain experts and enthusiasts across Turkey to learn from and network with some of the brightest minds in the Bitcoin world, including Satoshi himself.
"The target audience of the event is the developers, (potential) entrepreneurs, and technical students of the top Turkish universities," my2cents founder Maximilian Korkmaz tells CoinGeek.
With blockchain becoming a key area of study for universities globally, Korkmaz is keen to draw students from Istanbul and beyond.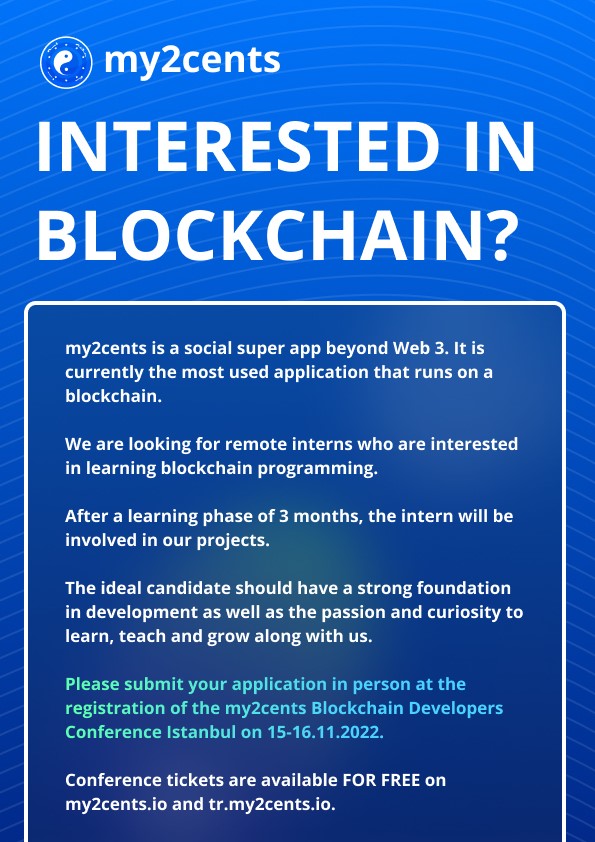 "Shuttles will be provided from major university campuses in Istanbul. Students from Özyegin University in Istanbul, where I teach Blockchain in Construction, will also be among the audience," he said.
Popular social-media personality Julia Graner will be the hostess of the event.
On Day 1, the attendees will hear from key Bitcoin thought leaders, including Dr. Craig Wright and Latif Ladid. On the second day, developers will be treated to a workshop where they will learn how to build on Bitcoin. This will include a demo on migrating applications built on Ethereum and Avalanche to BSV, the only blockchain network that scales unbounded at the lowest fees.
Two AMAs currently running on my2cents:

1. AMA with Satoshi Nakamoto: Satoshi will be answering the questions of my2cents users live on stage at the my2cents Blockchain Developers Conference Istanbul.

2. AMA with Niemand (the founder of my2cents) pic.twitter.com/ULmHmSESkv

— 🇳🇬 my2cents.io | OFFICIAL FORUM OF NITDA 🇳🇬 (@my2cents_app) October 30, 2022
"Turkey is a country with a young population, where social media is more popular than traditional media. my2cents presents an opportunity to the Turkish people to freely express themselves and earn money doing it," Korkmaz tells CoinGeek.
"Young Turks have been looking for alternatives to local and global websites that never respected their data and pseudonymity. We are thrilled to be the first platform that provides them with a Web3 alternative in Turkish language to Web2 sites such as Ekşi Sözlük, Youtube, and LinkedIn."
Free registration for the event is done on my2cents and tr.my2cents.io.

My2cents launched earlier this year with the stated goal of reinventing social media. In addition to being on-chain, the platform shifts the focus from the individual users' identity to what they have to say. On my2cents, you can't follow a person, and users get assigned a score depending on how high-quality their content is, not who they are. In a world where social media influencers dictate everything on most platforms, the platform is a breath of fresh air. Register here to join the Blockchain Developers Conference on November 15-16.
Watch: The BSV Global Blockchain Convention presentation, Marhaba: BSV in the Middle East
New to blockchain? Check out CoinGeek's Blockchain for Beginners section, the ultimate resource guide to learn more about blockchain technology.