Richard Gardner says despite all the rave over decentralization, some things are still best left with a certain level of centralized management for protection—especially at a time when regulation is right around the corner.
Bancor hack has so far ended up with a $23.5 million damage total as of last check, after an alleged security breach that enabled an unknown entity to use one of its wallets to withdraw $12.5 million in ether (ETH), $1 million in Pundi X tokens (NPXS), and $10 million in Bancor's own tokens (BNT).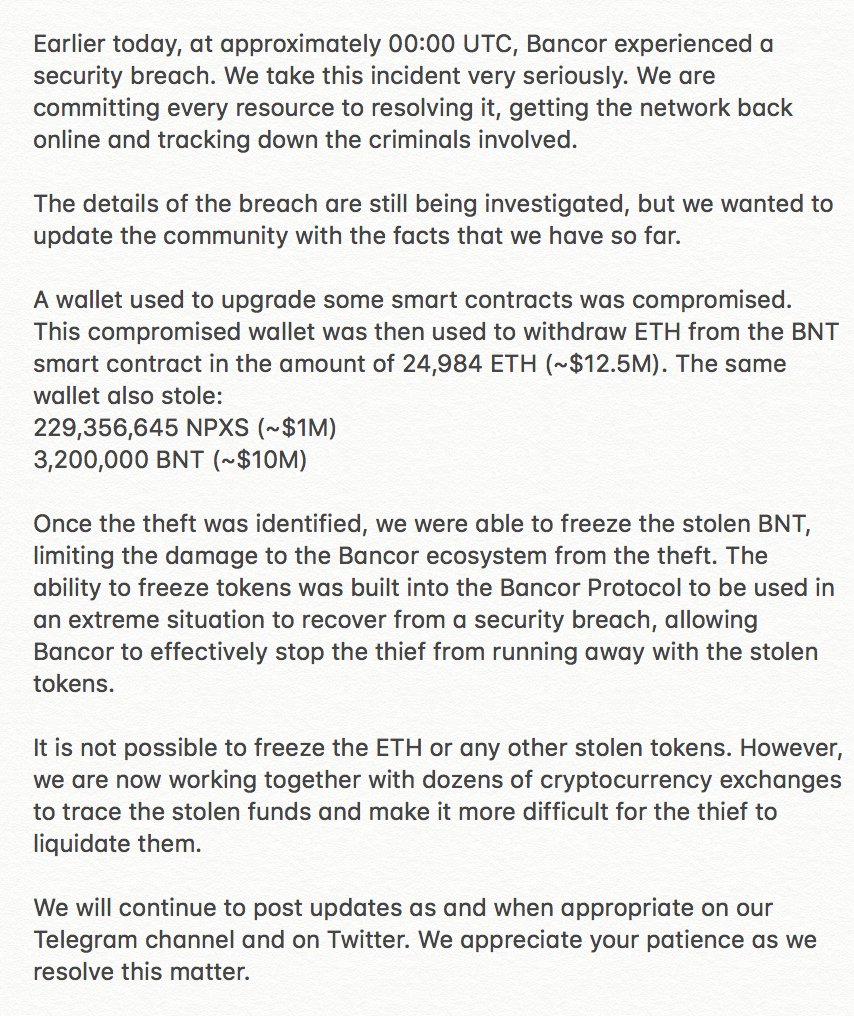 Bancor, which claims to be a decentralized exchange, bore the brunt of the online crypto community's blame, with Litecoin's Charlie Lee criticizing the exchange for supposedly contradicting itself in claiming to be decentralized yet falling victim to this hack.
A Bancor wallet got hacked and that wallet has the ability to steal coins out of their own smart contracts. 🤦‍♂️

An exchange is not decentralized if it can lose customer funds OR if it can freeze customer funds. Bancor can do BOTH. It's a false sense of decentralization. https://t.co/22UYygIhEF

— Charlie Lee Ⓜ️🕸️ (@SatoshiLite) July 10, 2018
Decentralization has become a buzz word—a dominant motto in the age of blockchains. In fact, Ethereum founder Vitalik Buterin has recently said that centralized exchanges should "burn in hell."
However, the founder of Modulus, a fintech products and services company that caters to exchanges, brokerages, hedge funds, professional traders, and financial institutions, doesn't agree that decentralizing everything is the answer.
Modulus CEO Richard Gardner, in a statement, said that despite all the rave over decentralization, centralization still has its place:
"While Ethereum's founder, Vitalik Buterin, recently condemned centralized exchanges in the strongest terms, we see, yet again, why they are the future of cryptocurrency. When properly administered, centralized exchanges offer the maintenance and security necessary for long-term success. As importantly, centralization is necessary to survive the coming onslaught of government regulation.
It has long been argued that decentralized exchanges offer greater security—but we see that they are not immune to attack. Today, Bancor announced they had been hit for, roughly, $23 million worth of digital currencies. According to a statement, the exchange is 'working together with dozens of cryptocurrency exchanges to trace the stolen funds and make it more difficult for the thief to liquidate them.'
Less than a week ago, we at Modulus announced the launch of a new, high-frequency exchange solution, which enables exchanges to scale to more than ten million transactions per second with less than 40 nanosecond latency. This solution was the product of two decades of R&D by one of the world's most notable developers of high-frequency trading systems and exchanges.
But, at the outset, I insisted that our exchange solution could not just be the fastest. It also needed to offer unrivaled security. Our industry will soon be regulated, and only those exchanges which can protect its investors will remain. We at Modulus know about security. It is one of our strategic differentiators. In fact, over the past twenty years, our technology has been trusted by clients including Goldman Sachs, Merrill Lynch, JP Morgan Chase, Bank of America, Barclays, NASA, Siemens, Shell, Yahoo!, Microsoft, Cornell University, and University of Chicago. That's the Modulus Difference.
Tonight, our thoughts are with the investors affected. But news of exchanges being hacked and attacked are far too common. Enough is enough. I am calling on exchange operators across the industry to stand up and commit to making security their first priority. Without security, nothing else matters," Gardner wrote.
New to Bitcoin? Check out CoinGeek's Bitcoin for Beginners section, the ultimate resource guide to learn more about Bitcoin—as originally envisioned by Satoshi Nakamoto—and blockchain.