🪐Welcome to the MetaBot Universe
2nd-generation MetaBot Remint is on 🔥
👉https://t.co/mKI37xbO7j pic.twitter.com/FbRvCP5fjz

— ShowPay (@showpayio) October 19, 2021
On October 19, the ShowPay team launched MetaBot reminting where owners of the 1st generation MetaBots can synthesize and cast (create) new, 2nd generation MetaBots. The 2nd generation bots inherit randomly assembled components from their parents. Only one unique combination of a 2nd generation bot can exist.
While the theoretical possible combinations of the original 999 MetaBots is quite high, ShowPay is capping the supply of 2nd generation MetaBots to be 10% of the current number of MetaID users. This creates an incentive for MetaBot owners to onboard new MetaID users if they want to continue to experiment with casting, while preventing sudden inflation and subsequent devaluing of the 2nd generation bots.
Synthesis of NFTs is a fascinating use case that certainly boosts the value of 1st generation MetaBots. Furthermore, the ShowPay team is charging fees for casting in MetaCoin, the rewards token given to users based on usage of MetaID applications. When attempting a synthesis, users pay 500 MC to see the preview of the casted bot. If they like the combination, they can pay 1,000 MC to cast the bot on-chain and be awarded the NFT. If they would like a different combination, they can pay 500 MC again to try a new combination before finally casting.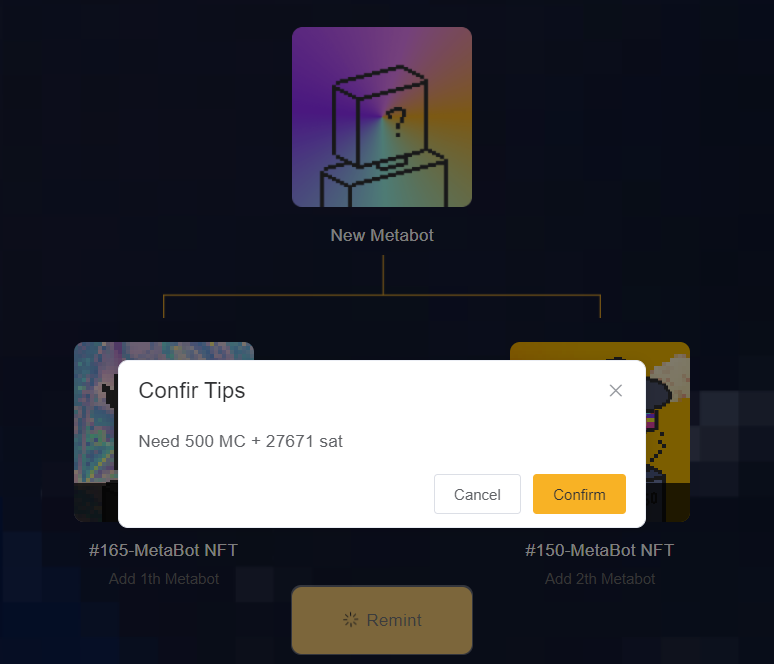 Adding use cases to fungible and non-fungible tokens is a stark contrast to the status quo of the digital currency space, where use cases are non-existent, purposely unclear, and perpetually coming #soon™ in sole hopes of pumping the price.
Upon casting, owners can name their newly generated bot! This is a great aspect of ownership as creative names can be given to the child to bolster its value. Of course, the bots can also be equipped as your on-chain avatar as well.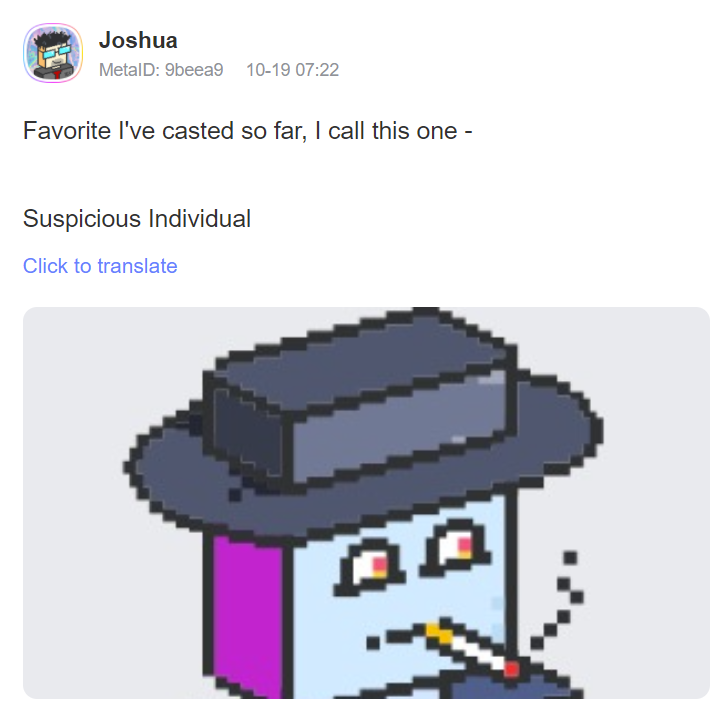 The ability to create and name child bots from bots that you own is a great implementation of property rights on the blockchain. When an owner casts a bot, they are labeled as the minter on the NFT marketplace instead of the ShowPay team: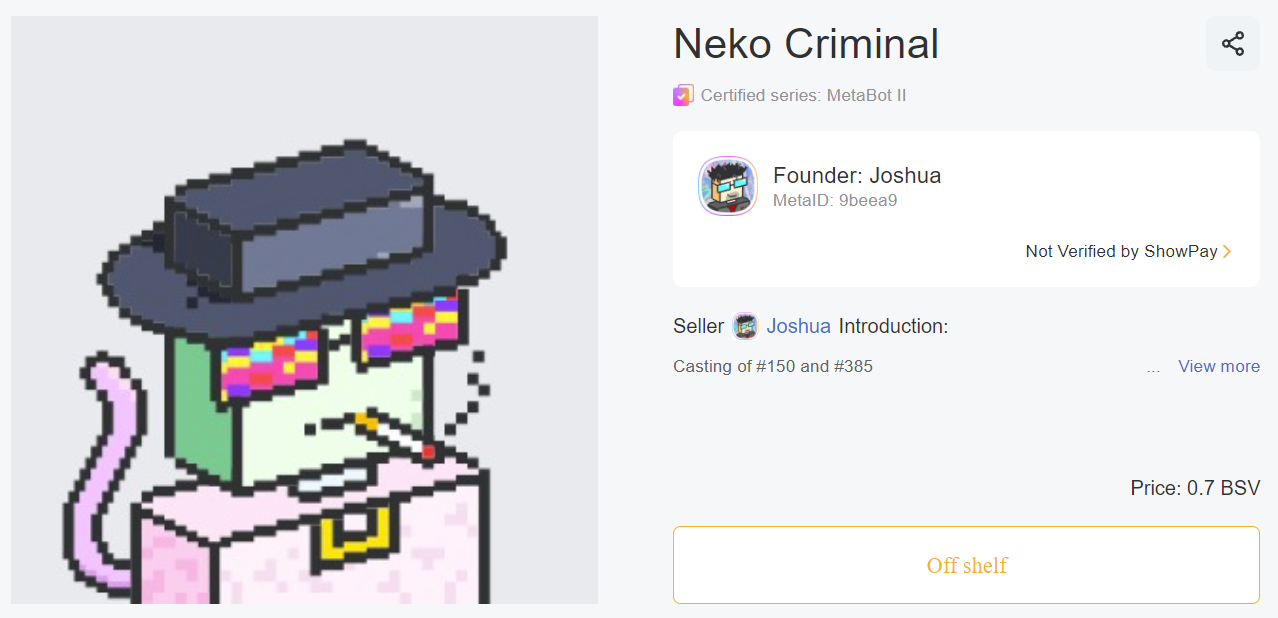 To gamify the experience, the ShowPay team has labeled 15 unique combinations as "Ultimate MetaBots" that can only be cast once each on a first come first serve basis.

These bots are variations of the top 15 numbered 1st generation bots that were auctioned for very high prices (as high as 136 BSV). Since these combos are highly sought after, a new dimension is added to the NFT marketplace.
On ShowBuzz, I have seen discussion of 'renting' 1st generation NFTs from the owners for the opportunity to cast a certain 2nd generation bot. Much like property, owners could lend out their NFTs for certain actions, charging BSV or MC to the renter. This could make sense, as the 1st generation bot value has become quite high. Renting may not be purely for the purpose of generating an Ultimate bot, but perhaps for some preferred combination of attributes the renter desires.
This rental concept could significantly bolster the network effect and economy of the MetaID suite of applications, as it creates unique profit-seeking opportunities that do not exist elsewhere (even currently within the BSV space).
Of course, because of the low costs necessary to iterate on casting and scalability (ability to put such data immutably on-chain), such activity is only possible on Bitcoin SV.
New to Bitcoin? Check out CoinGeek's Bitcoin for Beginners section, the ultimate resource guide to learn more about Bitcoin—as originally envisioned by Satoshi Nakamoto—and blockchain.