Mark Zuckerberg believes in the future of the metaverse, and while his bet bleeds billions each year, he is committed to the cause. This was his message recently as he announced quarterly earnings for Q4 2022, revealing that Meta (NASDAQ: META) lost nearly $14 billion to his metaverse bet.
In the final quarter of what was Meta's most rocky year since it launched, the social media giant lost $4.28 billion through Reality Labs, Zuckerberg's pet project focused on the metaverse, and augmented and virtual realities (AR & VR). This brought the total losses for the project to $13.7 billion in 2022, its worst performance since it launched four years ago.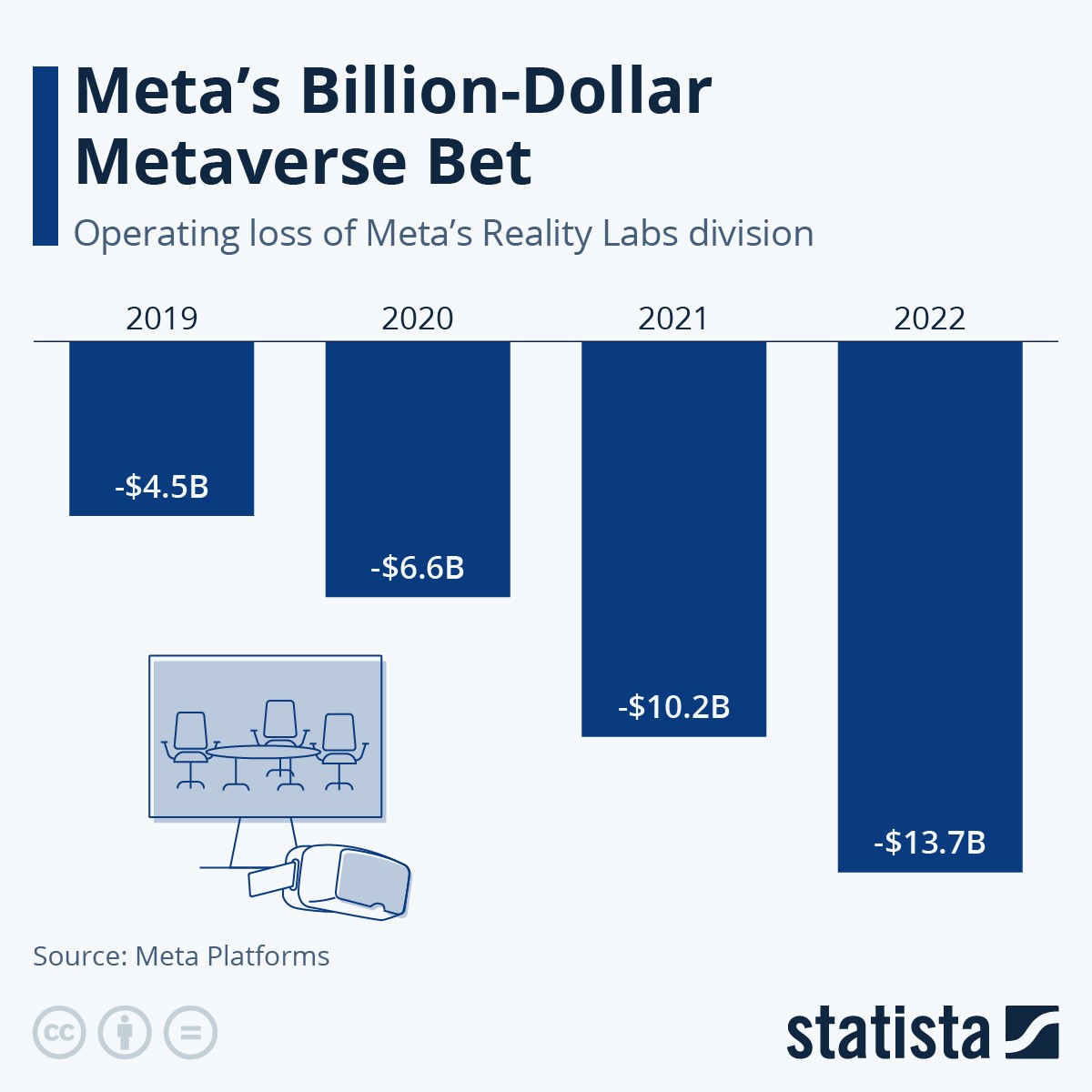 Reality Labs generated $727 million in Q4, including from the sale of its Quest VR headsets. This brought the total revenue for 2022 to $2.16 billion, a decline from the $2.27 billion it generated in 2021.
Zuckerberg has remained stubbornly committed to Reality Labs despite its dismal performance. The division only brought in about 2% of Meta's revenue last year but accounted for disproportionately higher costs than other divisions. According to one report, it had 17,000 employees last year.
Despite the ever-worsening performance, Meta is still betting on Reality Labs and is ready to invest even more money into the project. This is despite the company going through a tough year that saw Zuckerberg lay off 11,000 people and tighten the purse strings in line with a wider tech industry downturn. For all his tough talk about restrictive spending, hyper-focus on efficiency, and cutting down on non-performers, the Facebook founder still believes in his metaverse dream.
"…We're going to continue to invest meaningfully in this area given the significant long-term opportunities that we see," Meta CFO Susan Li stated during the earnings call. She added that the company expects to sink even more money in 2023 than it did last year on Reality Labs.
Zuckerberg has a metaverse dream, but investors and employees aren't convinced
In trying to reassure investors who are increasingly questioning his metaverse goals, Zuckerberg noted that Reality Labs is working on multiple frontiers, including the metaverse, AR and VR.
"I think the software and social platform might be the most critical part of what we're doing, but software is just a lot less capital intensive to build than the hardware," he stated.
This is amid reports that most of the spending at the Labs goes to hardware and staffing.
"… None of the signals that I've seen so far suggests that we should shift the Reality Labs strategy long term," the Meta boss added.
While he invests billions of dollars, Zuckerberg has yet to sell his dream to his own employees, the very people working to make his dream a reality. Last year, Meta's VP of Metaverse, Vishal Shah, launched into a furious tirade in which he called out the employees for barely using the same products they were building.
"For many of us, we don't spend that much time in Horizon…Why is that? Why don't we love the product we've built so much that we use it all the time? The simple truth is, if we don't love it, how can we expect our users to love it?" he expressed.
Zuckerberg remains upbeat, however, and believes that he will once again be the pioneer in a new industry that will define the future, just like he did with Facebook. As he stated in one interview, he envisions a billion people in the metaverse spending hundreds of dollars each to buy digital content and goods by the second half of this decade.
While he spends billions to create a dystopian metaverse of the future that he will have full control over, developers in the Bitcoin ecosystem are bringing the metaverse to their users today.
As Robert Rice, one of the world's top experts on the metaverse and the founder of Transmira, told CoinGeek Backstage, people want a metaverse "that's going to impact the real world and our real lives."
Watch: Masters of the Metaverse
New to Bitcoin? Check out CoinGeek's Bitcoin for Beginners section, the ultimate resource guide to learn more about Bitcoin—as originally envisioned by Satoshi Nakamoto—and blockchain.