Gamers suffering from CryptoFights withdrawal have something new to try: a BSV-based trading card game called "Legends of Uzarn," currently playable in beta form. The play-to-earn game features tradeable NFT cards, and all game actions are recorded forever on the BSV blockchain.
Like many other trading card games (especially in the blockchain world), Legends of Uzarn has a fantasy theme with the familiar turn-based playing style featuring magic spells, various creatures with different abilities and ability types, defenses, and treasures. Cards vary in rarity and come in limited-edition series, making them highly collectible.
The cards themselves come in packs of 15 if bought brand new and contain a random selection of NFT cards—like all card games of this type, you could strike it lucky with one pack or need to continue buying packs in the hope of getting something awesome. You can also mint new card packs with in-game credits earned by playing matches.
Games poppin' off. All actions written to chain. All cards tradable NFTs
Get some here 👇https://t.co/1Qge4x4J8i pic.twitter.com/BgYzWm6DFY

— Legends of Uzarn (@LegendsOfUzarn) May 13, 2022
Players can trade desirable cards with others and earn Bitcoin, which can then be converted into fiat cash (if the player wants that). Legends of Uzarn's Market page has places to buy new card packs, and obtain specific rare or out-of-print cards for a higher price.

According to the game's Discord group, Legends of Uzarn is still in its beta phase—so players can probably expect to encounter a few bugs and glitches as development progresses. As well as the Discord server, the developers update their progress on Twitter and Twetch, with Twetchers getting the chance to see new card drops first.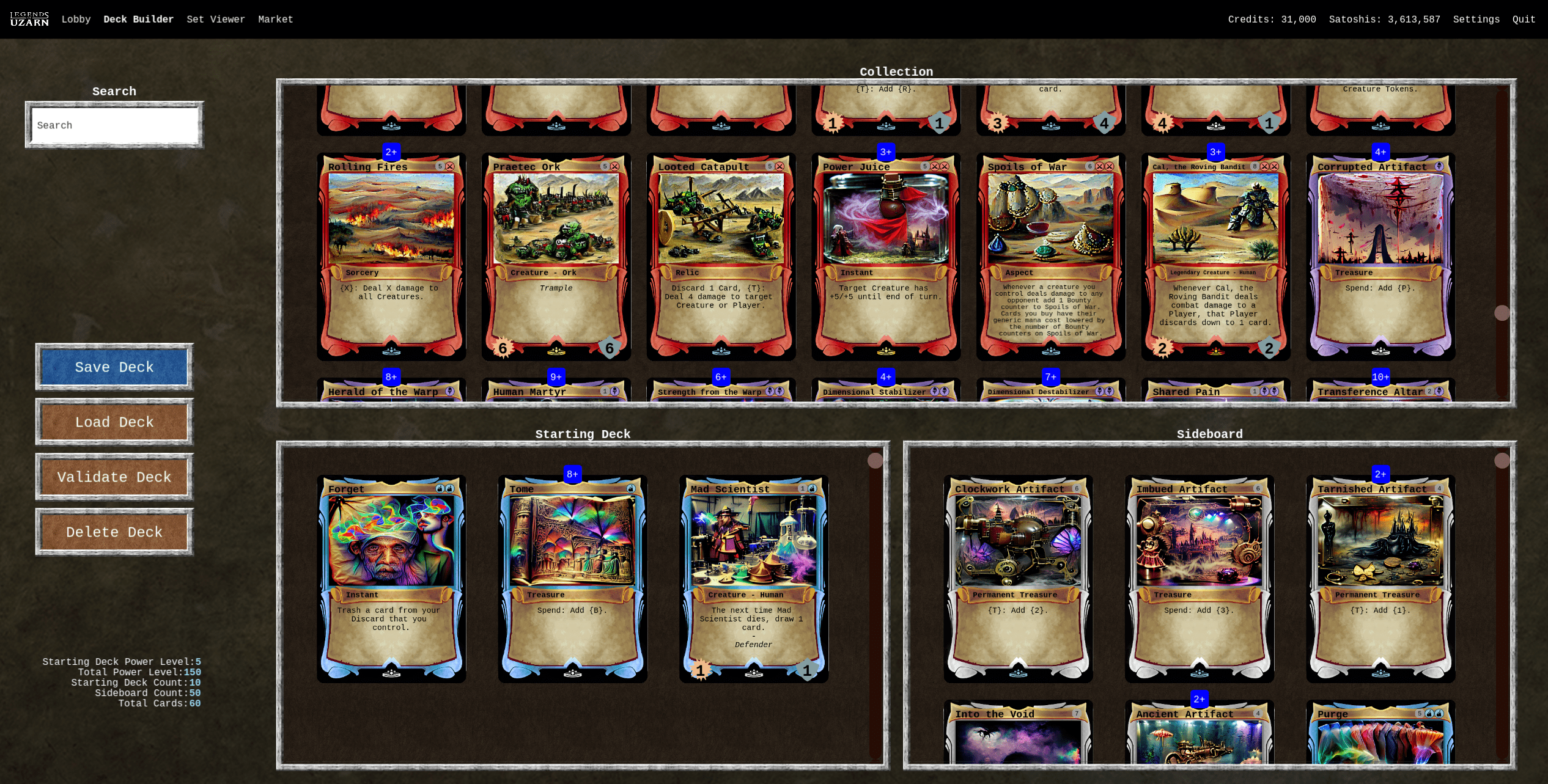 To play, you must first create an account and wallet at the Legends of Uzarn website, and then join a queue to find suitable opponents. After that, you can build a deck of cards in compliance with game rules (the game will tell you if your deck is valid to play or not). Cards are purchased with "mana," the in-game credit/currency, and players can buy them while playing. The aim is to build a hand with the right strength to defeat your opponent. Players keep all the cards they own on a sideboard and must choose which ones to include in the draw. A complete description of the rules and gameplay is here.
Winners receive the most credits, though losers also receive a small share of the credits, so they don't go away empty-handed.
CryptoFights, probably the best-known game in the BSV blockchain space so far, has a similar fantasy/combat theme but animates its battles on-screen, making the game a lot more complex. However, it has been on and offline in recent times as its developers, FYX Gaming, work to implement upgrades to its game engine to accommodate the thousands of users who signed up.
Online play-to-earn games have proven very popular with both avid gamers and those in countries where earning some cash on the side playing games can be pretty profitable.
Collectible/trading card games are a natural fit for NFTs and blockchain, bringing games and tactics that have existed for years into the digital world. NFTs offer the added benefit of permanent ownership and tradeability without relying on proprietary platforms that may disappear, leaving devoted users with nothing to show for their efforts.
However, it's only with the growth of the BSV blockchain that such games have become more usable and reliable. Other blockchains, such as Ethereum, become clogged with data traffic and suffer from high fees. Others (e.g., Solana) have struggled to find a consensus mechanism that works consistently, and BTC can barely handle simple payments without choking. BSV, on the other hand, offers unbounded scalability with transaction fees that remain at just a fraction of a cent no matter what the traffic. Although the format of games like Legends of Uzarn and CryptoFights might seem very familiar, having one that works reliably will ultimately draw the most players. 
Don't miss out the first ever BSV Global Blockchain Convention taking place at the Grand Hyatt in Dubai on May 24 – 26. Book your tickets today!
New to Bitcoin? Check out CoinGeek's Bitcoin for Beginners section, the ultimate resource guide to learn more about Bitcoin—as originally envisioned by Satoshi Nakamoto—and blockchain.