If Bitcoin SV succeeds in the way its developers and entrepreneurs hope, it will be the biggest change in technology infrastructure since the mass adoption of the Internet more than 20 years ago. But will ordinary users be open or resistant to that kind of change?
Lee Rainie of the Pew Research Centre studies public attitudes to technology and has been responsible for more than 650 reports based on Pew surveys of people's online and Internet usage. So how does he see the prospects for Bitcoin and blockchain entering the mainstream? 
"We live in an environment where people's trust in each other and in institutions is declining, particularly in the developed world," Rainie says, "and so blockchain has been held out as a really interesting alternative way to rebuild trust, using technology as the centrepiece of mediating interactions between people …Some of the most interesting applications of blockchain are not about cryptocurrency, they're about trusted systems of documentation and smart contracts."
If that promise could attract users by mitigating their fears about trust, Rainie does not go so far as to suggest that technology could solve all the problems: "this can't just be done by technology. You can't flip a switch and all of a sudden trust is restored and systems operate beautifully. You need human actors to design those systems, monitor those systems, explain those systems."
In terms of mass adoption, Rainie says that it may not be a question of waiting for the 'killer app' that will act as a tipping point for wide acceptance of the technology: "it possibly won't be sort of a big bang moment where all of a sudden a critical mass of people are using it. And then the rest of the world says, 'oh, we've got to get on board'. It might be more evolutionary."
It could be that adoption will first happen at an industrial level – more 'behind the scenes' – in sectors like supply chain and the financial markets. 
Then, unlike the Internet, where users are aware of the technology, people may not even realise that they're using blockchain: "there will be ways in which people's finances absolutely are underpinned by blockchain technology. There are ways in which their interactions with government agencies, when they want to get a national identity card for their newborn child – now, that's going to be probably a blockchain system. But if you ask them in a survey, 'are you a blockchain user?' they might not say yes." 
If blockchain isn't adopted by a 'pull' factor of attraction, it could be nudged forward by reservations about the tech giants, and the whole 'surveillance capitalism' model of targeted advertising and data collection.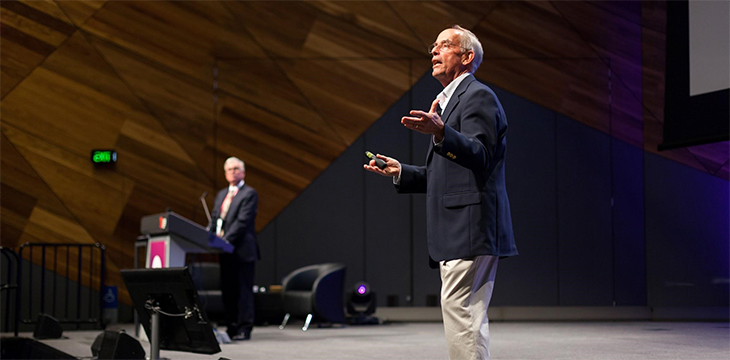 Pew's latest research didn't poll the public, but instead was one of a series of studies that Rainie has ordered as Director of Internet and Technology Research, soliciting views about the future of technology from almost 700 experts, whom the report describes at "'technology innovators, developers, business and policy leaders, researchers and activists". The study found that the experts "very explicitly invoked how blockchain can be a restorative to people having confidence that their data were treated well and that their interactions with other people were being chronicled and mediated in a responsible way, that there were fewer opportunities for bad actors to step into the middle of the process."
In that respect then, Pew is reporting an optimistic view of the prospects for blockchain among a wide range of people who should be well placed to predict the future. On the other hand, it seems the experts themselves aren't too confident about their own powers of prediction. Rainie investigated that in a previous study: "one of the things that we asked in years gone by was whether these experts themselves felt confident about what the new big thing in technology was going to be five or 10 or 15 years into the future. And the vast majority said no."
How refreshing to hear of modest experts. That really does inspire confidence!
Lee Rainie was a speaker at the Asia Blockchain Summit 2020: https://abasummit.io/
Hear the whole of Lee Rainie's interview in this week's CoinGeek Conversation podcast:
You can also watch the podcast video on YouTube.
Please subscribe to CoinGeek Conversations – this is the 24th episode of the podcast's third season. If you're new to it, there are plenty of episodes from the first two seasons to catch up with, as well as plenty from this year.
Here's how to find them:
– Search for "CoinGeek Conversations" wherever you get your podcasts
– Subscribe on iTunes
– Listen on Spotify
– Visit the CoinGeek Conversations website
– Watch on the CoinGeek Conversations YouTube playlist
New to Bitcoin? Check out CoinGeek's Bitcoin for Beginners section, the ultimate resource guide to learn more about Bitcoin—as originally envisioned by Satoshi Nakamoto—and blockchain.