nChain CEO Jimmy Nguyen delivered a keynote speech at the World Digital Assets Summit (WDAS) Tuesday in San Francisco. In his presentation, he talked about why Bitcoin SV (BSV) has the right recipe for success as the original Bitcoin, as it is the only one that follows Satoshi's original vision.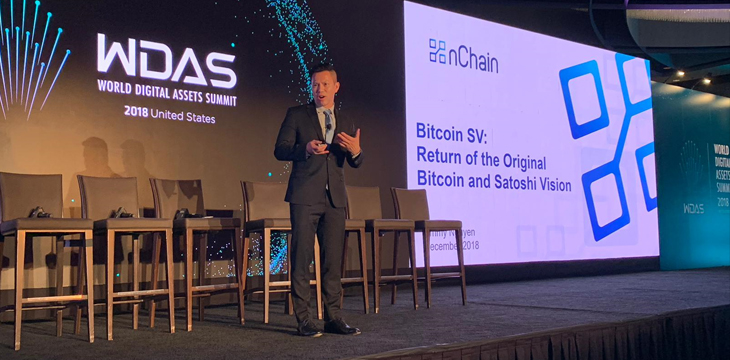 The WDAS conference was held at the Hyatt Regency San Francisco between December 9-11. It was buzzing with attendees, eager to hear from over 100 leaders in the industry about the current and future applications of blockchain technology. They were especially excited to hear from Jimmy Nguyen, a top speaker in the crypto space who consistently delivers insightful speeches. He delivered the final keynote on the main stage, titled "Bitcoin SV: Return of The Original Bitcoin and Satoshi Vision."
In his speech, Nguyen remarked on the 10-year anniversary of Bitcoin, and reminded the audience of Satoshi's original vision. BSV, the only Bitcoin following that vision, has been reborn from a hard fork to become the only true Bitcoin, and the digital currency of our future.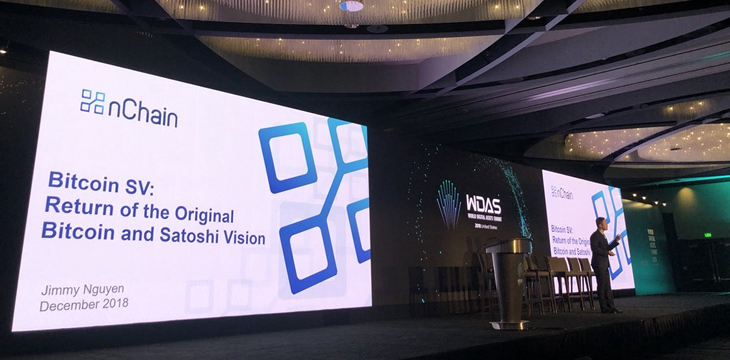 Nguyen remarked, "Now that Bitcoin SV is going its own way as the original Bitcoin, it's important to spread the word about why BSV will fulfill the Satoshi Vision. So it was great to speak at this WDAS event in San Francisco about why BSV will be the stable, scalable and secure blockchain for big businesses to use. I'm excited to continue getting out there as a voice for Bitcoin SV."
His presentation further emphasized that BSV will follow four essential pillars to future success: stability; scalability; security; and enabling safe instant transactions. With this as a solid, foundation to move forward with for the real world, BSV will provide the world with a virtual currency that they can use easily, and with confidence.
In a conference where cryptocurrency enthusiasts heard more about the future of the space, Nguyen also talked about why after 10 years of Bitcoin, it is now time for cryptocurrency to grow up from its wild childhood. It can only do this with with the original path set out by Satoshi Nakamoto, represented by BSV.
Now that WDAS is over, Nguyen, along with the nChain team and the bComm Association, will remain hard at work to continue improving BSV's real world applications, so those crypto supporters can see the future they are hoping for.
New to Bitcoin? Check out CoinGeek's Bitcoin for Beginners section, the ultimate resource guide to learn more about Bitcoin—as originally envisioned by Satoshi Nakamoto—and blockchain.