When it comes to Bitmain and Jihan Wu stories, you can always expect there to be plenty of drama and controversy. With the most recent news that Wu has forced out co-founder and Bitmain's largest shareholder Micree Ketuan Zhan, they once again haven't failed to disappoint.
Wu's move to take more control over the crypto mining company broke early on October 29, as he has apparently supplanted Zhan as legal representative of the company.
BREAKING

According to public record, Jihan Wu took over Micree Zhan as the legal representative of Bitmain in China

Under China law, this means he serves as the legal embodiment of the company, which is a crucial role

Bitmain obviously can't sit still while Canaan filed IPO

— Dovey "Rug The Fiat" Wan🪐🦖 (@DoveyWan) October 29, 2019
Tianyancha.com, a repository for Chinese enterprise information, has already been updated to reflect Jihan Wu's coup.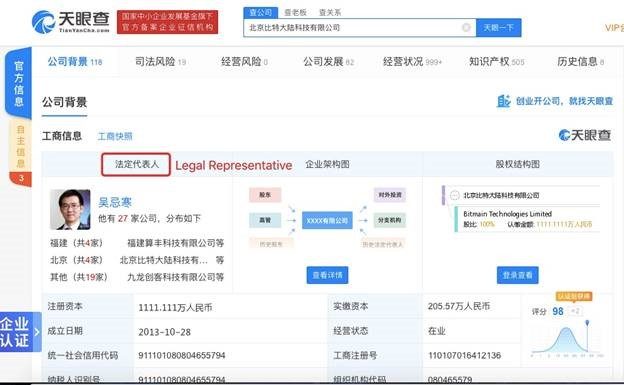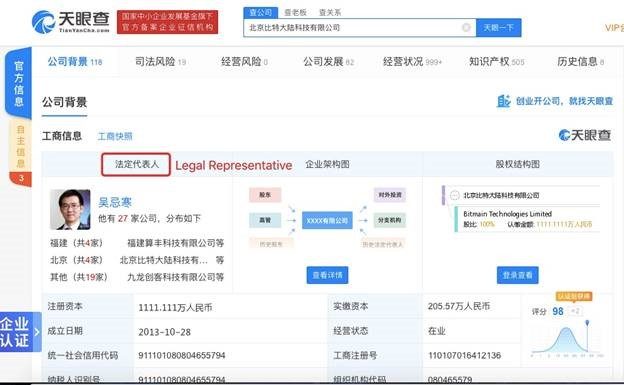 This isn't some ordinary shuffling of the important figures of the company though, as Wu has done his best to make Zhan a persona non grata in the company.
WOW THIS IS MORE DRAMATIC THAN I THOUGHT

Got this internal email from Bitmain where Jihan sent to the whole company, this is INTENSE

"Micree Zhan is dismissed from all operating positions from the company immediately. No one should take order from him or attend his meeting"👀 pic.twitter.com/aguM5Rzg1b

— Dovey "Rug The Fiat" Wan🪐🦖 (@DoveyWan) October 29, 2019
Translated, the email reads:
Bitmain's co-founder, chairman, legal representative and executive director Jihan Wu has decided to dismiss all roles of Ketuan Zhan, effective immediately. Any Bitmain staff shall no longer take any direction from Zhan, or participate in any meeting organized by Zhan. Bitmain may, based on the situation, consider terminating employment contracts of those who violate this note.
Sources familiar with the matter tell CoinGeek that a conflict between Wu and Zhan has been brewing for some time, noting that the relationship between the two Bitmain founders can be best described as "intense," and this may be revenge for Wu's near ouster from the company. Wu was blamed for several failures in the company, most importantly their bet on BCH-ABC technology, with reports indicating "Macree Zhang wants to be nowhere near this failure."
Wu was never completely kicked out though, and has retained a significant share of the ownership of the company, as well as a role as chairman of the board.
Now that he seems fully back in charge, promises are being made that this will return the company to some form of past prominence. "We believe under the leadership of Jihan, Bitmain will be back to its original mission statement, focus on core competence, expand business organically and orderly," they wrote. "Will become a world-class tech company."
They would have a long way to go to do that. Since betting on the ABC protocol, Bitmain has experienced deep layoffs and had to shutter offices, they've faced lawsuits and the threats of more legal trouble, and has admitted to losing hundreds of millions of dollars.
Now that Wu has pushed out his rival, with all appearances to outsiders indicating that this is a sudden coup, there are suspicions that this could result in reprisals. Everyone's waiting to see what Zhan will do as a response.
the undertone (especially in Chinese) is that when Micree was leading Bitmain, it was a total mess and chaos, lost tracks and didn't focus…

👀👀👀

Let's see if Micree will fight back ..

— Dovey "Rug The Fiat" Wan🪐🦖 (@DoveyWan) October 29, 2019
New to Bitcoin? Check out CoinGeek's Bitcoin for Beginners section, the ultimate resource guide to learn more about Bitcoin—as originally envisioned by Satoshi Nakamoto—and blockchain.