Bitcoin is indeed all about time, said Bitcoin Association Founding President Jimmy Nguyen in his introduction to the CoinGeek New York 2021 event. He reminded everyone of the importance time has played throughout human history, with particular importance on the marking of time—something the entire Bitcoin network aims to do better than anything before it.
"It's exciting to be back here in the world's capital. It's so fitting that we're above Times Square, because the conference theme is 'It's About Time.'"
Nguyen noted its double meaning of the phrase. On the one hand, this is the time for BSV's emergence, he said. While past events have seen demonstrations of upcoming features, upgrades, and great expectations, now is the time BSV starts to prove itself in the real world.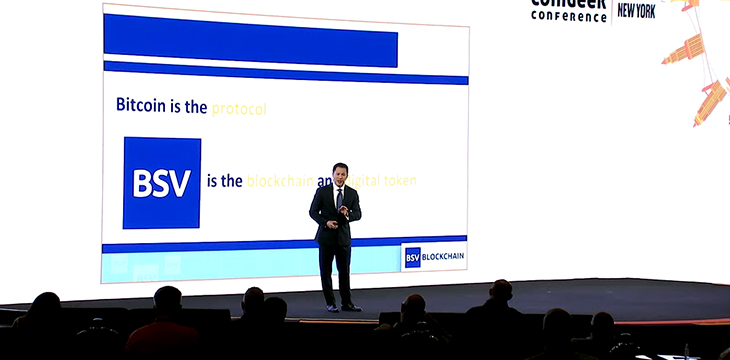 On the other hand, the slogan has a more fundamental meaning: Bitcoin itself is all about recording events in time. Satoshi Nakamoto did not mention "blockchain" in the original whitepaper, but did say "distributed timestamp server" and "timechain." Digital timestamping may not be foremost on everyone's mind, and it might not sound exciting, but the world needs a network that can securely note and record when events have taken place in history. Particularly important over the past couple of years, it's also imperative to know if and when something previously recorded has been changed.
Nguyen referred to his own parents, who recently celebrated 59 years of marriage, and how people use personal experiences to mark the passage of time through the progression of life and its changes. He asked participants to ponder the time it's taken for everyone to arrive at this point, where they're thinking about Bitcoin and what they're going to build on the network to improve the future.
"Bitcoin can have tremendous power if it's allowed to scale," he said, and BSV does that. It gives value to data, and time itself provides even more value. BSV has no scaling ceiling and can compete with any existing payments network—processing not only financial transactions but using those 10-minute intervals to record any data useful to people from now on. Whether it's social media, healthcare, multimedia files, tiny payments or anything else, the BSV blockchain can be the one "universal source of truth."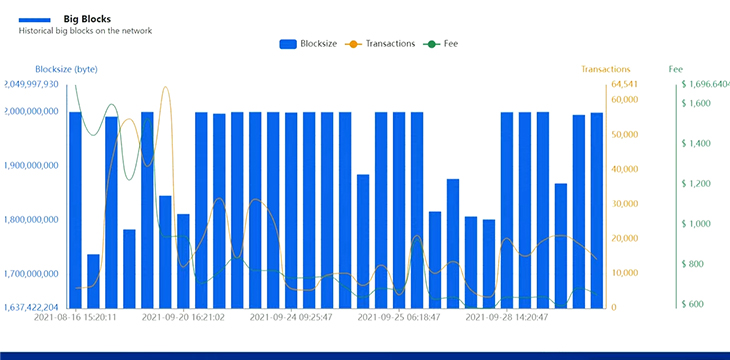 "We've got to a point where it's boring to see huge block sizes on BSV," Nguyen added, flashing past a chart that would have dropped jaws just a year or so ago. With (temporary) processor limits at 2GB and promises of 50,000-100,000 transactions per second, Bitcoin has become far more than watching charts, wondering if prices would go up or down.
NFTs are all the rage and "it's time to tokenize the world", he said. It's time for Bitcoin to become exponential, to be the blockchain for everyone and not just a few individuals. Nguyen gave a preview of some of the familiar and new projects that would be presenting in New York, including Blarecast, SensibleSV, SLictionary, PeerSend, Codugh, Haste, BullishArt, nChain's Kensei, MintBlue, and many more.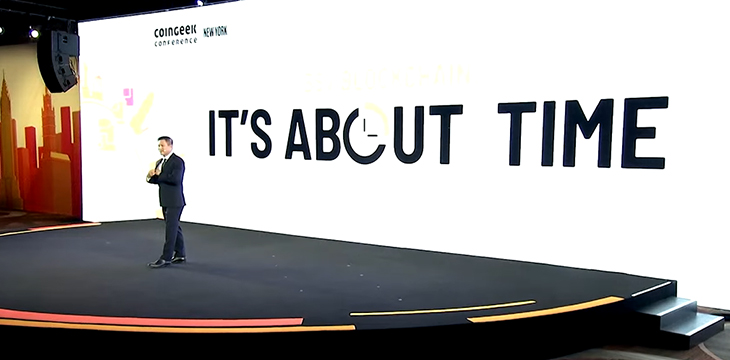 Time, and the measurement of time, has defined our lives by adding structure. No matter how simple or advanced the technology to record this, it has always added meaning and order to events. Bitcoin is this order and it's powerful enough to record all events massive and microscopic. Satoshi's original vision included all of this, and the BSV industry is making it a reality.
Watch CoinGeek New York 2021 Day 1 livestream here:
New to Bitcoin? Check out CoinGeek's Bitcoin for Beginners section, the ultimate resource guide to learn more about Bitcoin—as originally envisioned by Satoshi Nakamoto—and blockchain.