The exchange says they will compensate customers whether they recover the stolen funds or not.
On April 9, Indian exchange Coinsecure found out that 438.318 BTC—worth over $3.5 million at current trading prices—was stolen from their company wallet somehow. They claim, however, that the attack was not instigated by external entities. Instead, they are pointing a finger at their own chief security officer, Dr. Amitabh Saxena, who himself was the first to inform the company of the theft.
According to a complaint filed by CEO Mohit Kalra to the Delhi Cybercrime Police on April 10, Saxena was the one charged with keeping the private keys to the wallet, and that "he might have a role to play in this entire incident." The complaint says that Kalra doesn't believe Saxena's explanation of the incident, and also urges authorities to seize Saxena's passport to keep him from fleeing the country.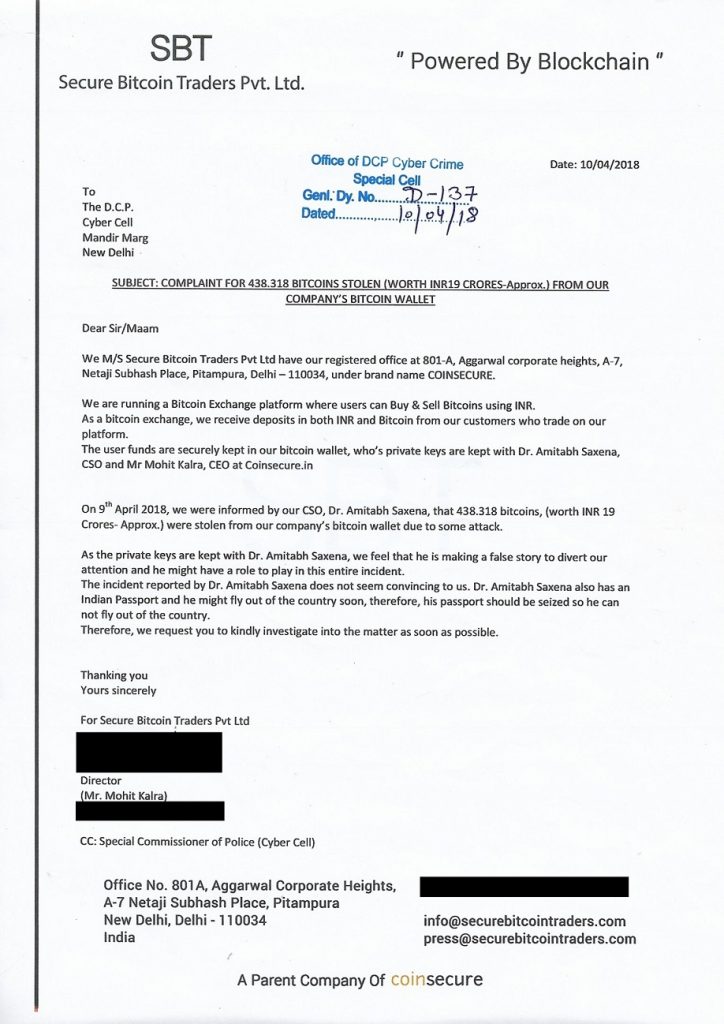 Yesterday, the company issued a message for its users on its homepage, saying their system has never been compromised or hacked. This is the first known hack instigated against the exchange, and the biggest in India so far.
A few days ago, the Reserve Bank of India (RBI) handed down an order banning local banks and financial institutions from engaging in any activities involving cryptocurrencies.  This has caused massive panic for cryptocurrency holders. The Coinsecure heist is sure to pile on the scare.
The release says that Saxena was in the middle of splitting Bitcoin Gold (BTG) meant to be distributed to users when the funds were allegedly stolen.
"Our CSO, Dr. Amitabh Saxena, was extracting BTG and he claims that funds have been lost in the process during the extraction of the private keys," the release said, adding that they are doing everything they can to recover the funds.
"We are working round the clock to restore services and to try and recover all of the lost funds, and we shall keep all our users posted on the outcome of the details to ensure utmost transparency," they wrote.
Coinsecure adds that they will compensate all customers whether they recover the lost funds or not, adding that they will even use their own personal funds to do so.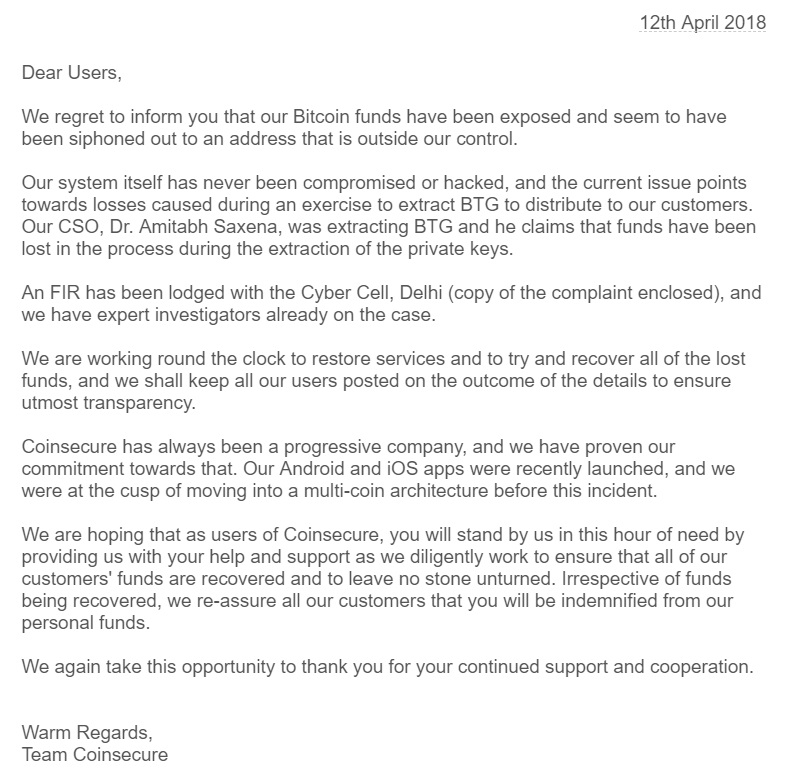 New to blockchain? Check out CoinGeek's Blockchain for Beginners section, the ultimate resource guide to learn more about blockchain technology.