Relica, the image-sharing social network running on Bitcoin SV (BSV), has opened up to the public. With its private beta testing phase now complete, existing users can use referral links to invite others to join in.
Relica is similar to Instagram in the way Twetch is similar to Twitter—that is, the format and features are familiar but integrating Bitcoin micropayments make them more compelling. As well as creating new content-sharing economies simply by adding Bitcoin, both are also starting to include other useful features the apps that inspired them haven't (see the interview below for more on that).
Working hard behind the scenes to make Relica the most revolutionary photo sharing platform ever created!

Some super cool features to look forward too that our users will love 👀🔥

📸🌎🌸#Relica #BSV #Bitcoin #Instagramkiller

— Relica (@Relicaworld) February 8, 2021
The benefits of familiar-looking platforms running on Bitcoin can't be understated, either. Relica users, like their Twetch counterparts, retain ownership of the content they create. Getting paid for that content, even if it's only in small amounts, is a far greater incentive to post than—let's face it, pretty meaningless—"likes." When these networks become far more widely-used, people will start to use them as side-hustles or even primary income.
Thoughts from the beta and live versions
Even in its bare-bones beta phase, Relica's web and mobile versions ran smoothly and with few glitches. Its simple design and intuitive functionality made it easy to use, and the developers tweaked prices along the way to achieve their optimal levels.
For now, those who refer new users will earn 50% of Relica's share of their transactions (which is roughly 10-20% of the transaction amount). Prices themselves are similar to Twetch. There's no sign-up process as users can login with a Money Button wallet, and more third-party BSV wallets will be included soon.
Watch this space! 👀🔥@handcashapp@HandCashConnect#Relica #BSV #Bitcoin #HandCash
📸🌎🌸 pic.twitter.com/EQaHHQsKEo

— Relica (@Relicaworld) February 3, 2021
While the "swipe to pay" design element used by apps like Money Button and RelayX have been convenient for one-off purchase, users eventually found them tedious for social network interactions, with small payments occurring regularly. Like Twetch, Relica has now added a "one-touch" payment option to make these instant and invisible—but be warned, you might want to keep the swipe for a while until you get used to how much each different function costs.
Relica (at this stage) doesn't have Instagram's built-in filters and editing/touch-up options. However, there are two types of users here: those who edit their photos on another app before uploading to a social network; and the ones who only use the built-in ones. Since other apps tend to have more options, the former type is becoming more common.
We spoke to Relica co-founders Daniel Street and Jeremy Street about the launch, how the beta-testing went, and what they're planning to do in the future. Read the Q&A below to find out the details.
What is Relica?
Relica reimagines content sharing with a mobile app that empowers creators to generate income and maintain ownership over their photos. With our unique micro-transaction infrastructure that cuts out big tech and advertisers; influencers and photographers alike can earn instantly from their first photo on Relica.
How was your private beta?
Our private beta went really well and was important for us to make sure our early users were enjoying the experience and that we could scale. The feedback we received from our early users was invaluable and allowed us to iron out bugs as well as implement a number of new features including:
– Invitations with referral bonuses
– Viewing who has liked your photos
– Stickers for first posts
– One-click payments
– Ability to be paid for your follows
– A favourites button for saving images
Our latest feature is a referral invitation that incentivises users to onboard others and rewards them 50% of Relica revenue whenever their referrals earn.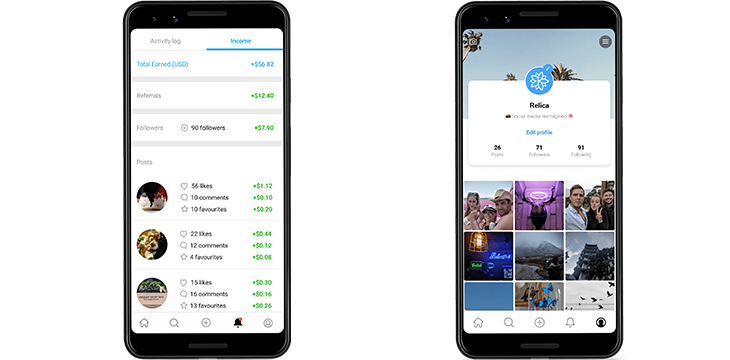 What other features have your users requested?
We enjoy receiving feedback from our users along with suggestions on future features they want to see on Relica.
To name a few of the upcoming features in our pipeline:
– Integration with more third-party wallets
– Ability to post full sized images
– Desktop version of Relica
– Chat
Suffice to say, we have a busy early 2021 ahead of us!
What has been the most challenging part of developing the app so far?
We spent a lot of unnecessary time early on creating our own wallet functionality for users before we realised this is not the problem we set out to solve when we started Relica. There were third party wallets with rich features already available and we wanted to support the blossoming ecosystem around us, rather than reinvent the wheel.
We also made a conscious decision to build a Progressive Web App rather than a native app as we weren't sure that a native bitcoin app which allows users to earn money would be accepted on the app stores. This has come with its own challenges as feature-rich capabilities provided by a native phone OS are harder to mimic on a web site.
Some have criticized platforms like Twetch for being too similar in features and appearance to existing social networks. Twetch devs say this is necessary to make them familiar to new users. What's your opinion on this issue?
It's true that many emerging social media platforms share similar characteristics to existing social media networks. This is because there's a tried and tested formula for social media which Relica also uses— Home screen, User feed, Notifications and a profile. Importantly, though, this is where the similarity stops—with blockchain-based social networks, like Relica, users can post content and earn income instantly from direct interaction with their audience.
With that in mind, do you plan to introduce features that Instagram doesn't have?
The short answer is: YES! The development pipeline for Relica is exciting to say the least. Over the next few months we'll wrap up a few outstanding features, and then focus completely on Phase Two. Simply put—Phase Two of Relica will change the way we perceive interactions with audiences via social media. This next iteration of Relica is already in development, and is the reason we founded our company to begin with. We've kept it under wraps as there is nothing else like it in the world today. Expect it to be unleashed sometime this year.
How do new users gain access to Relica?
Visit Relica, sign up and start posting your photos!
Editor's note: This article has been updated.
New to blockchain? Check out CoinGeek's Blockchain for Beginners section, the ultimate resource guide to learn more about blockchain technology.