There's a dozen people who could make a list summarizing 2022. Frankly, I started writing one and got bored because I have been so steeped in BSV's excitement for the whole year, and it seemed a little too repetitive to call out all the same successes that CoinGeek's best have written about all year already.
This has been a great year to be a big blocker with record-setting blocks, new iterations on great projects and lots of breaths of fresh air in the community while the crypto casino culture goes down in flames. Thankfully for us, BSV had little to no exposure to Celsius, Terra Luna, 3 Arrows Capital, Voyager, BlockFi, FTX or any of the crowd of bankrupt mining companies, so we get to watch the egotistical titanic of magical crypto land sink from a safe distance—but not without our own scars.
Right now, however, I think the only thing that matters is looking at the people who took 2022–the worst financial year in the history of blockchain technology—and decided to bear down, strap up and fight for the long game win anyways. 
Don't believe me on the statistics? BTC has never closed an annual candle as a bearish engulfing, so this close implies years of bearishness.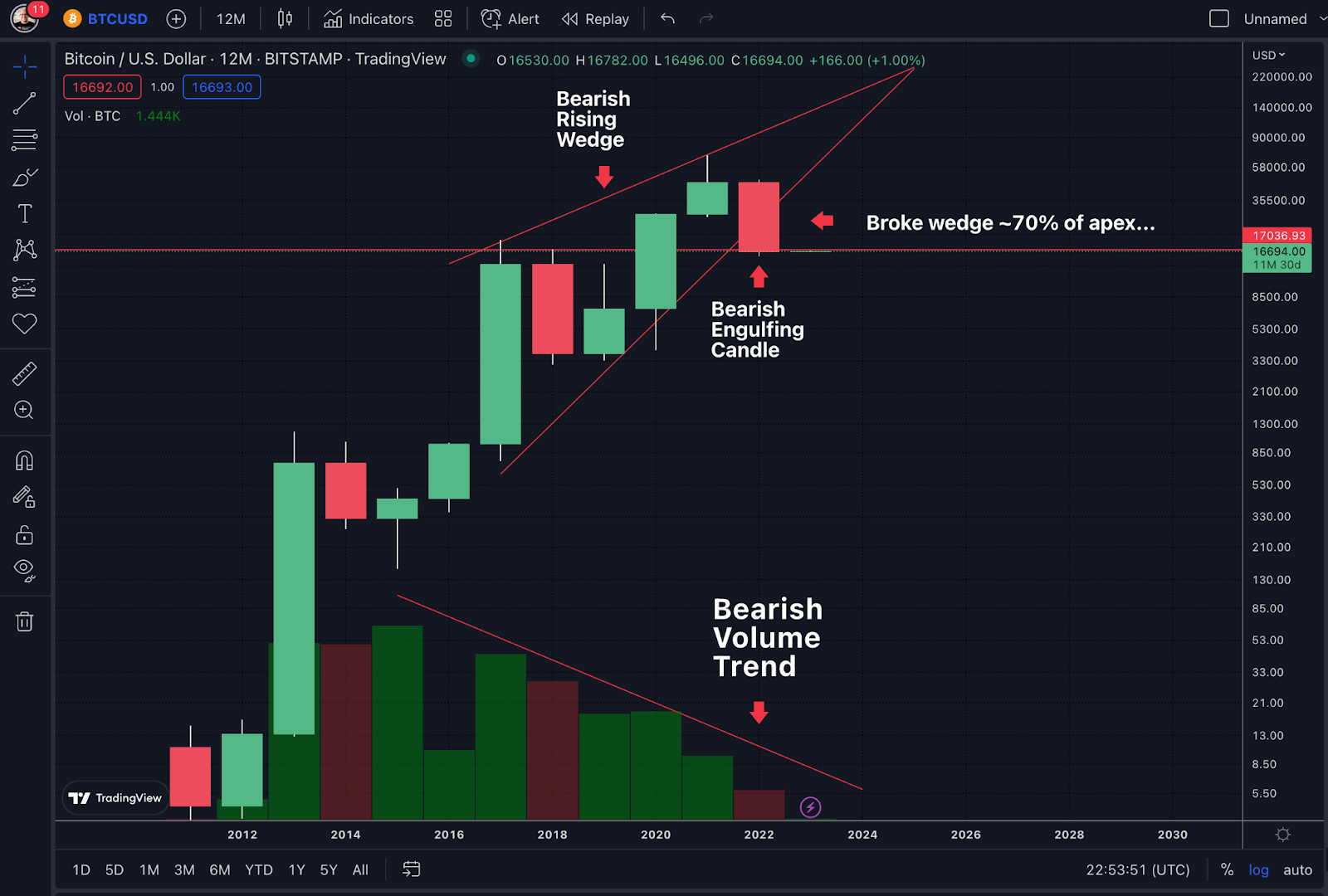 Source: Tradingview
So what are we talking about? 
No brands, no companies and no nonsense. When it comes down to it, the culture of any idea is just a reflection of the people who make it great, and when I invest in BSV, one of the most important metrics is the value of the people! Contrary to criticisms, there is a robust community of awesome people who believe in the tech and the vision, and they are working hard to make it happen on a daily basis!
Here are the people who deserve a lot of credit for making 2022 awesome by leading the way, working hard and helping keep the DNA of BSV healthy. This list is specifically about people that should have a greater following, so lots of people who also deserve credit will be passed over for the sake of those who deserve more limelight than they currently receive. 
Bio: Who? He doesn't work at any of the official brands, tow the official narrative or have photos on a boat with Calvin. Who could he be? Well, his tweets are so influential, they showed up as evidence in court as a sort of "voice of BSV." He can be found frequenting threads and hosting Spaces regularly with strong reasoning, effective rhetoric and a good attitude. The most extraordinary thing is just how much he is able to intermingle with the who's who of the crypto cabal while remaining incredibly committed and focused on the BSV vision. 
Bio: To everyone who thinks everyone on earth is just in the Ayre portfolio, you should talk to T38: a shrewd investor in some of the best brands in BSV. Founder of the (fake) "West Coast Citadel" somewhere in the desert of the American Southwest, he has a dry and cutting sense of humor and a passion for big blocks and shrewd strategy. A real asset to the community as an investor and advisor. 
It's almost impossible to overestimate the power of a good person just being themselves and setting a consistently good example across the community, and Brett is exactly that. With a live-out-loud attitude, you might never meet a more genuine and generous soul on earth. You can find him slinging good vibes at HandCash and Bitcoin Association. 
This one is admittedly a little self-serving, as Mr Root is my partner at GorillaPool. A world class SysAdmin, he's the COO at the pool and one of the most valuable infrastructure players in bitcoin. He has been in cloud computing since before it was an industry, and he has been running bitcoin since 2013. The man is an invaluable asset to GorillaPool and BSV as a whole. He's also a heck of a nice guy and a dedicated family man with a penchant for classy jpegs and meme culture. 
Gregory is a seasoned IT professional and both a technical and cultural polymath. He has a thoughtful podcast, experience in a few BSV brands that you would have heard of and has been quietly advising some of the best brands in the space. He's not only a DevOps ninja, but if you add in the high quality beard and holding rank in Brazilian Jiu-Jitsu, and this might be the actual most interesting man in the world. 
This guy looks and sounds like a dude you would meet at a music club or a sports game. Just seems like a regular guy doing regular guy things, but if you start talking about bitcoin, the man is a wellspring of information. In fact, he can rattle off times, dates and names about the history of Satoshi better than anyone else I've met. Plus, just a cool guy to talk to. 
I'm a big fan of epistemology apologetics. This guy is a master of rhetoric in Catholicism and Bitcoin. As the name would imply, he takes a neo-Aristotelian view on the philosophy of knowledge and wisdom. Debate this man at your peril! 
Matthew is another talented rhetoricist, but with a deep focus on Bitcoin game theory and incentives in general. While critics might just think he's a chatterbox, he is the creator of a number of valuable developer education resources, and legend has it he has a very old history in mining as well. 
Not the first Spanish speaker on the list, and not the last guy on this list who I met on Facebook, Diego can be found on the Zuck platform having longform conversations about bitcoin with the best of them. He is also a talented technical analyst, and has a great sense of humor while teaching important lessons to lots of people. 
Is that his real name? We may never know, but Mr Bitcoins is another gentleman who I met on facebook many years ago, and he's a master of the threads: both on social media and in real life. He's always stylish, embodies positivity and seems like he buys at least one of every single NFT drop that ever happens on BSV!
What else? 
In the interest of exclusivity, I'm going to cut this list off and remind everyone that if 2023 is truly going to be a great year, it will be a product of great people working on great things. There are dozens of other people who REALLY deserve a shoutout, so maybe we will make this into a fun series. In the meantime, please follow the thinkers and the doers and let's get good at thinking and doing more exciting things together in 2023. 
Watch: London Blockchain Conference – Bringing government and enterprises onto the blockchain
New to Bitcoin? Check out CoinGeek's Bitcoin for Beginners section, the ultimate resource guide to learn more about Bitcoin—as originally envisioned by Satoshi Nakamoto—and blockchain.