Have you tried Haste? The developers of Bitcoin's latest gaming platform have big plans for the system that pays players who make its leaderboards. In this interview, we find out how a pair of former professional baseball players got into Bitcoin and created a point-of-sale system before turning to games, utilizing BSV's RUN Token Protocol and microtransactions.
Like so many other useful Bitcoin apps that started to become available again in the past two years, Haste grew from the notion that small, fast payments with miniscule fees could create whole new business models. It's amazing sometimes that we have to remind ourselves of this simple premise, and notice how far BTC has strayed from this idea in its quest for price pumps.
People that see the power of original Bitcoin are ignoring the overplayed social rhetoric and building stuff that's never existed (and can't exist) without Bitcoin. If you build something new, intriguing, and possible #OnlyOnBSV there's only one outcome. Growth.

— Haste Arcade (@hastearcade) March 10, 2021
Haste currently offers two very simple speed-based games as a beta demonstration—Haste and Match—which mostly demonstrate how the leaderboard payments system works. In the future, founders Joe DePinto and Dan Wagner and their team plan to expand this into more complex and sophisticated games, inviting developers to create experiences that are fun to play, and can earn players real money.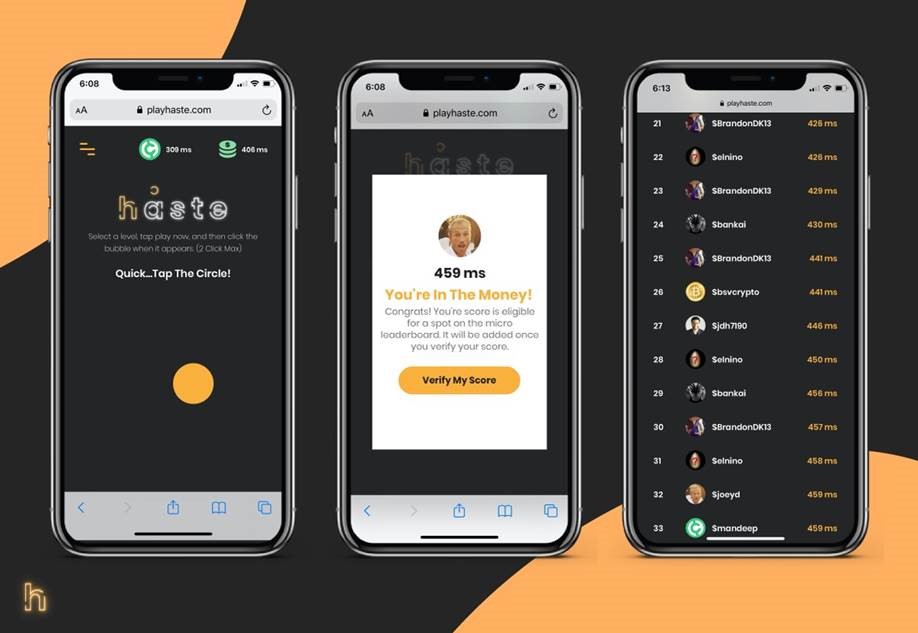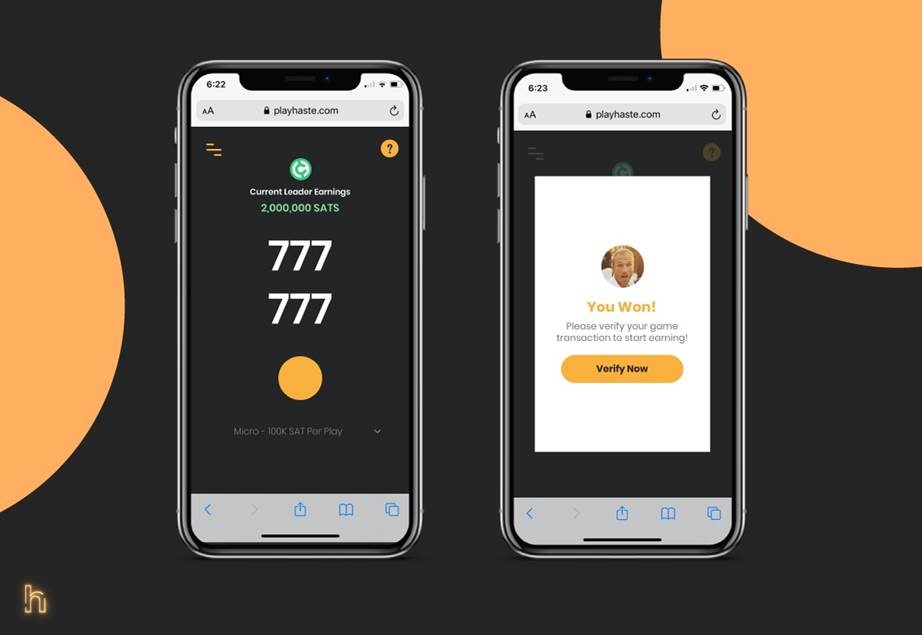 We interviewed Joe DePinto about Haste's backstory, how it all works, and what they have planned for the future. Read the interview below to find out more.
How did you come up with the idea of Haste, and when did you start?
The idea for Haste was conceived and built in early January, but you could say that we started thinking about it years ago. It came from Dan Wagner and myself. Dan and I met playing professional baseball in the Chicago White Sox farm system when we were roommates for the 2014 season in Birmingham, AL. Our baseball careers both ended the same year, so we decided to pursue an idea that we had come up with while we were still playing. The idea turned into our first company, Barpay, which is a mobile payment point of sale system for high volume bars and restaurants that we still own and operate full time today.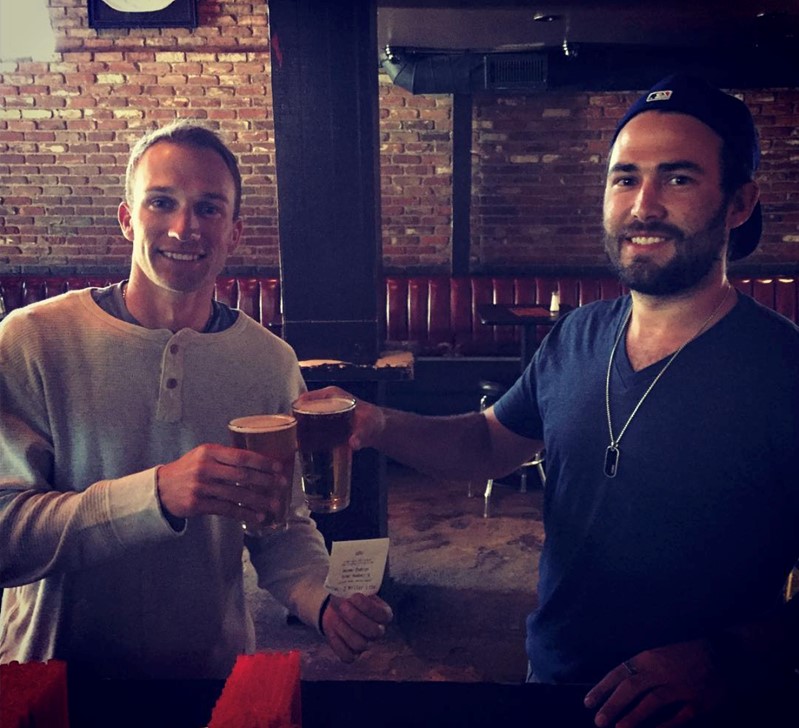 Despite working full time on Barpay, we have been interested in blockchain and Bitcoin since late 2015 when Dan bought his first Bitcoin. The more we learned about Bitcoin, the more we realized the technology solved a lot of the problems that we see in the current financial/banking system and also saw an immediate use for it in Barpay—we deal with credit card processing rates on a daily basis and being able to save a venue 2-4% per transaction would give us a significant advantage over all point of sale system competitors.
Like most entrepreneurs, just because we were working full time on one project didn't mean that we didn't have other ideas we wanted to pursue, and it had long been a vision of ours to do something in Bitcoin, and microtransactions specifically. We had talked about creating a product that pays customers to use it and we thought we were close when we started mapping out a global messaging platform similar to WhatsApp that ran on microtransactions. Specifically to Haste, we were at the Barpay office late one night during the first week of January 2021 trying to figure out the model for the messaging platform when we started talking about a method that used microtransactions to pay people who were on a leaderboard. At the time, we didn't really plan on turning it into anything more than a simple game that gives a visual representation of cool ways to utilize microtransactions, but the immediate adoption, support, and user feedback made us realize that we were onto something and that there was a bigger play.
Did your background as professional sportspeople help you decide that games were the best app to develop?
Not really. We were more focused on trying to figure out a product that 1) pays people to use it, 2) serves as an example of micro transactions in a real world use case to give BSV further adoption from the non-crypto world, and 3) educates people on what Bitcoin is as stated by the white paper—a peer-to-peer electronic cash system. What we want people to understand is that things like Haste and other ideas that involve micro transactions and peer-to-peer cash are only possible at scale on the BSV blockchain.
Where did you first hear about Bitcoin BSV and why did you decide it was the best blockchain to build on?
We have been in crypto since late 2015 and have followed Bitcoin through the BCH hard fork and the BSV hard fork. We always believed that Bitcoin is a peer-to-peer electronic cash system, as stated in the white paper. With the transaction speeds and costs of BSV compared to the other blockchains, it was obvious that it was the only blockchain capable of supporting the Haste ILP structure.
Where are you based, and how many people on your team in total?
We are based in Los Angeles, CA and the team currently consists of myself, Dan, our CTO Eric LaForce, and Eric's twin brother Keith LaForce. Dan and I met Eric through the company we hired to develop Barpay. Eric was the lead developer for our project, and after the initial development, Eric asked if he could stay involved in the project so the three of us have been working together since 2015. We met Keith through Eric, who works at the same company as Eric but was not involved with Barpay. Jack Liu is an advisor.
What app/game data do you process/write on the blockchain, and what happens off-chain?
At the moment, all gameplays are in BSV and each transaction has the score and player information in the OP_Return. In its current form we still are relying on traditional databases to query data, however, we hope to rely directly on the BSV blockchain in the future.
How are you minting the HST tokens? Did you code them yourself or are you using an existing platform?
We are minting the HST tokens using the RUN protocol and it is a custom contract.
What sort of games will you eventually run on Haste? (are you aiming for simple, one-hand mobile type games, or is there no limit to what the platform can do?)
We want Haste's Instant Leaderboard Payout (ILP) Arcade™ to attract much more advanced game developers to submit and list their games on the platform. We think eventually, any game with an online leaderboard, whether it's Call of Duty or Fifa, will incorporate the ILP Arcade™ structure. The platform itself will have guidelines for the types of games developers are allowed to submit, which will all revolve around the leaderboard payout structure and the use of micro transactions. There will be restrictions on submitting games that involve chance and gambling. Players should be able to get better at any game in the Arcade through practice. If you can't get better at it, it will not be allowed.
When do you expect to have a full stable of playable games (rather than the two beta demos) ready to launch to the public?
Our roadmap is based around building a first class SDK for game developers. As with all software, the product is never really "done," however, our aim is to have something tangible a controlled set of developers can start building with. Having said that, we have already had several devs reach out to us about incorporating the ILP Arcade™ structure into their games, so we're hopeful that there will be more advanced games in the Haste Arcade relatively soon following the launch. We may add additional games along the way if we think of anything that follows the current game structure of quick, simple, and capable of incorporating the ILP™ structure.
Did Output Capital invest any angel money in Haste?
Yes. Jack Liu contacted us within the first week of the site going live and after talking to him on a weekly basis, Output Capital seemed to be the best fit for our vision and beliefs on BSV. We agreed upon and received an investment from Output Capital that we will use for marketing and to further build out our team.
New to Bitcoin? Check out CoinGeek's Bitcoin for Beginners section, the ultimate resource guide to learn more about Bitcoin—as originally envisioned by Satoshi Nakamoto—and blockchain.