In the wake of John McAfee's arrest in Spain this week, RT host and alt-finance commentator Max Keiser asked his 234,000+ Twitter followers "Who's the bigger con? John McAfee or Craig Wright?" Maybe he should look at the ideas he's been selling over the years himself.
Who's the bigger con?

— Max Keiser, sr. bitcoin advisor to Pres. Bukele (@maxkeiser) October 5, 2020
Keiser is in the "only BTC is Bitcoin" camp. He once ran a campaign to become mayor of London, promising to base the city's economy on Bitcoin. Though he touts BTC's infrastructure as an alternative to today's financial system, much of his commentary is on the topic of BTC price (he has at various times predicted $28K, $100K, even $400K per unit).
CoinGeek has a whole article on the raging "War on Bitcoin," for background. In it, we can see the motives and what's at stake for those involved.
Why was Gary Vee unprepared for the sybil attack that DDOS'd him out of CoinGeek Conference?

Because I hadn't catalogued BSV's place in the bitcoin civil war yet!

You can share this one with your friends who don't "get it." It lays it aaaallll out. https://t.co/WkcFJ028X2

— Kurt Wuckert Jr 🟡 GorillaPool.com (@kurtwuckertjr) September 25, 2020
Unlike Dr. Wright, Keiser is neither a software developer nor a computer scientist with a deep understanding of the technologies he promotes. Though the "Maxcoin" asset carries his name, he wasn't part of the development team. He is a media personality. His job is to be popular, contrarian, and provocative. It has also involved a lot of digital asset promotion, much of which is about where he sees their prices heading.
The only assets Keiser hasn't ever been particularly bullish about are national fiat currencies. He's anti-big bank and central banking, and often exhorts his viewers to look at alternatives, such as cryptocurrencies and precious metals.
Maxcoin: His name is on the label
Keiser was/is most famously involved with the "Maxcoin" project—an altcoin named after himself that launched in 2014. The coin eventually crashed and was "rebooted" in 2017, and still exists today. Though Keiser has at times been close to and distant from the coin's developers, he's still listed as a team member on its current website.
Really Max?
Maxcoin ICO high $2.77
Dumped to $0.0002
Down 13,850%
You promoted (pump and dumped) this scam too! https://t.co/KkxdFuaBzw pic.twitter.com/HSjWTlhJRo

— Roy Murphy (@murphsicles) October 6, 2020
Keiser's commentary on Maxcoin also frequently mentioned price increases… coming soon. Some of his tweets regarding Maxcoin's price in the earlier days appear to have been removed.
Hey speculators, #Maxcoin price-crush should reverse as soon as it starts trading on a non-Chinese exchange. pic.twitter.com/0Sj69FSMz8

— Max Keiser, sr. bitcoin advisor to Pres. Bukele (@maxkeiser) September 17, 2017
For the record, Maxcoin's price as of October 7, 2020, is $0.00194569. Tough luck if you were a long-term holder who bought on the advice of Max Keiser.
Here's a chart showing the all-time price history of Maxcoin—if it looks familiar, it's because almost every altcoin has followed a similar trajectory: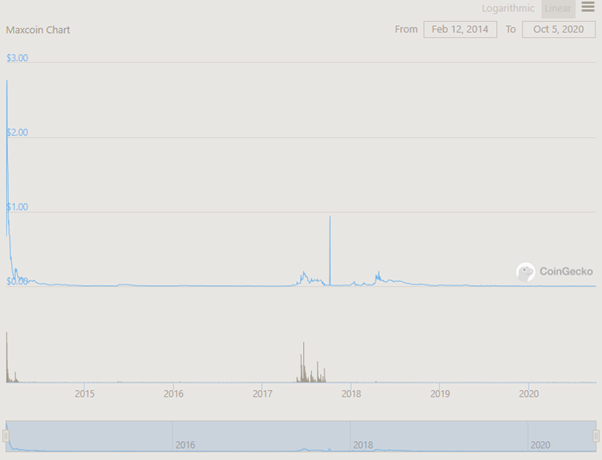 Did Keiser truly believe Maxcoin ran on superior technology, and that its price would go up? Or did he know that, just by saying so on TV, it would generate more buzz and consequently higher prices, at least temporarily?
Maxcoin's David Serrano, who says the following history of the coin is just his opinion, gives the following description on the current Maxcoin Project site itself:
"Luke & Jordan create and launch Maxcoin. A new alt-coin with fantastic features such as Keccak, Schnorr & KGW. It was widely promoted, and created quite a buzz after the 'Live' launch on the Keiser Report. As you could imagine, the price quickly shot up, but corrected just as hard, leaving many speculators and investors high and dry. With no pre-mine or funds to dig into development, a crowd funding effort was made but unfortunately, after a few unsuccessful attempts, the developers were also left high and dry. Maxcoin was a burning mess of burnt speculators, no funds for future development and a dwindling developers team. Maxcoin as a cryptocurrency may have been ahead of its time with Keccak, Schnorr and KGW, but it was not prepared or backed up for success."
In 2014, Keiser said his portfolio was mostly Bitcoin, but that "altcoins offer great ways to gain exposure to different segments of the crypto universe. As I said before, the market as a whole is set for 100x growth so there's plenty of upside."
He was then asked if promoting altcoin investment was ethical, and replied "I'm like Warren Buffet. I talk about the coins I myself own including Maxcoin."
Keiser has also devoted plenty of airtime in the past to Quark (current price $0.00564) and Startcoin (current price $0.005617).
https://twitter.com/maxkeiser/status/703153163155550208
Keiser is smart enough to know that if he talks about a coin, its price will pump (if only briefly). If, as he said, he talks about the coins he owns, he's increasing the value of his investment by giving it attention.
Keiser has eased off on the altcoin promotion in recent times, probably sensing a shift in regulatory mood post-2017. He has also criticized John McAfee and others who promote the "coin of the day scams," as in this particularly prescient post:
As predicted last week ADD victim Dave would forget about #BTC within minutes and immediately become a shitcoiner. @officialmcafee came very close to being jailed for this 'coin of the day' scam. Might still be. https://t.co/QN03vl2LaH

— Max Keiser, sr. bitcoin advisor to Pres. Bukele (@maxkeiser) August 17, 2020
In 2019 Keiser switched completely, saying "altcoins are finished." He's gone all-in on BTC… and made some more price predictions on BCH and BSV:
"Bitcoin Cash, the Roger Ver abomination, is going to ten bucks. Bitcoin Satoshi Vision, from Craig Wright, that's going to ten bucks. Most, or all of these altcoins, are going to pennies, or they're going to go out of existence, because all of that cash is going to flow to Bitcoin."
It's still all about the price, though. Whether implicitly or explicitly, Keiser is telling his audience what they should and shouldn't invest in.
If Dr. Craig Wright is a conman, he's doing it all wrong
We're not saying Max Keiser has broken any laws. And we'll assume he declares all his income and pays his taxes. He's also a lot less reckless than John McAfee. But his attacks on Dr. Craig Wright not only arrive apropos of nothing, it's also irresponsible to draw a connection between Wright and paid altcoin promoters.
Dr. Wright does not tell anyone to buy BSV, and he never tells anyone they'll get rich from doing so. In fact, most of his advice is the opposite—he spends most of his media time telling people to build something, and to get out there and work if they want to be rich.
Wright's message has always been that Bitcoin provides the infrastructure, but that even the best infrastructure does nothing by itself. He frequently criticizes speculative trading and "HODLing" (hoarding Bitcoin in the hope someone else will make the price increase).
Dr. Wright, unlike Max Keiser, has never released a brand new coin. BSV is Bitcoin, traceable all the way back to the Genesis Block of January 2009. Other assets, like BTC and BCH, claim the name "Bitcoin" and their backers will understandably attack anything claiming legitimacy over theirs. Keiser is a BTC promoter and price pumper, and whether he's paid to do that or whether his gain is simply his own investment, that fact should form the context to any claims he makes about rivals.
Follow CoinGeek's Crypto Crime Cartel series, which delves into the stream of groups—from BitMEX to Binance, Bitcoin.com, Blockstream and Ethereum—who have co-opted the digital asset revolution and turned the industry into a minefield for naïve (and even experienced) players in the market.
New to blockchain? Check out CoinGeek's Blockchain for Beginners section, the ultimate resource guide to learn more about blockchain technology.