In September 2022, I wrote an article taking a look at Take It NFT, a different marketplace for digital assets. I caught up with the developers behind the NFT platform, from Haste Labs.
What was the thought process of creating the auction style market for NFTs?
Haste Labs team: We saw many marketplaces using a 'mint' style where the user races to click a button to purchase a NFT they may or may not be happy with. Then ultimately, these NFTs would be quickly listed on a secondary market for sale. When we launched our proof of concept, we had a single auction style called Take It, which was our own twist on how NFT auctions could function differently.
The Take It auction style was designed to create an experience where users can participate in an auction for the specific NFT they desire and if they do participate but end up not 'winning' the NFT, the amount they paid is returned along with a ~6.6% profit. It really is an auction style where everyone's a winner. Either you win the NFT you wanted, or you earn a profit.
Given that Take It is developed by the same company as the Haste Arcade, how did the team come up with the idea to map the ILP™ to share revenue with top spenders?
At our core, we believe in the power of micropayments as a way to create excitement for our users. That is clear throughout the arcade, and we wanted to also be able to demonstrate that power within our NFT marketplace.
Our leaderboard is a way to recognize the users who have made the effort to participate across many auctions. 1.5% of the amount of every Take or Mint is divided up and distributed to the top 10 users on the leaderboard.
We are also currently building a referral system so that when a referee mints or "Takes" an NFT, the referrer is rewarded with a percentage of the amount the referee spent.
Will any utility be added to Haste-created NFTs, such as the Open Beta Badges or Club Neon collections?
I'll say it again, a huge thanks to all the users who participated in the tests and ultimately purchased NFTs from those two collections back in June. There are some fun things we could do with those collections, but nothing is planned at this point in time.
It would be interesting to see utility NFTs by third parties via the Take It model, for example music NFTs, or items that can be used in another application, is this something the team has considered implementing?
Absolutely we are interested in supporting other media types. We are working with one creator currently who has music-based items they want to release. That is something we'll see drop in the next couple weeks. In terms of greater utility and adding other capabilities to the Run class, we are open to that as well. Ultimately, these types of enhancements will be driven by the creators we see come to the platform so we can satisfy their needs along with what is happening across NFT markets.
Will users be able to send NFTs purchased on Take It to other wallets or applications?
Collections that are dropped on Take It, have the potential to be used within games in the Arcade. That is made possible given it's all happening within our team's ecosystem of products. In terms of sending NFTs to other wallets or applications, that is something we should consider supporting in the future.
How effective do you think the voting model is in terms of curating the collections on the platform?
In short, it's too soon to answer. We have around 15 collections that are looking for votes. The majority of them have been submitted over the last two weeks. We've placed a 45-day limit on collections seeking votes to help keep the curation feeling fresh. It'll be interesting to see how these collections perform in this first 45-day period.
I do think creators cannot just submit a collection and then wait. Creators need to be finding different channels to tell people about their work and entice them to come to the platform to vote. Ultimately the voting system is a way to give the creator some level of confidence there is interest in their collection so that when it drops, there is an expectation of the collections performance.
Not sure, id do a market test, maybe some polls etc to get an overall view.

Since it's just a vote though I personally wouldn't pay over .25.

But different economies can affect it.

— LeCo Investigations and Consulting LLC (@LeCo_PI_MS) August 10, 2022
Users have complained that additional votes for $1 is too expensive, how do you address that, as well as iterate and improve (or even gamify) the voting system?
This is the first iteration of the voting system, and we are happy we are getting feedback from users who are joining the platform. For those unfamiliar with the voting system, everyone gets one free vote per collection with the option to pay $1 for every additional vote per collection.
When a collection has received 50 votes, our team works with the creator to build and launch the collection. The intention of the voting system is to give the creator some level of confidence there is interest in their collection so that when it drops, there is some expectation of the collections performance.
What we will have to balance is the cost-per-additional-vote and the total number of votes to reach launch. For example, if every additional vote is only 1 penny, well one user could just go pay 50 cents to reach launch. That would be a false indicator of market demand for the collection. This will 100% be something we continue to tune as we get feedback, and the user base grows.
As we approach opening day, we will be making a series of announcements regarding #NFTs that are dropping as a part of the new Monster Bombs game release.

Today we are announcing 50 Physical + Digital Haste Arcade jerseys.

Available 9/16 Noon PST (3PM EST) on @TakeItNFT pic.twitter.com/hEOmkPaqnZ

— Haste Arcade | Game Platform (@hastearcade) September 9, 2022
How will Haste integrate Game Collectibles from the Arcade into the Take It platform?
This is a great question and one that will have to be thoroughly thought through to ensure we are creating the best experience for our users.
Currently we have a Marketplace in the Arcade where users can sell their in-game collectables. We also have the Take It Marketplace which could support the sale of collectibles. How does the Arcade's marketplace find the right synergy with Take It NFT? That is something we'll be thinking about over the next few months.
Will the HST token be integrated to the Take It platform in any way?
We're always looking for ways to add utility to the HST token. Currently collectables in the Arcade can be purchased with HST for a discounted price. A similar feature could be applied within purchasing NFTs on Take It.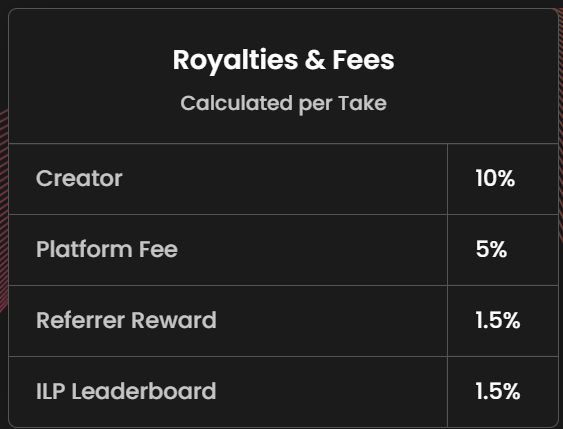 When will referrer rewards be implemented, and how will they work?
The referral system is on our short-term roadmap. The referral data from the proof of concept is already migrated over and those referrers are earning their percentages from their referees. The referral system will allow referrers to earn 1.5% of every mint action or take action their referees perform. When the referral system is released, user's will be able to locate their referral link and share accordingly.
Besides the upcoming Monster Bombs collectibles, what is next for Take It?
We're all extremely excited about the Monster Bombs collection. The Physical and Digital item combination will be the first drop that really ties these two concepts together for us along with the synergy between the Marketplace and the Arcade.
This past week we also released many UI updates along with the new major feature, our secondary marketplace. We feel like we have a well-rounded product that can compete in the market. We're shifting a bit of priority towards finding creators who need a marketplace and helping them get their collection launched.
This is an official call to action for creators to connect with us on Twitter (@TakeItNFT) or join our Discord! I won't leave you completely empty handed here. We have a lot of ambitious directions we could take the platform. We see opportunities like integrating with BSV-based open order books, providing public access to APIs for white-labeled experiences and integrations with other blockchains.
Thank you to Haste Labs for taking the time to answer my questions. I hope the readers learned more about the Take It platform and their plans moving forward.
Watch: Haste Arcade's Joe DePinto and Ian Duckworth on Hashing It Out
New to blockchain? Check out CoinGeek's Blockchain for Beginners section, the ultimate resource guide to learn more about blockchain technology.