Ya'll really like crushing baseballs huh? ⚾️💣#MonsterBombs #HasteArcade #Gaming pic.twitter.com/uW1V237w0f

— Haste Arcade | Game Platform (@hastearcade) September 21, 2022
In September 2022, Haste Arcade launched a home-run derby-like game, Monster Bombs. Players must hit as many pitches as they can before striking out or hitting a bomb three times. Singles, Doubles, Triples and Home Runs earn 1, 3, 5 and 10 points each respectively. Upon ascending to a new level by hitting a green ball every 7 pitches, hitting the next pitch will be a Monster Bomb which earns 15 points.
To kick off Opening Week of the game, Haste hosted a tournament where the top 10 scorers across any leaderboard (even practice) had a chance to win NFT gear that can be equipped on Tank, the batter in the game. Allowing users who play the free Practice tier to compete is great as it allows new users the potential to earn NFTs without requiring them to have BSV first.
Opening week tourney… Go forth and compete! pic.twitter.com/da5aPMRHWk

— Haste Arcade | Game Platform (@hastearcade) September 20, 2022
The top 3 scorers can earn the matching physical hat or jersey as well, which were sold on TakeItNFT leading up to the launch of the game. The launch has been a huge success in the first week, with over 20,000 plays by 320 unique players generating 27.8 BSV ($1,390) of volume. The community feedback has been extremely positive, with many reporting their HandCash wallets are receiving notifications non-stop.
Monster Bombs appears to be the most fun game to date in the Arcade, as well as the game with the most potential. Users can already purchase branded gear in the Marketplace from gaming and lifestyle organization Built By Gamers and equip on Tank.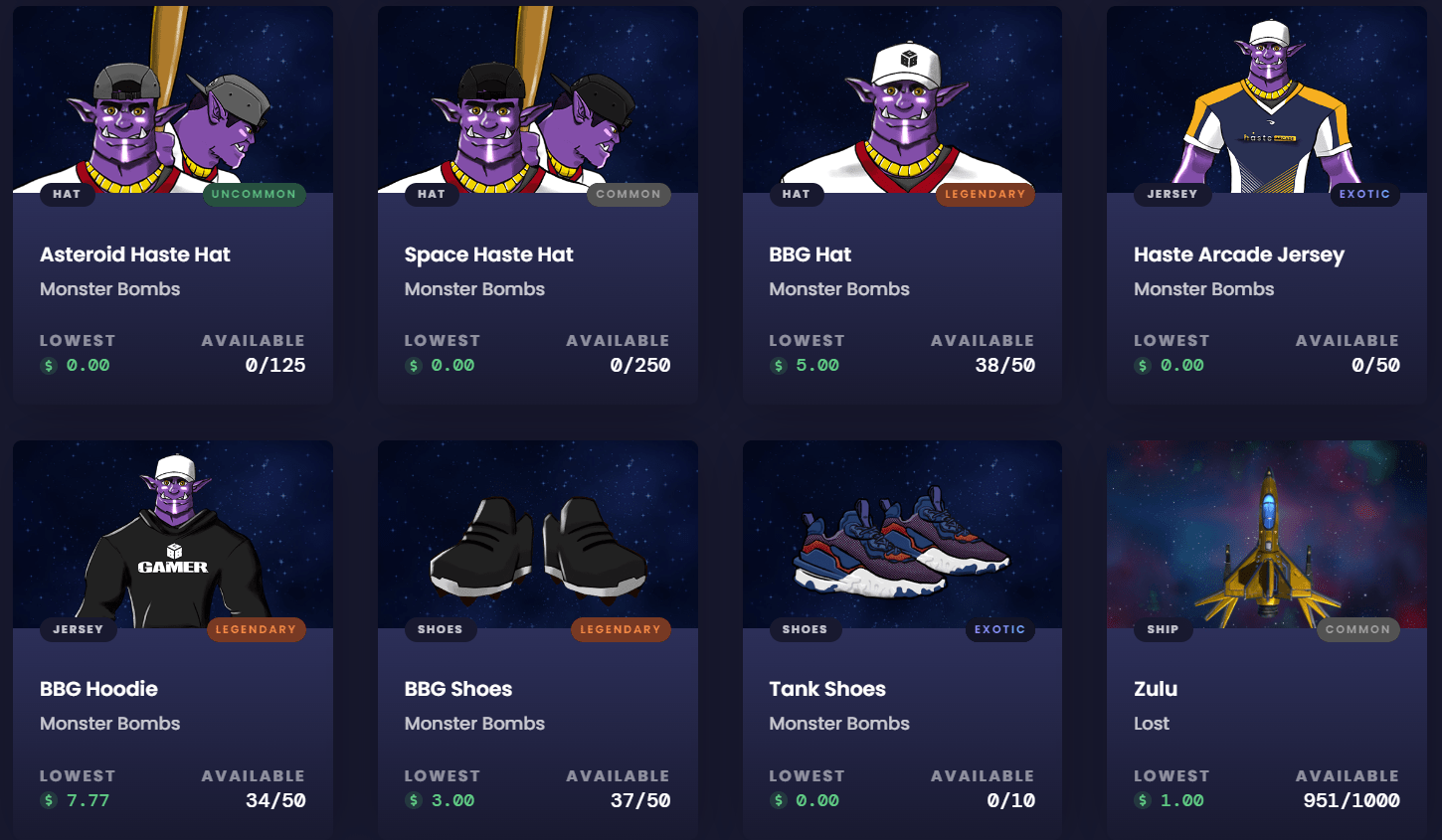 This marketplace leverages the NFTY Jigs platform and APIs to create digital assets, who also created digital pet game Duro Dogs which already contains custom, branded gear designed by third party companies. Based on this model, one can foresee what is possible as other companies could create and sell their own branded jerseys, hats and shoes for Tank to wear while going yard in-game while collecting royalties on the secondary market. To enable such a model that thrives on creativity the minting fees must be near zero, as is on Bitcoin SV.
As more players play and stream the game, they simultaneously could market the branded collectibles creating a unique gaming experience. For example, a brand could reach out to a top streamer on Twitch and gift them game collectible NFTs, in exchange for streaming themselves playing Monster Bombs with the equipped gear. The possibilities are endless when combining these new types of digital (and physical) assets with micropayments.
The first week of Monster Bombs has been a great success even in the limited BSV community. With a now truly fun game in the arcade that can appeal to the masses, the onboarding problem BSV startups typically face becomes a non-issue. If users desire to play or want to obtain some cool, branded gear they will jump through any necessary hoops to do so. All it takes is for more creativity to enable a truly novel gaming experience.
Watch: Haste Arcade's Joe DePinto and Ian Duckworth on Hashing It Out
New to blockchain? Check out CoinGeek's Blockchain for Beginners section, the ultimate resource guide to learn more about blockchain technology.