The first edition of the HandCash Hackathon with a $5,000 prize pool is coming up. And unlike most hackathons that we have seen take place in the BSV ecosystem, the HandCash Hackathon is targeting individuals who have never built on the BSV blockchain or any other digital currency network before.
Presenting our first #hackathon ever!

Integrate #nanopayments into any new or existing app. The most disruptive ideas for monetization can win up to $2000 in prizes.

Go to https://t.co/VovSuzafgq to learn more and sign up today – Can't wait to see what you all come up with! pic.twitter.com/kYPM7iFL2U

— HandCash (@handcashapp) May 26, 2021
"It is the first time we see a Bitcoin Hackathon that is targeted also to non-bitcoiners, and it's only possible because of our HandCash Connect SDK—it's so easy nobody needs to learn how Bitcoin works in order to monetize with nano-payments," HandCash CEO Alex Agust said.
The HandCash Connect SDK makes implementing nano-payments that leverage the power of the BSV blockchain as easy as adding a few lines of code to the platform that is being built.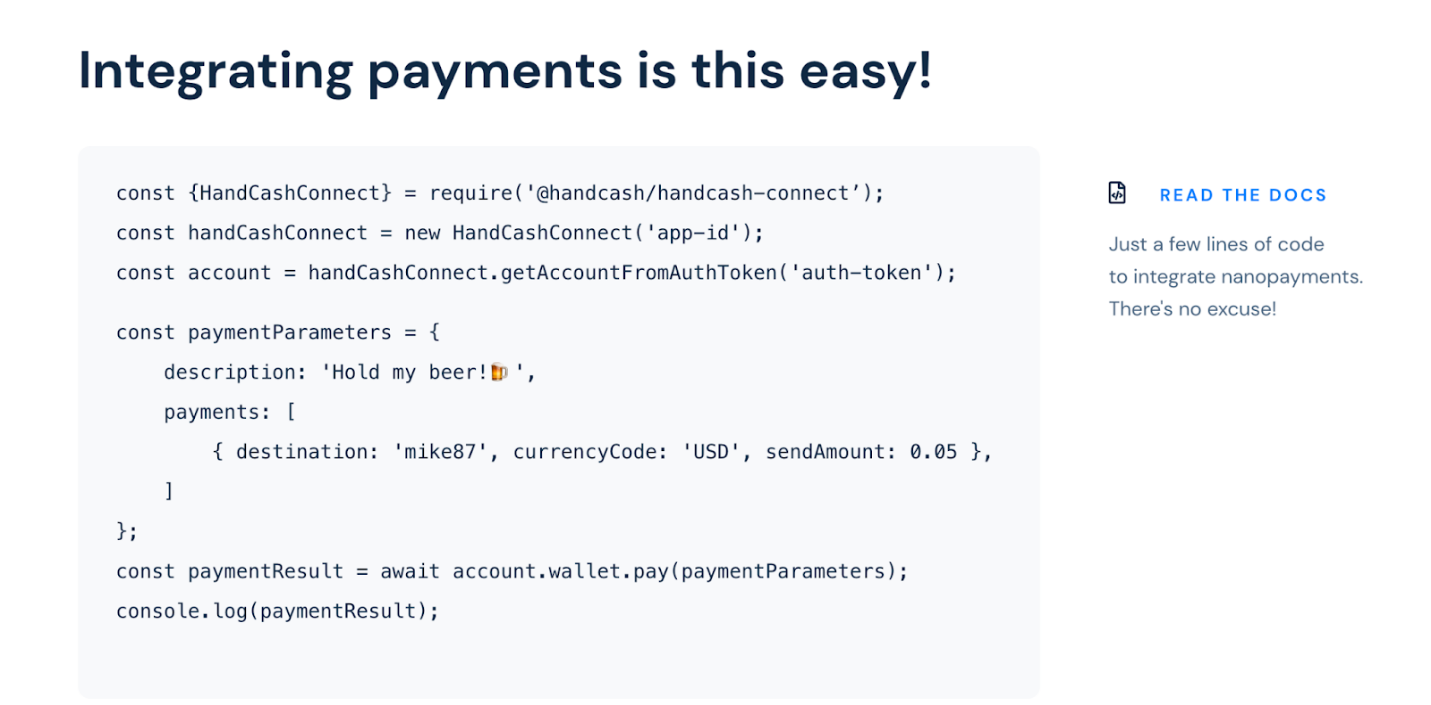 What are the judges looking for?
"We are especially interested in finding new business models and original revenue streams, only possible with nano payments. We do not care that much about the app itself, it can be an old app with added nano payments or a brand new app built specially around the business model. It's more about how to make money with the app than it is about how well executed it is, although we value clean code," Agut said.
The judges are particularly interested in a viable revenue-generating business that has a future ahead of it; it doesn't matter if you are starting from scratch or implementing nano-payments into your existing app or service, as long as your company or team has a legitimate business model with a revenue-stream fueled by nano-payments, then you will strengthen your chance of ranking in the top five.
If your submission to the HandCash Hackathon ranks in the top five, then you will receive prize money. The total size of the prize pool was originally $2,500; however, CoinGeek has decided to sponsor the hackathon and provide the prize pool, increasing the total amount in the pool to $5,000. The first place winner will receive $2,500, while second place and third place will receive $1,500 and $600, respectively. Fourth and fifth place winners will both receive a $200 reward.
Stakes have gone up 🔥🔥🔥 https://t.co/Hn5sqcnTnc

— HandCash Connect (@HandCashConnect) May 31, 2021
"Thanks CoinGeek for chipping in with our hackathon," Agut said. "It's our first time [hosting a hackathon] so before we offer huge prizes we wanted to test the waters. If it's successful, we'll have a much bigger one in a few months."
Where to sign up
You can sign up for the HandCash Hackathon on the HandCash Hackathon website. Keep in mind, the very last day that you can submit your entry to the hackathon is June 14, 2021—a little less than two weeks from today! 
You can find all of the information that you and your team will need to participate at hackathon.handcash.dev.
HandCash CTO Rafael Seibane will be hosting a livestream on June 14, where he will explain the basic rules of the hackathon, tells the audience what the judges are looking for, presents some examples of monetization that could inspire developers, and more. If you are participating in the HandCash hackathon, you will find Seibane's livestream to be a valuable resource.
When asked if there's anything in particular that we should be looking out for in the HandCash Hackathon, Agut said:
"Pay a lot of attention to the business models being developed here as they could inspire other apps too. We all saw how shocking Haste was due to its leaderboard-based business model, I bet we will see at least a few of these during the Hackathon! I cannot wait to see what comes out of this."
New to Bitcoin? Check out CoinGeek's Bitcoin for Beginners section, the ultimate resource guide to learn more about Bitcoin—as originally envisioned by Satoshi Nakamoto—and blockchain.