Thirty years ago, in 1990, George Gilder wrote Life After Television, predicting the effect of the Internet on the media, society and the economy. Gilder, formerly an economist and speechwriter for Republican politicians, became as interested in technology as in economics.
Ten books later, he has written Life After Google, heralding what he sees as the next big tech revolution, around Bitcoin and blockchain. Speaking at CoinGeek's London conference, Gilder shared a platform with Craig Wright, the creator of Bitcoin as Satoshi Nakamoto.
Gilder explained how he expects Bitcoin to solve what he sees as two great problems: Internet security and the effect on the global economy of the international money markets. In a CoinGeek Conversations podcast after the event, Gilder reaffirmed his excitement about the potential of Bitcoin and blockchain technologies. "Bitcoin is indispensable to fixing the world's economy and Internet security," he said.
Fears around the infrastructure of the Internet could be addressed with blockchain technology: "we're afraid of foreign routers as if they were weapons of mass destruction or something, or Trojan horses – when they're full of Western chips and Western architectures and Western software. This paranoia is a technical problem. The blockchain is the solution to a new architecture that establishes a fixed and resilient background state for our networks again."
The other problem is around personal data and advertising. With the business models of the tech giants, people are paying "through the nose …with distraction, with time – in all sorts of ways". Bitcoin offers a solution: "the great vision of Bitcoin SV that Craig Wright has launched …is micropayments."
Gilder believes that the advertising and data-sharing business model of Silicon Valley's tech giants is vulnerable in the short term to Chinese competitors such as Baidu, Tencent and Alibaba. And he is opposed to Washington's attempts to regulate social networks: "I'm critical of the business plans of Silicon Valley. I'm more critical of these governments who now think they can run Facebook better than Zuckerberg can and who are trying to impose all these detailed regulations on how you manage a social network. I think this is very destructive."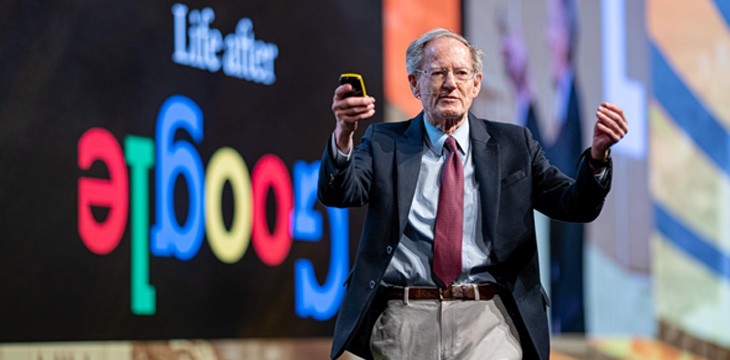 In the longer term, "I think better companies can rise up, exploiting the blockchain to defeat the Google model". But his vision for the potential of the coming tech revolution is bigger even than Google and Facebook: "I think Bitcoin is indispensable to fixing the world economy." And Google itself could profit from what Bitcoin SV is offering: "a company like Google would do better with micropayments than it currently does with free goods and advertising".
Gilder says he's impressed with the leaders of Bitcoin whom he'd met at the CoinGeek conference, comparing them favourably with those he wrote about ahead of the Internet revolution: "in general, the cryptocurrency movement is smarter and more sophisticated about computer science, more alert to the flaws in the international economy and more shrewd about new entrepreneurial and business models than was the Internet movement that preceded it. I think it's an amazingly brilliant bunch of new talent in world capitalism. From China to London to Berlin to Hong Kong to New York to Seattle, I've attended these conferences and I'm awed by the brilliance of these people."
Gilder has one big reservation about the design of Bitcoin: he doesn't support the limit on the number of Bitcoins at 21 million. On stage, Craig Wright explained to Gilder his reasons for designing the system that way, but Gilder remains unconvinced: "I think that the next challenge for Bitcoin is to figure out how to fix it digitally to a particular price rather than a particular supply of 21 million units by some date a hundred and forty years from now."
If you'd like to read the transcript to this podcast, you can download it here.
Hear the whole of George Gilder's interview in this week's CoinGeek Conversation podcast:
You can also watch the podcast video on YouTube.
Please subscribe to CoinGeek Conversations – this is the second episode of the podcast's third season. If you're new to it, there are plenty of episodes from the first two seasons to catch up with.
Here's how to find them:
– Search for "CoinGeek Conversations" wherever you get your podcasts
– Subscribe on iTunes
– Listen on Spotify
– Visit the CoinGeek Conversations website
– Watch on the CoinGeek Conversations YouTube playlist
New to Bitcoin? Check out CoinGeek's Bitcoin for Beginners section, the ultimate resource guide to learn more about Bitcoin—as originally envisioned by Satoshi Nakamoto—and blockchain.