Investors in the United States have lost over $1 billion to digital asset scammers since the start of 2021, a new report by the Federal Trade Commission (FTC) has revealed. The scammers defrauded over 46,000 victims, with the median amount lost standing at $2,600.
In its report, the FTC revealed that at $1 billion, digital asset scams accounted for $1 out of $4 reported lost, more than any other payment method. BTC accounted for the highest losses at 70%, with Tether and ETH accounting for 10% and 9%, respectively.
In the digital asset world, the immutable nature of blockchain transactions is seen as one of its biggest strengths. However, the FTC believes that this was the key reason why there are so many scammers in the space.
"Crypto transfers can't be reverse—once the money's gone, there's no getting it back," the watchdog stated.
Social media was the biggest avenue scammers used to target their victims. Nearly half of the victims who reported losing money to scammers said it started with a post, an ad, or a message on social media. Instagram was the most popular at 32%, with Facebook accounting for 26% of the scam reports as WhatsApp and Telegram accounted for 9% and 7%. 
Bogus investment projects were the most popular form of investment, with losses amounting to $575 million, far more than any other type of scam. These scams prey on investors' limited digital currency understanding and experience, promising them lucrative returns. Sometimes, the scammers will let the victims withdraw a little profit to lure them to invest more, and in other cases, they will even have a fake platform through which investors can monitor their investment.
After the bogus investment schemes, romance scams are a distant second, accounting for $185 million in reported losses. However, the median individual loss to these scams was much higher, standing at $10,000.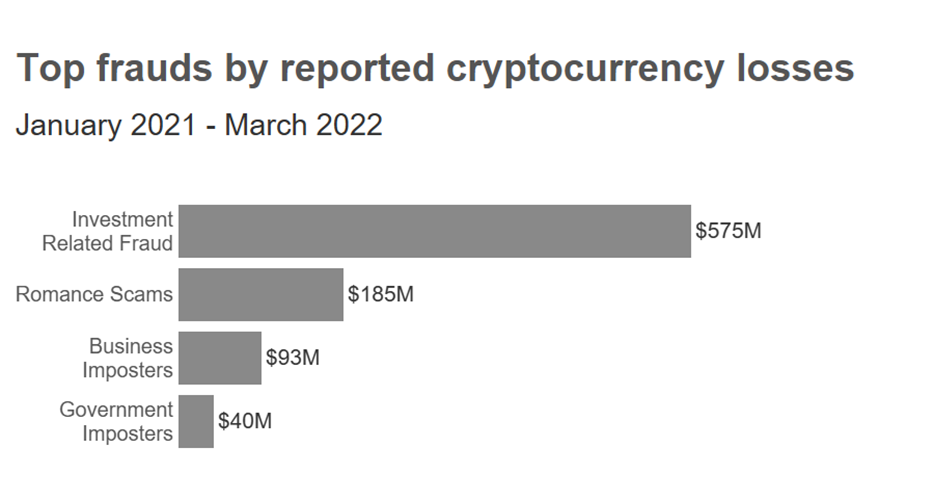 "Given that investment scams are really driving this, it's very important for people to understand that any promises of huge returns, or that your investments can be quickly multiplied, are obviously a scam. No return on a crypto investment is guaranteed," Emma Fletcher, the FTC senior data researcher who wrote the report, commented. 
Watch: CoinGeek New York panel, Investigating Criminal Activity on the Blockchain
New to Bitcoin? Check out CoinGeek's Bitcoin for Beginners section, the ultimate resource guide to learn more about Bitcoin—as originally envisioned by Satoshi Nakamoto—and blockchain.