An international drug cartel used Tether to bribe public officials in the state of Virginia, the U.S. Department of Justice has revealed. It also revealed some of the intricate methods the suspects used to distribute drugs and launder money for over a decade.
Court documents unsealed by the DoJ revealed charges related to drug smuggling, money laundering, identity theft and more brought against six individuals. The DoJ alleges that the six are part of an extensive crime ring operating in the U.S., Mexico, China, Belize and Guatemala that launders money derived from the sale of cocaine and other illegal drugs.
The criminals are alleged to have used Tether digital currency to bribe a U.S. government official.
As per the court documents, the crime ring was busted by U.S. Drug Enforcement Agency's undercover agents who posed as corrupt government officials. In June, one of the accused men, Tao Liu, allegedly paid the DEA agent $1,000 in USDT as a bribe to secure a fraudulent U.S. passport. Days later, he paid the agent an additional $4,000 in USDT and then followed this up with two bank transfers worth $3,000 and $2,000, authorities said.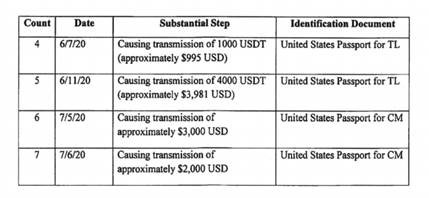 The six, who were born in China but reside in the U.S., Belize, Hong Kong and Mexico, are also charged with importing and distributing cocaine in the U.S., money laundering, attempted identity fraud, bribing a government official and conspiring to launder money.
If convicted of their crimes, the DoJ is seeking the forfeiture of at least $30 million, "representing proceeds the defendants obtained in the course of the drug conspiracies and property involved in the money laundering conspiracy."
The DoJ further wants Tao Liu to forfeit $5,000 in USDT traced to his bribery charges.
Other than the use of Tether to bribe the public officials, the charges also revealed the continued use of the banking system by money launderers. Some of the banks that the crime ring repeatedly used include the Industrial and Commercial Bank of China and the Agricultural Bank of China, two of the world's largest banks.
Follow CoinGeek's Crypto Crime Cartel series, which delves into the stream of groups—from BitMEX to Binance, Bitcoin.com, Blockstream and Ethereum—who have co-opted the digital asset revolution and turned the industry into a minefield for naïve (and even experienced) players in the market.
New to Bitcoin? Check out CoinGeek's Bitcoin for Beginners section, the ultimate resource guide to learn more about Bitcoin—as originally envisioned by Satoshi Nakamoto—and blockchain.