In one of Do Kwon's more credible attempts to evade justice, the Terraform Labs founder's legal team has told a federal court that he cannot comply with a request by the U.S. Securities and Exchange Commission (SEC) to depose him because he is currently in detention in Montenegro with "no scheduled release or extradition date."
The SEC, which is one of many global regulators and authorities currently hunting Kwon, had previously filed a request with the court to have him deposed in the United States. They requested that failing that, the court should prevent Kwon from submitting a statement to defend against an inevitable summary judgment application from the SEC.
However, Kwon's lawyers told the court on Wednesday that the defendant would not be able to attend a deposition in the U.S.—requested by the SEC for October—owing to the fact that he had been arrested while trying to travel through Montenegro on forged documents, presumably while trying to move beyond the reach of the charges that await him in the U.S. and South Korea, including for wire fraud, securities fraud, and conspiracy.
Kwon's lawyers claim that contrary to the SEC's filings with the court, Kwon has agreed to submit to the SEC's deposition and only insists it would have to take place in Montenegro, where Kwon apparently remains in custody.
"Inexplicably, the SEC's brief says nothing about the location of the deposition, which was the only point of dispute between the parties. Invoking Federal Rule of Civil Procedure 30(a)(2)(B), the SEC asks the Court to grant it leave to take the deposition of a person "confined in prison," omitting that it intends to notice the deposition to occur over 4,500 miles away from the jail in which Mr Kwon is detained by a foreign sovereign. To put it mildly, that is a material omission."
In support of their request, the SEC pointed to evidence demonstrating that Do Kwon holds knowledge relevant to the prosecution of the SEC's charges. It submits emails between Do Kwon and co-founder Daniel Shin in which Kwon admits to fabricating transactions on the Terraform blockchain in order to make the chain appear more active than it really was, thereby luring investors to the project.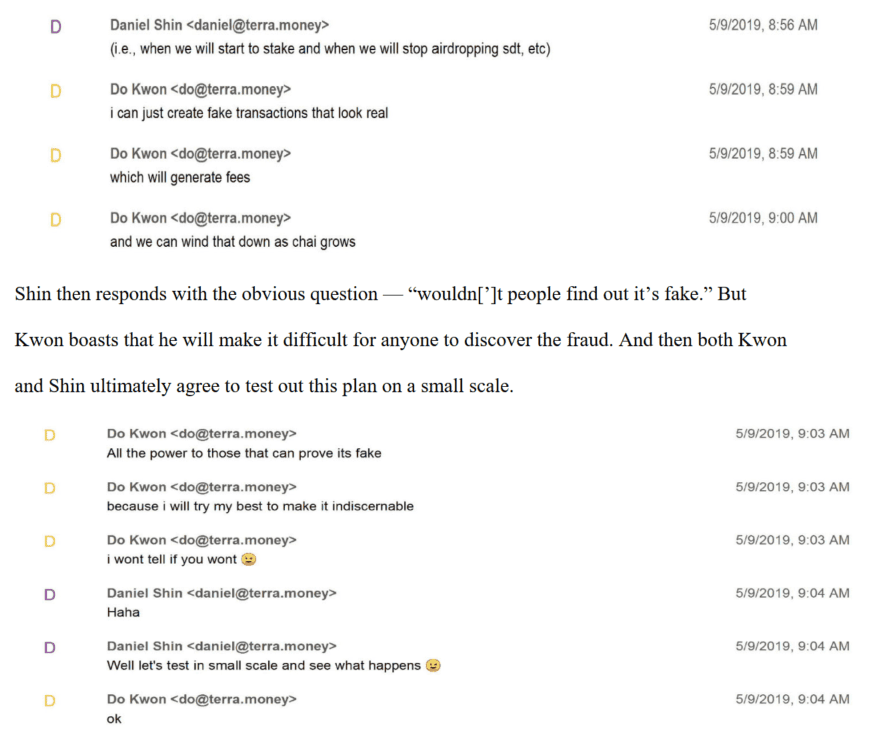 Do Kwon fleeing multiple authorities
The filings are part of the SEC's civil case against Do Kwon and Terraform Labs, which alleges that the Terralabs ecosystem amounted to a multibillion-dollar fraud, primarily by issuing illegal securities. The case was originally filed in January 2023.
Kwon managed to get himself into even more trouble while attempting to avoid prosecution in the U.S. when he was arrested at the airport of Montenegro's capital city, Podgorica. Kwon was trying to board a flight to Dubai using fake identity documents alongside Terraform Labs CFO Han Chang-Joon. Both men were sentenced to four months in prison in June, and while it was expected that they would be released within a month on account of time served, Do Kwon claims he's still in prison.
Hours after his arrest, federal authorities in the U.S. filed criminal charges against Do Kwon, this time for securities fraud, commodities fraud, and conspiracy. In addition to potential prison time, prosecutors are demanding that Do Kwon forfeit all assets and proceeds gained from the Terraform Labs fraud – or their equivalent value if the assets are not recoverable.
Meanwhile, prosecutors in South Korea are pursuing the Terraform architect for making false and misleading statements about Terraform's foundational tokens, TerraUSD and LUNA. They allege that Terralabs issued the tokens knowing that the algorithm intended to keep TerraUSD pegged to the U.S. dollar would fail. South Korean prosecutors are currently pursuing Do Kwon's extradition, and if successful, it is expected that Kwon could face up to 40 years in prison.
Watch: Law & Order Regulatory Compliance for Blockchain & Digital Assets
New to blockchain? Check out CoinGeek's Blockchain for Beginners section, the ultimate resource guide to learn more about blockchain technology.