One of the world's most prolific cybercriminals has reportedly retired in a rare move for the criminal underground. Known only by his pseudonym JokerStash, he allegedly operated the world's largest stolen credit cards marketplace. An analytics firm estimates he made at least $2.9 billion in BTC.
JokerStash, whom Reuters describes as the kingpin of kingpins of the criminal world, operated Joker's Stash—a marketplace for stolen credit cards and other identity data.
Darknet crypto kingpin JokerStash retires after illicit $1 billion run: research https://t.co/qwrmKOqbHt pic.twitter.com/RU8GtN6cth

— Reuters (@Reuters) February 12, 2021
Blockchain analytics firm Elliptic was the first to report on suspect's retirement. In its blog post, the firm revealed that Joker's Stash had established a stolen credit card automated vending cart which allowed users to filter and sort the cards they wanted to buy. This could be on country, expiry date, bank and any other attribute. JokerStash only received payment in BTC, according to Elliptic.
"The going price for a single card on Joker's Stash ranges from $1 to $150, with those at the upper end coming complete with the cardholder's name, address and social security number."
JokerStash established his platform in 2014, reportedly offering the widest network of partners—aka other suspected criminals who stole the credit cards through hacks. In some instances, these partners reportedly would tease their clients weeks in advance about which company they were targeting next.
Elliptic estimated JokerStash's income by analyzing the marketplace's revenue and the fees it charged. He reportedly charged an 8% fee in the early days, later dropping it to 4% as users increased. He also charged a commission for the sale of all cards on the platform. With this in mind, Elliptic estimates that JokerStash has received at least 60,000 BTC over the past six years. A separate report indicates that he keeps all his income in BTC. In today's prices, this stash is worth $2.88 billion.
In his announcement, JokerStash indicated that he would give all users 30 days to spend account balances. On February 15, he pledged to wipe all his servers to go on a "well-deserved retirement." He asserted that he wouldn't make a comeback and thus, all future versions of his marketplace will be imposters.
He even had some words of advice for other 'cyber-gangsters'. He urged them "not to lose themselves in the pursuit of easy money. Remember that even all the money in the world will never make you happy and that all the most truly valuable things in life are free."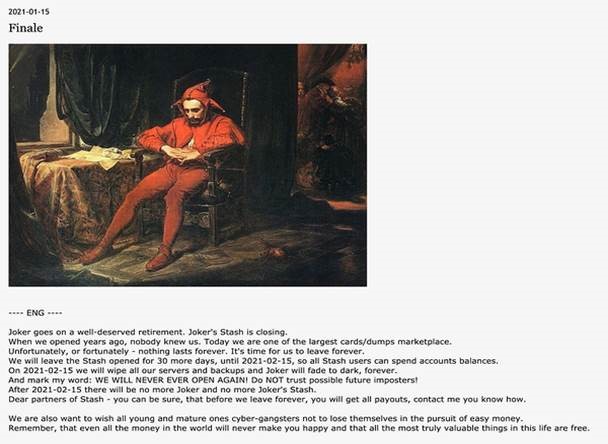 JokerStash is one of the few cybercriminals who get to leave the market on their own terms. Law enforcement agencies have become adept at tracking them down, especially if they use cryptocurrencies. FBI has in the past tried to crack down on Joker's Stash to little success. While it took down the Internet marketplace, the dark net platform continued to operate—but the law is coming and these guys know it.
Follow CoinGeek's Crypto Crime Cartel series, which delves into the stream of groups-from BitMEX to Binance, Bitcoin.com, Blockstream, ShapeShift, Coinbase, Ripple and Ethereum—who have co-opted the digital asset revolution and turned the industry into a minefield for naïve (and even experienced) players in the market.
New to Bitcoin? Check out CoinGeek's Bitcoin for Beginners section, the ultimate resource guide to learn more about Bitcoin—as originally envisioned by Satoshi Nakamoto—and blockchain.