2019 was an eventful year in the blockchain and cryptocurrency news space. Lots happened in these industries, from cryptocurrency exchange hacks to never before seen cryptocurrency-related financial products and events. Let's take a look at a few memorable moments that took place in the blockchain and crypto space in 2019.
Exchanges are still getting hacked
Lots of great things happened in the cryptocurrency industry in 2019, so let's get the negative events out of the way first.
Just two weeks into 2019, the first cryptocurrency exchange hack of the year took place when New Zealand based Cryptopia was hacked for over $16 million. 
— Cryptopia Exchange (@Cryptopia_NZ) January 15, 2019
This was just the tip of the iceberg when it came to exchanges experiencing security breaches. Thirteen major cryptocurrency exchange hacks took place in 2019 that resulted in the theft of $292,665,886 and 510,000 user logins. At least one cryptocurrency exchange hack happened per month. The only exceptions being April, September, October, and December—the only four months in the year that did not experience any high-profile cryptocurrency exchange hacks.
Fewer funds launched, less money invested
Fewer cryptocurrency-focused funds launch in 2019 compared to 2018. This year, only 128 funds launched compared to 2018's, 284.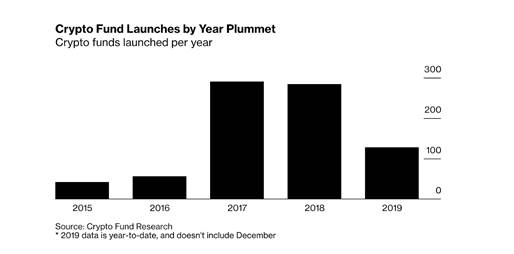 In addition, less money was allocated to ICOs and crypto-companies holding private-funding rounds. According to a report from Crunchbase, only $3.38 billion was allocated to ICOs and private-funding rounds across 472 deals in 2019, compared to 2018's $12.86 billion spread across 1331 deals.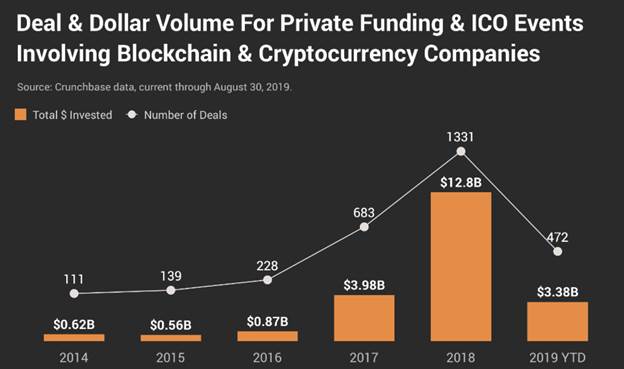 The lack of cryptocurrency-focused funds launching and the significant reduction in the amount of money invested in ICO's and private funding rounds could indicate institutional investor sentiment. The cryptocurrency markets have been in a multi-year bear market, and the fact that fewer funds and companies are looking to launch and invest may indicate what this group believes about the future of the cryptocurrency markets.
New cryptocurrency-backed financial vehicles launched
Now with the bad news out of the way, let's take a look at some of the positive developments within the blockchain and cryptocurrency space this year.
In 2019, the first—and long-awaited—physically settled digital currency futures product was launched in America. Intercontinental Exchange's Bakkt Bitcoin Monthly futures, launched on September 22, 2019. 
We're live!

The first Bakkt Bitcoin Futures trade was executed at 8:02pm ET at a price of $10,115

— Bakkt (@Bakkt) September 23, 2019
Bakkt Bitcoin Monthly Futures work like any other futures market, however, they pay out their investors in Bitcoin instead of fiat. Many thought that Bakkt would be the onramp for institutional investors to enter the digital currency markets, however, the Bakkt Bitcoin futures product continues to see an almost irrelevant amount of daily trading volume. This might indicate that institutional interest in the digital currency markets is not as high as we like to believe it is in the crypto community, and that the influx of institutional money into the cryptocurrency markets is still far off.
The first of several network halvings
In August 2019, the first of many upcoming halving events took place. The Litecoin network experienced its second-ever halving event on August 5, 2019, and the LTC block reward was reduced from 25 LTC to 12.5 LTC. The Litecoin halving event is the first of several that we are going to see in the near future, with BSV, BTC, and BCH all expected to have their halvings in Q2 2020.
BSV gets 2GB blocks
This year, BSV saw an upgrade that brought it one step closer to removing its block size limit. On July 24, 2019, the Quasar protocol upgrade raised the default BSV block limit from 128MB to 2GB. This upgrade brings BSV one step closer to the Genesis update in February 2020 that will remove the block size limit in the BSV network.
BSV surpasses BTC and BCH daily transaction count
 In 2019, BSV surpassed both BTC and BCH when it came to daily transactions as well as average daily transactions per block. According to data from Coin.Dance, Bitcoin SV continuously surpassed BCH and BTC in both of these metrics in September and November, respectively. This trend is accelerating too.

More memories to be made
The events that we have reviewed in this article include just a few of the many events that took place in 2019–but it is not all-encompassing. Nevertheless, quite a few significant events happened both on and off-chain in the blockchain and cryptocurrency industries this year. As both of these industries continue to mature, we are likely to see even more remarkable events take place in the coming years.
In 2020, we have a lot to look forward to. In February, BSV will undergo the Genesis protocol upgrade that removes the block size limit in the BSV network. This upgrade will make BSV the most scalable cryptocurrency in the market. In addition, the Bitcoin halving is expected to take place in April 2020—an event that many individuals in the cryptocurrency community look forward to across all networks.
Be on the lookout for significant developments in the blockchain and cryptocurrency industries in 2020. And if you think we've forgotten any noteworthy events that took place in 2019, let us know in the comments below!
New to blockchain? Check out CoinGeek's Blockchain for Beginners section, the ultimate resource guide to learn more about blockchain technology.