The BSV blockchain's use in consumer payments, incentives and rewards has continued to grow in recent years. At the CoinGeek Zurich conference, a panel consisting of industry leaders in this sector took the stage to share how their companies are using BSV to modernize operations, reach new users, reduce costs and incentivize their customers.
Patrick Thompson, the CoinGeek associate editor for North America, moderated the panel. He was joined onstage by Bernhard Müller, the chairman of CENTI; Phuong Dinh, the founder of Mijem Inc.; and Dr. Maximilian Korkmaz, the managing director of Stabilwerk Bau.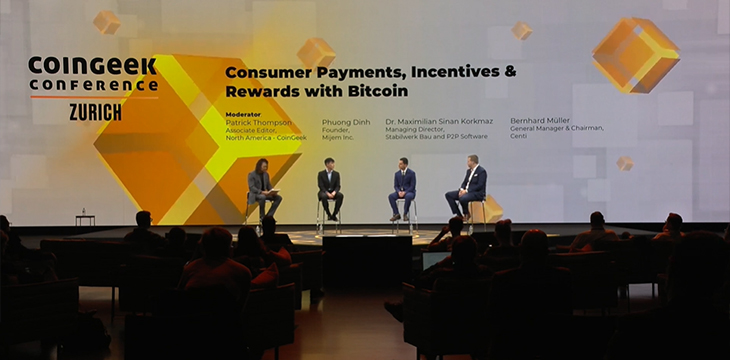 The three panelists each recounted how their companies have been using the BSV enterprise blockchain and the benefits they have reaped. Remarkably, for Dinh and Korkmaz, their companies are not in any way related to digital currencies. Dinh's Mijem is a technology ecosystem targeting Gen-Z users, allowing them to connect with their peers and conveniently buy and sell items. Korkmaz's Stabilwerk Bau is a construction company.
Dinh revealed to the audience that his company has been offering its users—who consist mainly of young students—the opportunity to earn cashback rewards in BSV. This demographic is quite environmental conscious and favors BSV as it's much more efficient and has a lower carbon footprint than all its rivals.
For Korkmaz, the goal is to tokenize his entire operation around the construction industry. This is an industry that's notorious for its refusal to adopt new technology, with studies finding it to be the least efficient major industry. Korkmaz cited the ease of token creation on the BSV network, especially on Fabriik as a big reason his company chose BSV.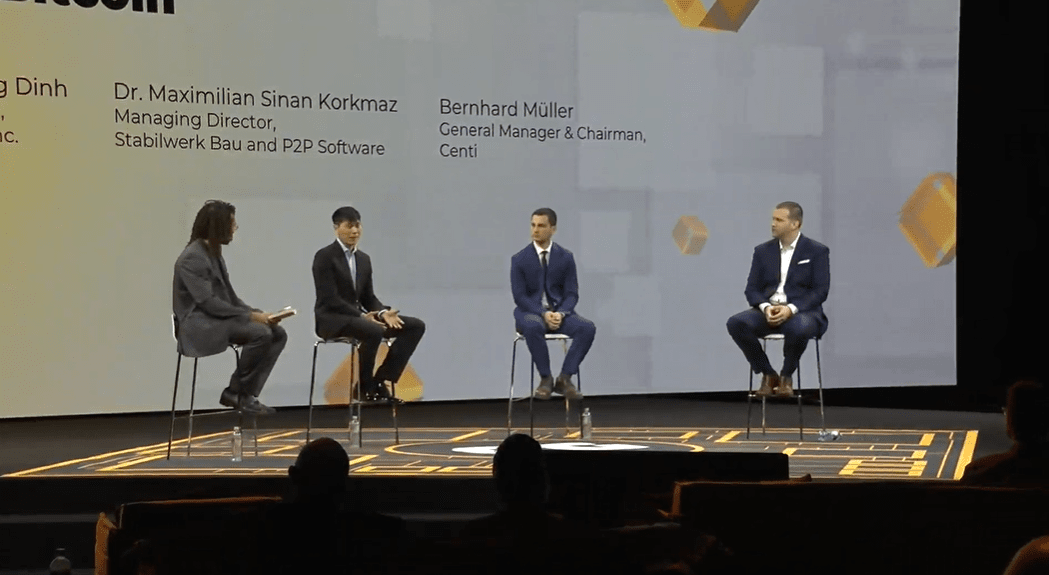 The panel delved into BSV on- and off-ramps as well, an area that's critical in onboarding new users. According to Korkmaz, BSV is not yet ready to be used as the solo payment method in its current form. It works best as a compliment to fiat as the majority of the market still relies on fiat.
Müller concurred, further revealing that CENTI allows its clients to convert BSV into fiat to make payments such as salaries and taxes. While some see this as a challenge that we must solve as the BSV industry, Müller sees it as an opportunity to use the BSV enterprise blockchain as a rail and not necessarily as a currency.
The CENTI chairman concluded by observing that the wider digital currency market has misled most people to look to digital currencies for speculation. However, BSV is gradually shattering this misconception and reinventing the utility aspect of digital currencies.
Dinh also observed that digital currencies are quickly becoming popular with the younger generation as they finally give power back to the people. Most young people are getting fed up with a few entities having the ultimate power to do as they please. With the decentralized nature of Bitcoin, they finally feel they have found an ecosystem that is for the people, by the people.
New to Bitcoin? Check out CoinGeek's Bitcoin for Beginners section, the ultimate resource guide to learn more about Bitcoin—as originally envisioned by Satoshi Nakamoto—and blockchain.